ESKA – Prague (CZ)
Skillfully combining fine dining with excellent coffee, ESKA is setting the bar high for others to follow.

ESKA – Prague (CZ)
Skillfully combining fine dining with excellent coffee, ESKA is setting the bar high for others to follow.
Over the past two to three years, Eastern Europe has emerged as one of the most exciting regions for specialty coffee. In an interview with Sprudge co-founder Jordan Michelman, he said: "There are all these kids born in the late 80's and 90's, the first generation to grow up after Soviet rule, and they're often the ones launching all these incredible cafés and restaurants."
Prague, the Czech capital, is no exception. Home to some rather crazy coffee concepts, the city on the river Vltava, has been a tourist magnet for many years, but only recently has it witnessed as real boom with regards to specialty coffee and finer dining. One such place is ESKA.
Located inside a former factory in Karlin, ESKA is part of the larger Ambiente Restaurant group that operates a total of 23 restaurants across the republic. The 90-seat restaurant-cum-coffee bar skillfully blends a casual ambience with exquisite cuisine and high quality coffee.
Downstairs, the space is dominated by an open kitchen, a small retail section selling local products, and a large espresso bar that hosts the only 3-group Victoria Arduino Black Eagle in the country. Former head barista of Anonymous Café Ondrej Štokl now manages the coffee business at ESKA and, according to him, the coffee set up is aimed at appeasing the more conservative Czech palate.
---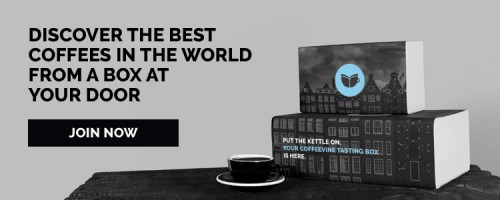 ---
However, in line with the restaurant's inventive kitchen, ESKA also wants to offer punters a chance to experience the complete spectrum of specialty coffee.
Upstairs, baristas like Matej Pina get to work with single origin coffees roasted by Nordbeans and brewed with V60 or Aeropress. While sipping on a cup of their current Burundi, Matej explained: "During weekend brunches we sometimes serve up to 60 filter coffees in a day, and what's really great is that more and more people are drinking their coffees without milk and sugar."
The food is locally inspired and sourced. Dishes like 'Cow under with red pepper, ginger and mustard' or 'Beetroot with spelt, honey, apple and horseradish' taste wonderful and offer a fresh take on traditional Czech cuisine.
In the evenings, one can also order an 8-course tasting menu that is then paired with wines and coffee. If only more places had the courage to do what ESKA is doing, then more restaurants would offer their customers something truly delicious to finish their experience with. Here's to hoping!
More Reviews from Prague & Czech Republic