Peek-A-Bloom – Athens (GR)
The newest arrival on the Greek capital's coffee/brunch/bar circuit is the second location from the team behind Mind The Cup
opening times:
Mon - Thu: 8 - 2, Fri - Sat: 10 - 4, Sun: 10 - 12
wifi:
Yes
urls:
Facebook
price check:
Espresso: €2 / Flat White: €3,50 / Filter: €3,30
machine:
Victoria Arduino Black Eagle
coffees on offer:
various
milk:
Baristas Gold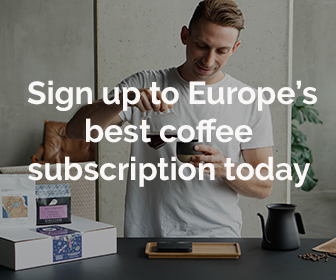 Peek-A-Bloom – Athens (GR)
The newest arrival on the Greek capital's coffee/brunch/bar circuit is the second location from the team behind Mind The Cup
If there's one thing that Athenians are incredibly good at right now, then it is creating wonderful coffee and cocktail spaces that stay open from morning till, well morning. It was a consistently recurring theme that I witnessed across the entire Greek capital and each place had its own individual take on how this day and night concept that is largely absent in Northern European capitals. There, it's either coffee or cocktails. Very few venues have combined these two delightful beverages as well as the Greek.
One of the city's most recent arrivals, and by recent I mean literally 3 weeks old, is Peek-A-Bloom, the second venue by Mind the Cup founders Nikolaos Geranakis and Nikos Mpelis. The latter is already a household name in the local specialty coffee world but its slightly out of town location makes it less accessible for tourists visiting the city.
Their new place, located inside an open air alley just off Lekka in downtown Athens is a bright and friendly place with huge windows that double as outside seating next to the coffee bar. Open from 8am and offering a tasty breakfast menu to accompany their yummy coffees, Peek-A-Bloom will, without a doubt, quickly become a fixture on the brunch circuit.
When it comes to their stiff drinks, Nikolaos and Nikos chose to specialise in Absinthe and dedicate their cocktail menu to famous poems. Past the coffee bar you'll also spot their Giesen coffee roaster that will soon be churning out locally roasted single origin beans that will be served right there at the bar and possibly across other coffee bars in Athens.
As I sipped on my flat white and my mother was checking her emails, also sipping on a flat white, I looked around me to find out what people were drinking at this newly opened specialty coffee bar, and not really to my surprise, almost everyone was sipping on an ice cold 'freddo'. While this name is distinctly Italian, the drink itself is incredibly Greek. You take a shot of espresso, add some crushed ice and stick it in a blender. What comes out is served inside a thin glass with ice cubes and a straw, and very often with a bit of added sugar to counter the bitterness.
Admittedly, it is not my most favourite drink, but considering summer's blistering heat in the Greek capital, it makes perfect sense that the freddo is the most favourite beverage. Luckily, the boys at Peek-A-Bloom will soon have enough delicious single origin coffees to choose from to give you a nice range of flavours.
More Reviews from Athens & Greece