While preparing for our recent trip to Scandinavia, we made a short list of place we HAD TO visit. Of course, you never know what they'll be like when you actually get there but if our friends' recommendations and our general gist of the coffee world was right, then we had plenty to look forward to while in Oslo, Stockholm and Copenhagen.
So after touching down in Oslo, running to meet our Airbnb host and quickly jumping on the next tram to Grünerløkka, we were on our way to visit and meet Tim Wendelboe at his cozy HQ. Prior to our departure from Amsterdam, Tim had offered us 30 minutes of his time to conduct a short interview for our joint video project with Airbnb and we were thrilled to meet one of coffee's biggest gurus in person.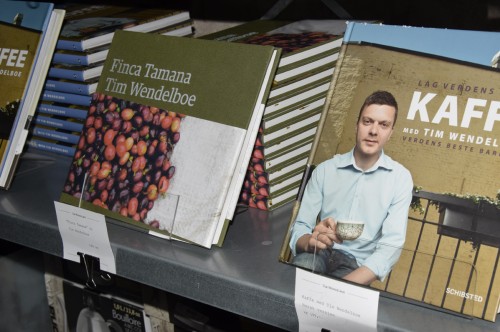 The outside of his café and coffee school is as subdued as you'd expect from a typical Norwegian. The large sign on the corner of the building that reads "Kaffa" reminds you of the old workers coffee shops where people went before their daily grind down at a nearby factory. It had a real retro feel to it and Tim's tasteful logo added a touch of class to the outside of an otherwise non-descript building.
The interiors of the small coffee shop are minimalistic and elegant. Dark colours and wood dominate the scene and smartly dressed baristas (all female) served coffees to caffeine-hungry punters at the bar and sitting on the few chairs and stools the café offers. Indeed, the center piece of the room is the Probat roaster that sat there idly on the day we visited. According to one of the baristas they only roast on Tuesdays, Wednesdays and Thursdays.
Tim was busy working away in his small office that's separated from the café by a glass door. We asked a barista to announce our arrival so we could get filming. It became clear pretty soon that Tim was incredibly busy preparing for an upcoming trip to Brazil and could only spend a few minutes with us. Still it was great to ask him a few questions and find out what the life of one of the most respected people in specialty coffee looks like.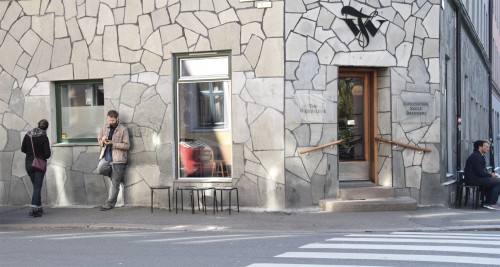 We wondered what one does when you've reached the peak of what specialty coffee has to offer in Europe. Tim said: "Well, these days I don't actually roast any more myself. I have a great girl from Australia who takes care of that plus one more in training. I spend most of my time traveling to origin countries to meet with farmers and work out ways how they can significantly improve their output. That's where the biggest opportunities are these days and where lots of work remains to be done."
He also gave us an idea of his schedule for the foreseeable future and knowing how little time he will be spending in Oslo until the end of the year, it was truly a lucky shot that we got to meet him face to face.
After our interview finished we sat down and ordered two flat whites from the bar. The surprising answer from the barista was: "We don't actually have the flat white on the menu but if you want I can still make you one." "Yes please. I certainly do want that," I said with a wink. While packing in our filming equipment, Erica and I got a chance to observe some of the people who visited the café that morning and took special note of the very diverse crowd of coffee drinkers. There were Australian, English and American tourists, young Norwegian dads with toddlers, local shop owners and other passers by. It goes without saying that any visit to Oslo is not complete without a short "hello, goodbye" at Tim Wendelboe's. If the man himself is present why don't you say hi?