La Colectiva – Madrid (ES)
Modern and vegan specialty coffee shop offering an excellent range of coffees, homemade dishes and an unexpectedly cool basement for those super hot Madrid summers
opening times:
Mon: Closed, Tue - Fri: 9 - 20, Sat - Sun: 10 - 20
wifi:
Yes
urls:
Facebook
price check:
Espresso: €2 / Flat White: €2,50 / Filter: €4
machine:
Victoria Arduino Black Eagle
coffees on offer:
various from Puchero and others
milk:
Pregola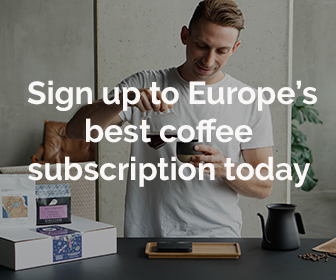 La Colectiva – Madrid (ES)
Modern and vegan specialty coffee shop offering an excellent range of coffees, homemade dishes and an unexpectedly cool basement for those super hot Madrid summers
Just north of one of Madrid's nicest neighbourhoods, Malasaña and Chueca, both of which are jam-packed full of amazing places to wine, dine and shop, there is a part of the Spanish capital that is literally becoming a hotbed for specialty coffee. Chamberí, a mostly residential and business neighbourhood has recently experienced a literal boom in specialty coffee shops that have taken root in many of its streets and La Colectiva is one of them.
Housed in a modern building on Calle Francisco de Rojas, La Colectiva is owned and run by Juan Ignacio Gomez who offers an extensive coffee and tea menu, accompanied by a purely vegan selection of savoury and sweet dishes. While most of the action happens upstairs, La Colectiva also has a surprisingly large basement space that offers a large number of additional seats, albeit without real daylight.
His main coffee supplier is Valladolid-based roasters Puchero, who is making its debut in our October '17 coffee box next month (click here to preorder yours) and his coffee menu covers all espresso-based favourites, filter coffee options and delicious cold brew. If you're not in the mood for coffee, then you should try out his exquisite Valencia style Horchata, a purely vegan drink that is both nutritious and delicious.
The interior of the upstairs part is friendly and airy with lots of plants adding an element of vivacity. Although La Colectiva has only been open for a few months, it's already become a firm fixture on many locals' daily commute and a magnet for specialty coffee lovers from far and near. Do check them out if you happen to be in the area.
More Reviews from Madrid & Spain