Saint Georges – Madrid (ES)
A friendly neighbourhood café in vibrant Chamberí that flawlessly combines outstanding coffee with traditional Aussie hospitality
opening times:
Mon - Fri: 8 - 17, Sat - Sun: Closed
wifi:
Yes
urls:
Website
price check:
Espresso: €1,80 / Flat White: €2,10 / Filter: n/a
machine:
La Marzocco Linea
coffees on offer:
various from Puchero and Dabov
milk:
Priegola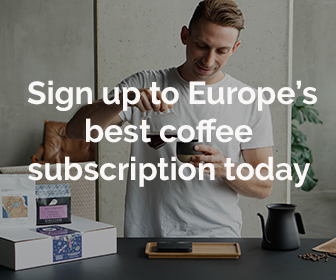 Saint Georges – Madrid (ES)
A friendly neighbourhood café in vibrant Chamberí that flawlessly combines outstanding coffee with traditional Aussie hospitality
It might seem odd but a slightly inconspicuous neighbourhoodin Madrid is fast becoming the city's specialty coffee hub. Few tourists make their way into Chamberí, for lack of sights maybe or simply because most of Madrid's 'cool' neighbourhoods are further south, but anyone looking for some of the city's best coffee bars should hop on the metro and make this residential area his or her first port of call.
One of the neighbourhood's cutest and friendliest bar is Saint Georges. Located on Calle del Cardenal Cisneros, Saint Georges is merely more than a hole in a wall but what it lacks in space it makes up for in hospitality, quality and flavour. Run by Zoë Erskine and Javier Garcia, a lovely Aussie – Spanish couple, Saint Georges first opened its doors in January of 2017 and has since become a local magnet for anyone in search of a great cup of coffee or a delicious homemade lunch.
Zoë and Javier met in Australia's coffee Mecca Melbourne and after working the specialty coffee scene in down under for many years, they decided to head to Javier's native Spain to open their own coffee bar. Saint Georges is mainly a take-away bar but it's easy to strike up a conversation with the two friendly owners and find yourself lingering.
Apart from serving great coffee from the likes of Valladolid based roasters Puchero, Saint Georges is also known for its delicious homemade lunches and sweet treats. Zoë usually takes care of baking all the sweet treats while Javi is in charge of savoury dishes like their trademark salads. During my visit I tucked into a classic serving of Aussie-style avocado on toast and had one of their freshly baked madeleines to go with my flat white.
In the short period of time that Saint Georges has been open, it has managed to come a fixture on the fast-growing specialty coffee scene in the Spanish capital and its future looks bright. Make sure to visit!
More Reviews from Madrid & Spain