Last night I was having dinner with some dear friends. Before the delicious food was served (for instance: baked Portobello mushrooms with goat's cheese, asparagus and cherry tomatos – YUM) we casually conversed about our respective days. One friend said he'd been so busy he hardly had time to go to the toilet. Another was telling us about his new job and the only girl at the table was explaining to us the progress she was making with her upcoming exhibition. When it was my turn to tell, I said that I'd had a wonderful day up in Groningen and suddenly some of the faces went blank. "Where?" one friend asked. "Groningen! You know Gr-on-in-gen?" Nothing. Ok. In hindsight this lack of knowledge of Dutch geography is not entirely untypical for expats who live in Amsterdam and know little else of this country but it was also a sign for something else. Groningen is one of the most isolated cities in the country and unless you know someone there or you're going there for business, it seems many people don't even know it exists. I do of course know Groningen and apart from the fact that it's a wonderful and vibrant student city, it has also been on my "to do" list for The Coffeevine for some time but indeed finding the time to venture up there had been the problem until now.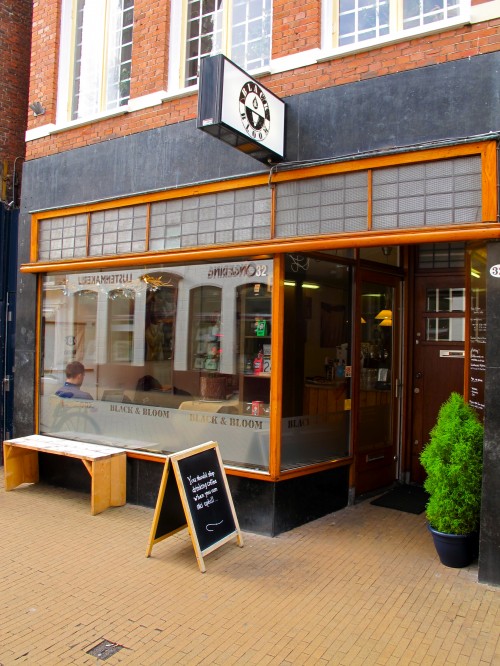 Just after launching The Coffeevine last year I got a message from a certain Gerben Engelkes who invited me up to visit him at his specialty coffee shop called "Black & Bloom". Over the course of the year we messaged each other various times, trying to figure out a date when I could pop up to his city and do a little meet, greet and taste. But as described above, Groningen is not exactly around the corner so it took me an embarassing 12 months to find a moment when I could finally jump on the train and meet the man in person.
When I walked into Black & Bloom, Gerben was sitting at the communal table leafing through the morning's paper. The place was buzzing with students and I heard various languages being spoken. A clear sign that Groningen is much more international than some people would give it credit for. Gerben is a guy with quite a presence and it was rather clear from the get go that he is a force to be reckoned with. I took a seat next to him and ordered a Flat White.
For me it was particularly interesting to understand where his passion for coffee came from and what the local coffee scene in Groningen was all about. Indeed, Gerben spent a long time in hospitality, doing stints in England, Belgium and Austria where incidentally he first started challenging the idea of how coffee was being served. With its long history of traditional coffee houses, Austria is a great place to fool around with coffee, although it is only recently that 3rd wave coffee shops have begun to change the landscape. Gerben came back to Holland with the thought in his head that coffee had more to offer than initially thought and got involved with local outfit Coffee United for whom he ran 2 of the local stores. After a few years they decided to part ways and Gerben went on to open his own place right by the Rijksuniversiteit. A magnet for caffeine hungry students andvisitors alike.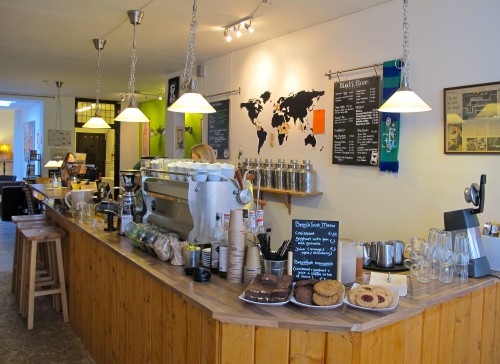 As our conversation progressed I got a much better understanding of how his vision of great coffee significantly differs from what other people consider great coffee. He said: "I sometimes get people coming in who want to open their own coffee place and when I begin to tell them all the things that we do here to make 1 great cup of coffee their faces turn white and I never see them again haha!"
After I drowned my Flat White Gerben asked his Barista to prepare an Indonesia Sulawesi Tana Toraya, fully washed pea berry with a Kalita. "I know a lot of people don't like Indonesian coffees but this one is really special. Don't give me that face," he complained laughing. Personally, I really don't like Indonesian coffees very much. They have this strange earthy taste. When the coffee arrived, Gerben poured us a cup and commanded me to let it cool for a while. I sniffed the steam and immediately thought: vegetable soup?
I was really curious to find out what his recipe was and of course for each coffee Gerben and his team develop an individual preparation method. This particular Indonesian coffee was made with: 17g of coffee and 230g of water. For the Kalita he uses a white paper filter. After blooming the coffee for 15 seconds he gives it a stir then pours the remainder of the water, lets it rest and then gives it a tap so that all the coffee grains collapse into the filter before it is all extracted. Now that is what I call a preparation method!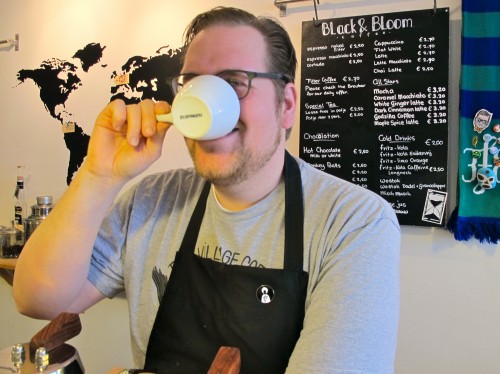 As with the coffee, Gerben is a very hands on guy for everything else, too. He manages multiple social media channels, hosts various events such as his quarterly Coffee & Games series and he is also planning to start roasting his own coffee towards the end of the year, commencing with a coffee roasting course at Probat in March. Despite his excellent relationship with Caffenation who supply all of his regular coffees, G wants to expand his skills and knowledge by taking care of the sourcing and roasting in house.
By this point my coffee had cooled down a bit and what I had initially likened to vegetable soup was now becoming a much more subtle and slightly spicy scent. I took small sips, trying to identfy the notes of this coffee but indeed a certain spinach-ey taste remained despite the overall body having moved closer to honey and cardamon. If Indonesian coffees are not your thing, don't worry. Gerben is the kind of guy who will find something delicious for every individual.
When we wrapped up our session and Gerben offered to take me for a walk around Groningen to check out some new concepts, the first morning load of students had cleared out leaving Black & Bloom quiet and relaxed. "Honestly, we have a different schedule here. Between 12 and 3 everyone's in classes or having lunch so we can relax a bit because before and after it's jam packed," Gerben explained. As we passed numerous cool retail/food concepts it did become clear that Groningen is quite an innovative city. Maybe because it's so isolated people here take things into their own hands rather than wait for big names from Amsterdam or Rotterdam to make an entrance. But what also became clear is that not everyone who has a La Marzocco automatically serves great coffee. Groningen has a lively coffee scene, partially driven by its significant student population and also to cater to visitors from across the border or down south but the quality is certainly not always convincing. Thus, while other people learn and discover how to make great coffee, make Black & Bloom a compulsory stop on your visit to this lovely city.