This is a case of 'his reputation preceeds him'. No, really. A few months ago, I was with some Amsterdam coffee people and we ended up speaking about Rob Clarijs, the multi-award winning barista and roaster who was in the process of setting up a new high-tech roastery in Rotterdam. 'He basically wants to push a button and have his coffee roasted, packaged and delivered' one jealous voice said. As someone who had never met Rob but had spoken to him via Facebook, I was really curious how much of these whispers was true.
A few weeks ago, Rob reached out to me again to find out if he could send over some coffee for one of my cuppings. "I have lots of cool stuff in stock and coming. Would love to know if any of these coffees might be suitable for your boxes?" he asked. During the cupping session for the May 2022 box, we included two of his coffees, one of which ended up getting chosen. A really exquisite and creamy natural-processed coffee from Bali. This was the first time ever that a coffee from this Indonesian island has made the cut and a great coffee for Rob to introduce himself with.
To get to know him better and to deliver my final Coffeevine order to him in person, I drove down to Rotterdam yesterday. I wanted to see for myself if he really had such a futuristic roastery where all he had to do was press 'Go' and for everything to magically spring into action.
The first thing that must be said about his roastery is that it is located in a truly iconic building on the outskirts of Rotterdam, the former Van Nelle factory. This UNESCO World Heritage site listed building is a prime example of International Style of Constructivist Architecture. It is famous for being the host of the annual Art Rotterdam show and is home to over two hundred companies, one of which is A Matter Of Concrete.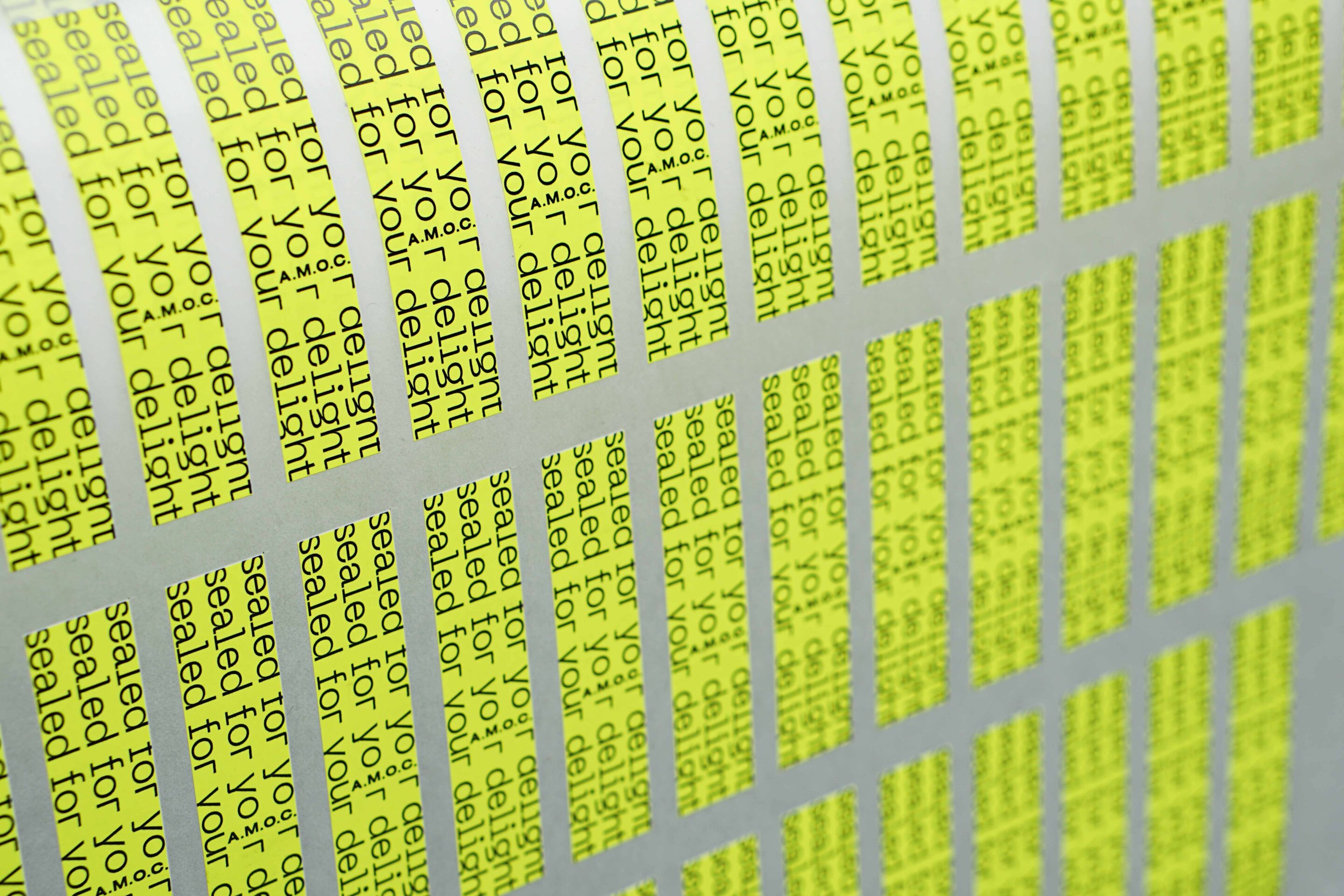 I stepped into the long and bright space and saw Rob at the far end, standing by his Loring S35 roaster. Up until this point, it looked like a pretty standard roastery to me. When he heard me, he turned around and we shook hands. "This is it," he beamed. "Pretty sweet space, I have to admit," I replied.
Rob gave me a quick tour of his Loring, the Sovda colour sorter and his storage shelves that contain plenty of bags of green and all of his webshop articles. At the end of the space, near the entrance, there is a bar and a ping pong table. While I walked from one end to the other, Rob skateboarded. Ever the cool dude.
I asked him if he could brew us some coffee and suggested we sit outside by the water to have a chat so he could tell me about his personal journey and what led him to found A Matter of Concrete, which is also known as A.M.O.C. Mug in hand, we found a spot in the sun and he began by sharing that he is originally from Zeeland, the southwestern provice in The Netherlands that is famous for its beaches, seafood and being considered to be 'far away' by most city dwellers.
"I never really had a thing for coffee to be honest even though I started working in hospitality when I was 14," he began. "I hope you weren't being forced into child labour," I retorted with a slap on the table. "God no," he said. "I just really wanted to be independent, you know?" I was relieved.
"I mean look around you. This place is SO iconic. I wanted to make a homage to this building."
After leaving his small hometown in Zeeland to move to Rotterdam, he began a degree in Civil Engineering because he always loved science and maths. It's something he was really good at, he said. Yet, the dry nature of his studies eventually moved him to quit after two years and to evaluate what he was good at and what he wasn't good at. "I thought to myself, what am I not good at but what could be benefitial to me in the future," Rob recalled of his thinking process at age 20.
What he was missing was the commercial skills to be a successful entrepreneur and thus, he decided to start a degree in Small Business and Retail Management. Halfway though his studies, he did an internship in Copenhagen where he repeatedly visited a small café near his accommodation. It was there that the barista recognized him and offered to make him the same drink he had the day before. "That was pretty amazing as an experience and not something I had ever seen before," he remembered with a healthy dose of nostalgia.
That set his world in motion and when he came back to Rotterdam, he applied to various places to work as a barista, eventually landing at Douwe Egberts, the Dutch giant, where he stayed for 6 years working as both a barista and a trainer. When he felt like he had reached his peak, he applied to Stielman, the former roastery that is now called Shokunin and owned by Jelle van Rossum, where he learned to roast coffee.
Over time, he took on more and more responsibility, including the green buying and quality control and his former boss Edwin had no problems with Rob using the spare capacity on the roaster to roast for his own label, de Zeeuwse Branding. This play on words is actually pretty sweet, I have to say. Branding means both roast (profile) as well as surf. Basically, it translates to the surf (or roast) of Zeeland. A nice homage to his heritage.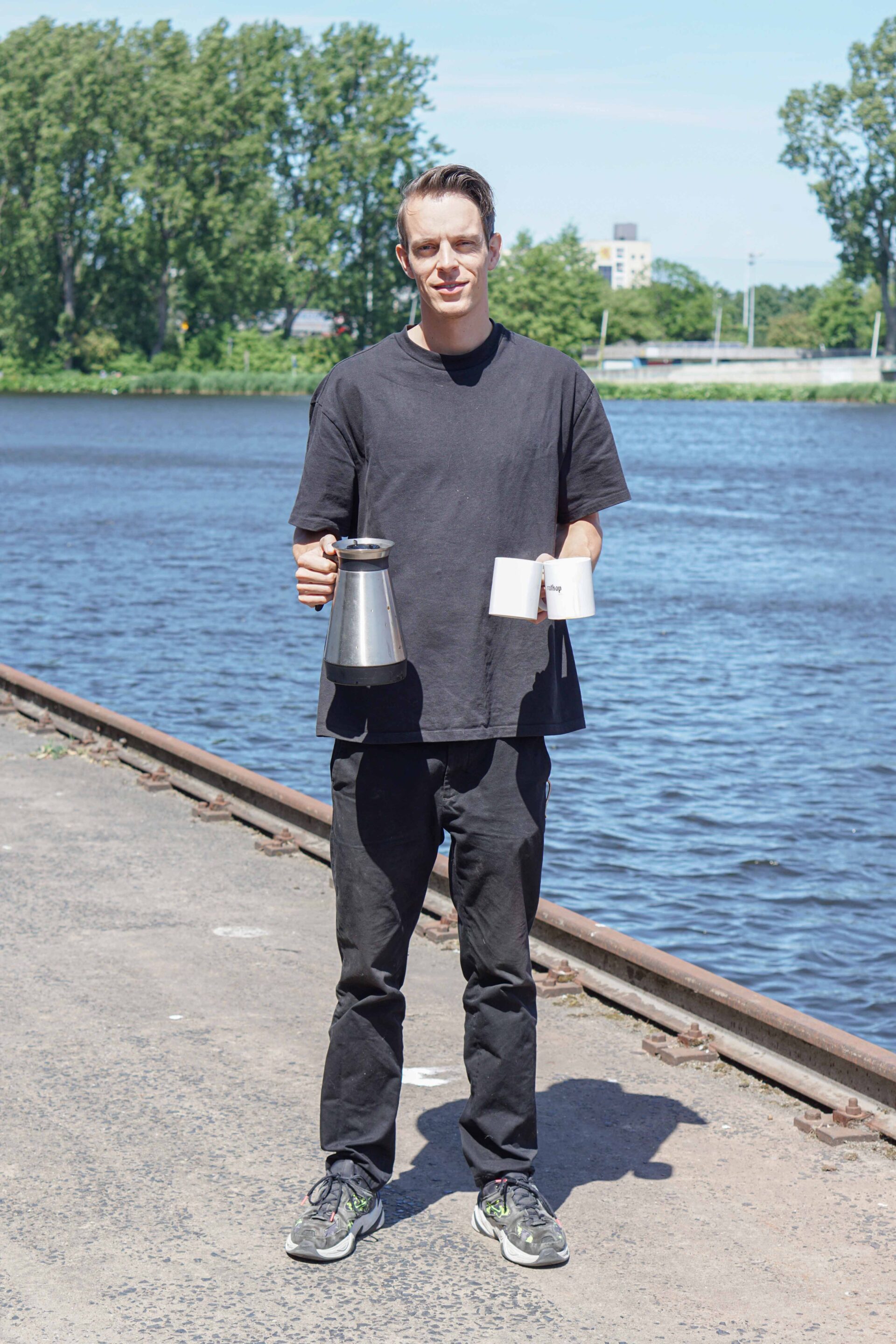 After going travelling for a few months, he came back to work on de Zeeuwse Branding full time, leaving his jobs at Stielman and Douwe Egberts and using the spare capacity at other local roasters like Giraffe and Manhattan. Yet, as he explained, after a few years, the brand lost a bit of its magic to him. "It's like with all things that you get used to. After a while, you want something more and try to explain to a non-Dutch native what the wordplay of de Zeeuwse Branding means. Impossible!"
Thus, he decided to start a completely new brand, another play on words that can be shortened to A.M.O.C. Clearly more international than the other but still, I was intrigued how he settled on A Matter of Concrete.
"I wanted to have another play on words. There were a lot of options on the table. One word, two words. But I wasn't really sure. And then I thought 'what's the most important thing to me'? I like to measure things. I am very science driven and I love efficiency. And then the other thing that influenced my creative process was the location. I mean look around you. This place is SO iconic. I wanted to make a homage to this building. This is the one of the first buildings of the so-called New Objective style and one of the first buildings that was not built on wooden poles. Instead, it was a matter of concrete," Rob concluded with a satisfied grin.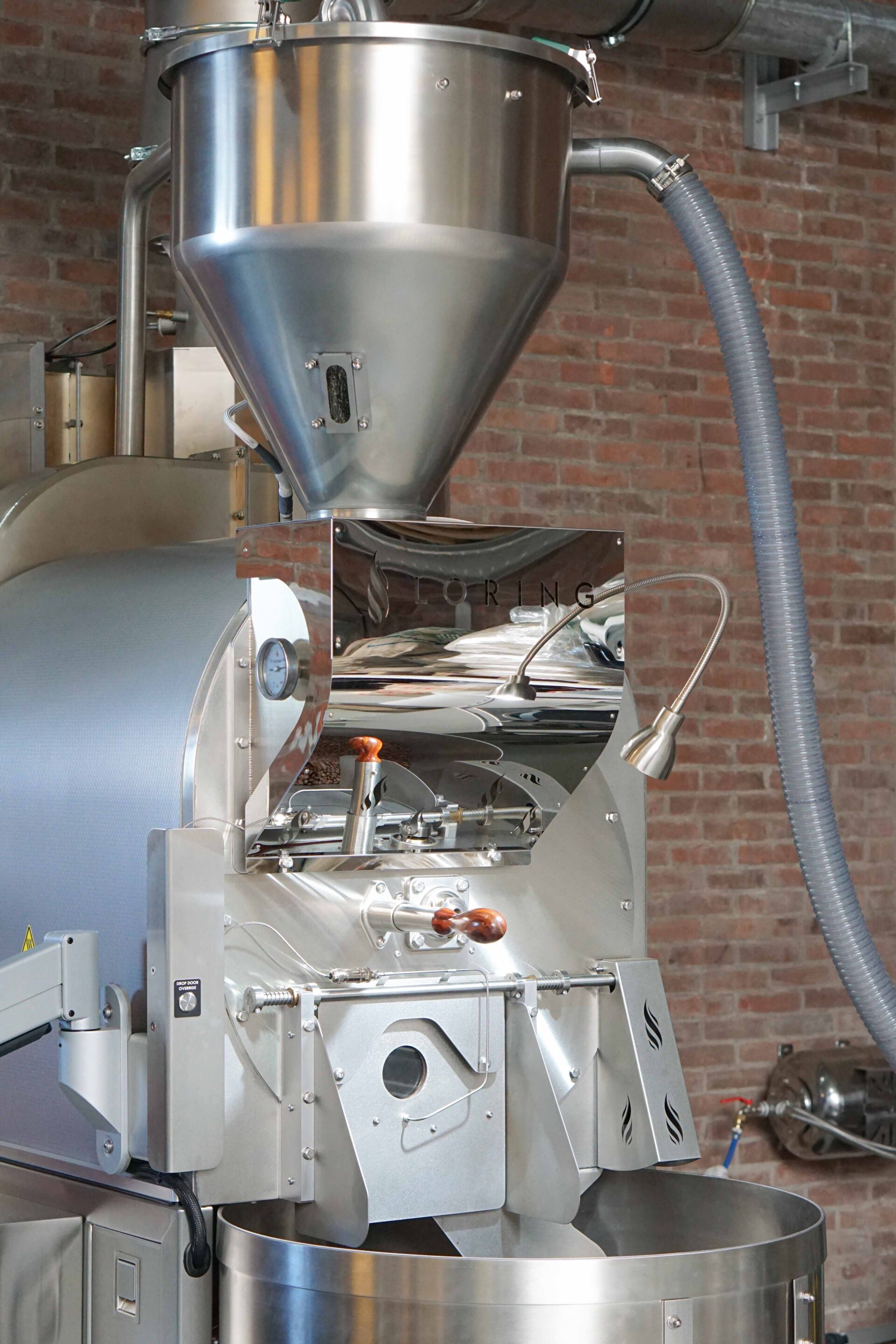 During our conversation, it transpired that Rob saved a lot of money here and there by using second-hand furniture and building appliances from scratch. And, he wants to maximise efficiency by making sure his resources are well spent at all times. This means allowing other roasters to come in and use his machinery for their own private label roasts.
My next question threw him off a bit. As someone who is himself always wondering what I want my brands to become, I asked Rob the same question: "What do you want A Matter of Concrete to be?" "Huh, that is a good question," he mused. "I think I want it to be iconic. It definitely has the potential to be more than just coffee. I'm looking at doing partnerships with different people, not just other brands but scientists too. That really excites me."
Rob is still very much at the beginning of his journey and he can still shape this company in whichever way he chooses but already his coffees are being served in highprofile places like Rosslyn in London and as far away as Hong Kong.
Coming to the end of our conversation, I wanted to ask him a bit more about his coffee offerings. I was curious about what is important to him and what characteristics he looks for in his choices, in particular, I wanted to know what made the exquisite natural-processed Indonesian coffee from I Wayan Parum stand out to him.
He began by introducing his two categories, the 'classic' and the 'uncommon', no relation to our Amsterdam roasters by the same name. "They all have the same traceability and story behind them. For example, in the classic there is this really cool natural Ethiopian, which is a beautiful delicate Guji that won't blow your mind but you'll immediately identify as a natural Ethiopia. The cool thing is that I sourced this directly from the farmer with who I've had a relationship for a while. And in the uncommon category there are coffees that standout because of their origin, variety, process or a combination of those, like this really crazy Colombian heirloom anaerobic. No one's going to have this coffee," he said.
This category also includes the coffee from Bali that Rob will be roasting for our May 2022 Coffeevine box in a few days that is juicy like cranberries and has a super strong aroma like milk chocolate that you'd never expect to come from Bali. That is uncommon.
As we got to the end of my visit, I found myself feeling impressed by this guy's drive and ambition. In 2019 when he won the London Coffee Masters and although he doesn't plan to compete again just yet, he is never someone to sit on his laurels. With A Matter of Concrete, Rob has created a brand that is unique, elegant and hungry for more.
I am excited to finally welcome him as one of our guest roasters and to share this beautiful coffee from Indonesia with our subscribers in a few days.
---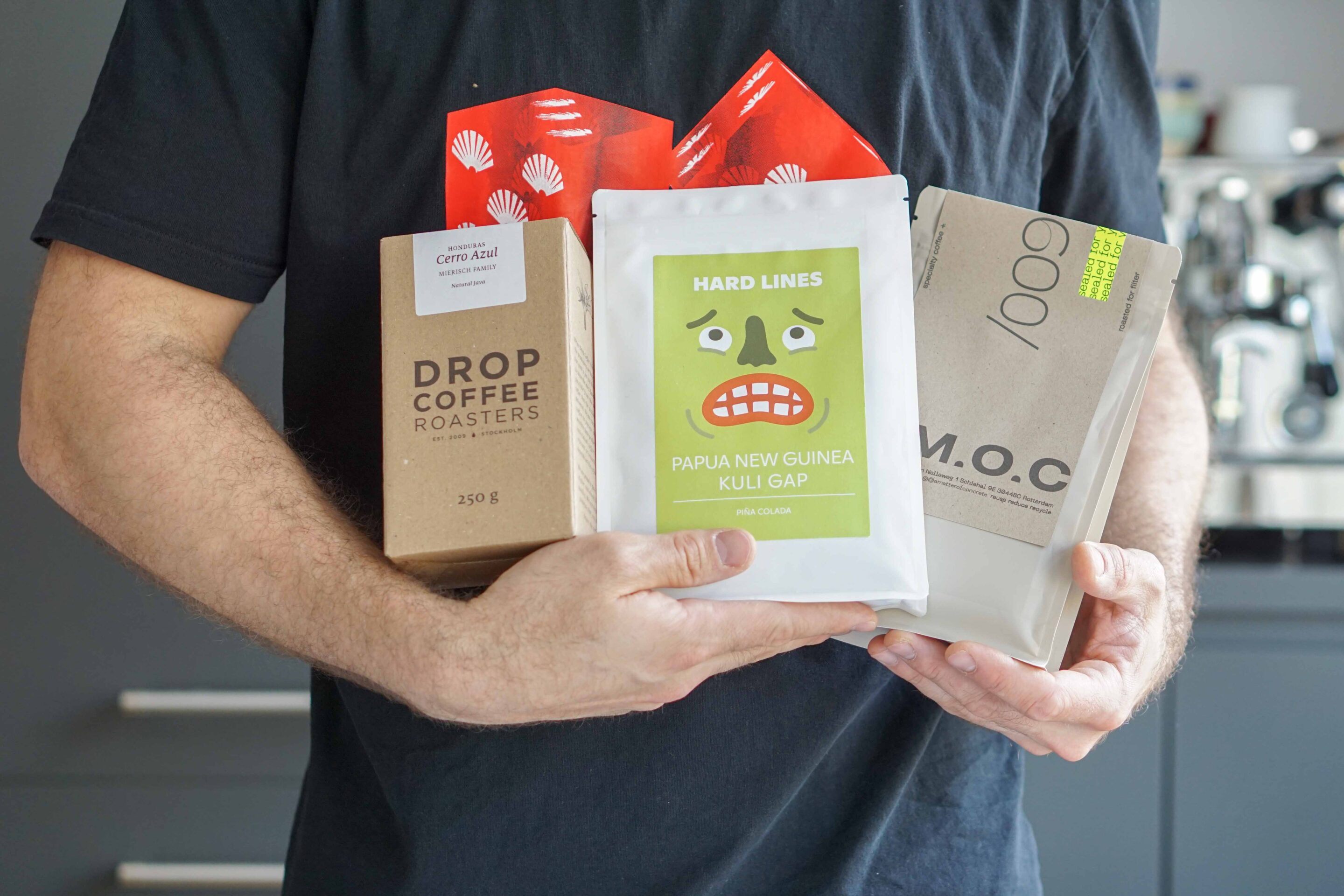 You can now pre-order or subscribe to our upcoming May 2022 Coffeevine box featuring this beauty of a coffee from A Matter of Concrete as well as two other exotic picks from Hard Lines and Drop Coffee. Visit our shop to choose your ideal box.