The finest specialty coffee a country has to offer is not always per se in its capital city. Places like Aarhus in Denmark or Galway in Ireland come to mind. Often, smaller cities offer more attractive spaces in an effort to foster entrepreneurship and customers love rallying behind a local champion who is bringing a new specialty to their towns.
In Belgium, Antwerp is the country's epicenter of specialty coffee and always an exciting place to visit for the weekend. Did I mention the food? Well, now I did.
A bit further south, in the town of Halle a fine specialty roaster called Brander set up shop back in 2017 and after being on our radar for some time, it is now finally making its Coffeevine debut in our upcoming January 2023 Coffeevine box.
Before Christmas, I spoke with co-founder Lowie Hermans over video call to get a better understanding of the story behind the business, the upcoming changes to their operations and they curious way in which they explain high acitity in specialty coffees to their Belgian customers.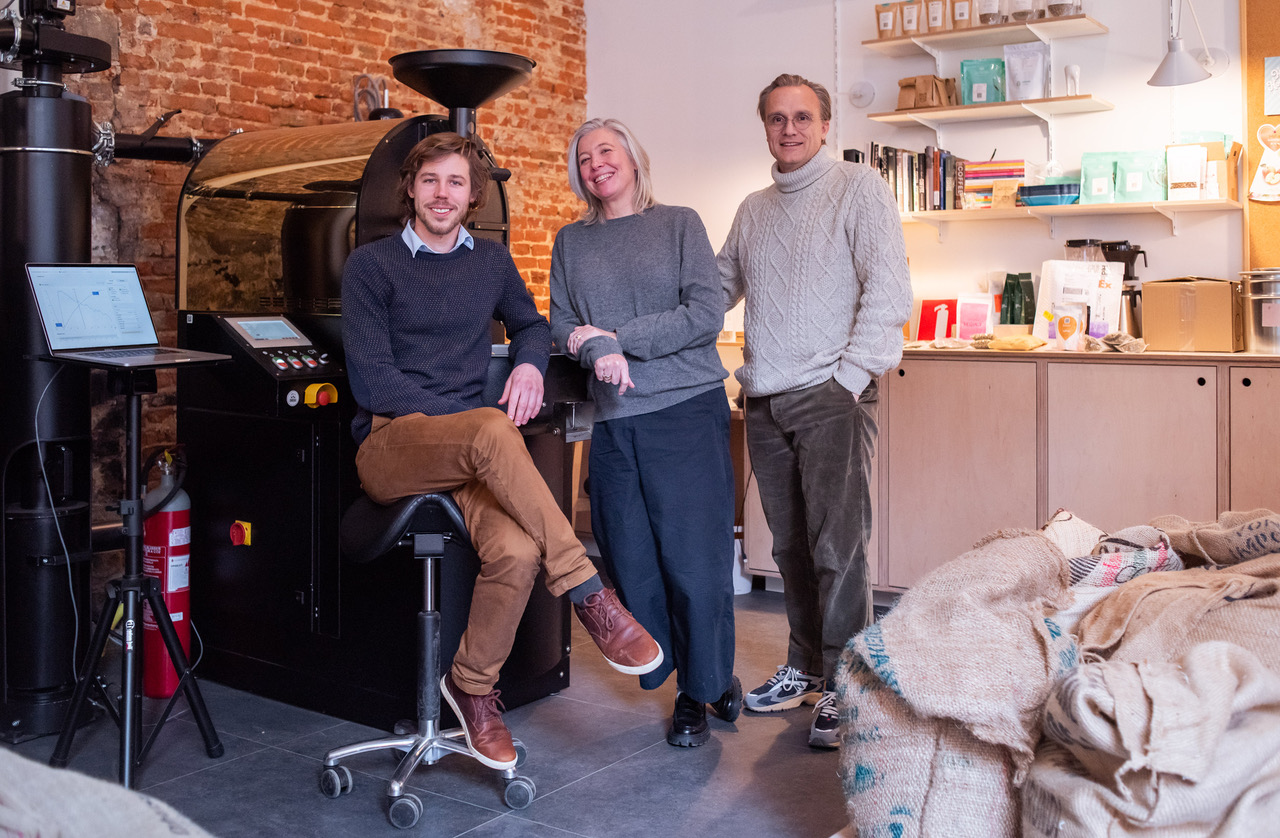 ---
THE COFFEEVINE (TC): "Hi Lowie, nice to see you again. At the last Amsterdam Coffee Festival, we spoke about working together and now, we're finally making it happen. Tell me, how did you get into specialty coffee?
Lowie Hermans (LH): "My wife and I started the company approximately five years ago. Before, we were in a totally different industry. Travel management, in fact, but we were really fed up with it.
We started looking for something else to do and we sort of discovered specialty coffee by chance when we visited Jens from MOK. They're pretty famous now, aren't they?
It was like a revelation for us. We then decided to sell our company and for one year, we followed all sorts of courses to become familiar with the subject. My wife, Veerle, is our roaster and she trained with Jens for some time too.
The shop we ended up opening is in the center of Halle and features our coffee bar and roastery on the ground floor and a concept store on the first floor where we sell handpicked items from Scandinavia, Japan and other places. We also serve breakfast and lunch!
During the pandemic, we mainly shipped to home brewers and served take away coffee but now, we're focusing much more on the fine dining market."
TC: "Yes, it's quite sad that after such amazing food experiences in leading restaurants, you are offered such poor coffee. They just don't think it's important enough, do they?"
LH: "There is still a lot of work to do and we're working on it. It's sad how they give you this exquisite tasting menu with handpicked wines and spectacular desserts but then they don't invest in their coffee and this is the last thing you taste before you go home.
Two years ago, we moved our roastery next door. We made a hole in the wall and broke through and now we have more space to focus on production. And we also updated our branding and packaging somewhat to make it more in line with our vision. We want to work mainly with elegant coffees, not the in-your-face kind of stuff.
The most recent bit of news is that we've stopped preparing food and starting in 2023, we will focus entirely on our roastery."
TC: "Oh, so you're closing the coffee bar?"
LH: "Yup. The coffee bar has already been sold but we will still work closely with the new owner since we will remain where we are. Roasting is our passion. We're too old to do too many things."
TC: "You are never too old and you're living proof that you can still make meaningful career change at a later stage in life."
LH: "We just want to do what we love. No more compromises. We also want to grow, of course, but steadily. We don't have the goal to become this huge roaster."
TC: "Tell me about the city you're in. I've never been to Halle so I don't know what the vibe is like but were you the first specialty roaster there?"
LH: "Yes. It's funny. When we go abroad, we tell everyone we're from Brussels, which is only 10 minutes by train, because no one has ever heard of Halle. And when we're in Brussels, they don't consider us to be from Brussels. We're kind of in-between.
But on the weekends, lots of people come to Halle as a little day trip and they love to visit us and drink our specialty coffees. They even come by bike. It's only about half an hour from the center of Brussels.
"…these sommeliers have the most insane taste buds. We thought we had good taste buds but oh no! Interestingly, when we talk about tasting notes in coffee, we often refer to different fruits but sommeliers think in terms of vegetables."
Our first year was actually quite hectic. We won various prizes including best new coffee concept in Belgium and another one for our interior. It was all quite a lot, to be honest."
TC: "How do you go about acquiring new customers? I can imagine that Michelin star restaurants, in particular, are quite tough because they think they really know everything. Sorry to sound so negative but I had a terrible experience at this place called 100/200 in Hamburg where the chef shouted at me because I thought the food was to salty. Is it largely word of mouth because the chefs drink coffee at your bar or how do you build those relations?"
LH: "Is it word of mouth until now? Yes. Maybe next year, once we've had a chance to build our business further, we can invest a bit in some ads or sales. We were actually very lucky to meet some well-known sommeliers in Belgium who we started talking to about coffee and grape varieties. Several of them actually became our clients and they now serve our coffees in their Michelin star restaurants.
The great thing is, their guests are noticing the difference. At the same time, these sommeliers have the most insane taste buds. We thought we had good taste buds but oh no! Interestingly, when we talk about tasting notes in coffee, we often refer to different fruits but sommeliers think in terms of vegetables. So, where we would taste say yellow fruit, they would taste tomato, for example."
TC: "That's fascinating! I think in wine we still largely talk about the grape variety in combination with the terroir. It's all encompassing. Whereas in coffee, we're now moving away from that somewhat because of these experimental processing methods that have really added a thick layer of icing onto the cake. What is your take on this? Are you more of a purist in terms of coffee processes?"
LH: Actually, it depends. We're not per se looking for very experiemental processing methods because we want to take super high quality coffees and roast them to perfection. You don't really need all these fancy processing methods to get an amazing cup of coffee. 'Normal beans' also result in great roasted coffee.
Sure, we like to experiment sometimes but overall, we prefer to stick to washed and sometimes natural ones."
TC: "You mentioned earlier that your wife is the roaster. How did you decide who was going to do what?"
LH: "Oh that was very easy. My wife is the specialist. I am more of a generalist. We complement each other very well. She doesn't like to be in the limelight and prefers to get to work in the background."
TC: "And when it comes to choosing your coffees, do you do this together or does she take the lead there?"
LH: "We do everything together actually. We're a small team of three together with our head barista Stephan."
TC: "How do you select the coffees for your different customers then? Do you offer different things to different people based on their requirements?"
LH: "Yeah, of course. In restaurants, they won't want to work with very expensive single origins. They just want something solid and consistent. In one restaurant, there might even be a blend, for example. Our single origins are mostly served in bars where people go to drink high quality coffee."
TC: "How would you describe yourself compared to some other Belgian roasters?"
LH: "When you look at our roast profiles and our cup profiles, you can definitely compare us to the light roast ones like MOK. In the end, Jens helped us a lot in the beginning. I think some of the other roasters are probably better at marketing but we're still young and small and for us taste is everything so we don't want to compromise."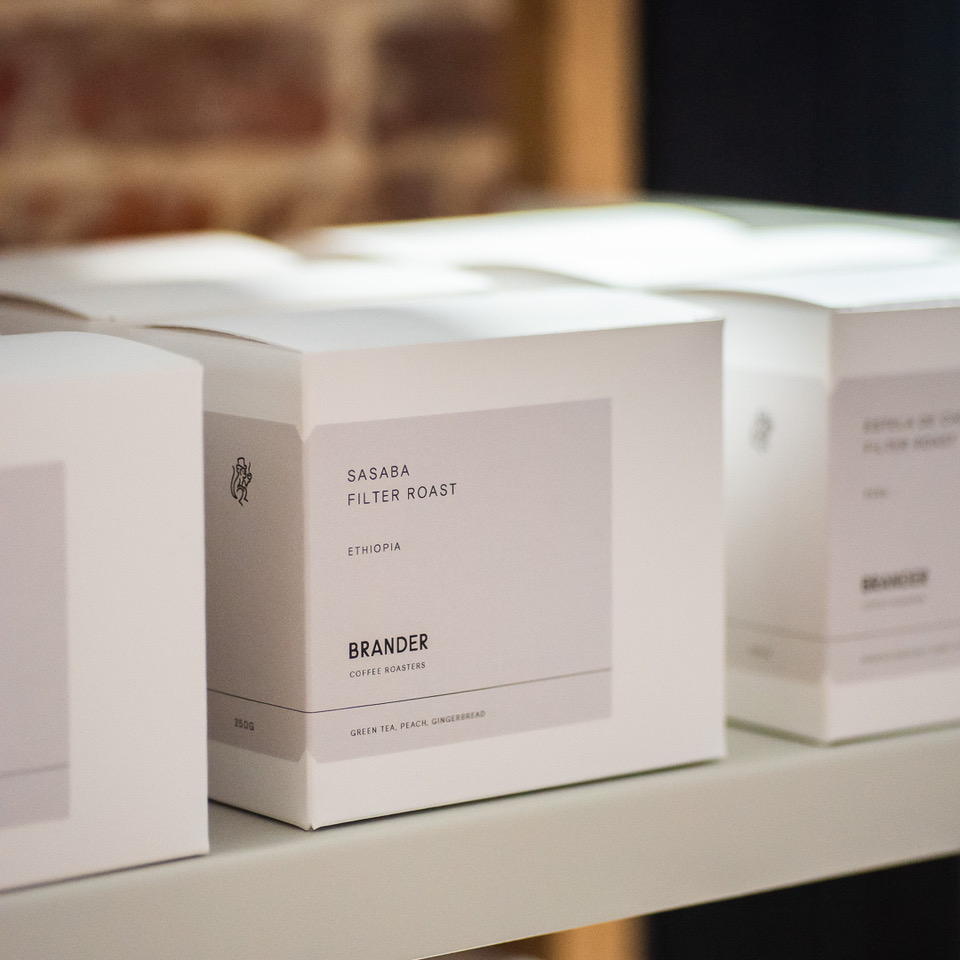 TC: "Your packaging is very minimalistic. It's almost like a blank canvas. What do you want your customers to feel when they drink your coffee?"
LH: "We want them to try and discover what is in the coffee. That is also why the packaging is very minimalistic. There are no distractions. Of course, when you're in a coffee bar and you drink a cappuccino, you can talk about it to the barista but when you're brewing coffee at home, we want you to really spend time discovering the coffee."
TC: "You are soon going to leave the hospitality element of your business behind and you're going to focus on your roasting business. Do you think that serving coffee and food might have been distracting you from your core business?"
LH: "Definitely from what we love the most. It's been really nice to have this daily interaction with our customers and maybe we'll miss it."
TC: "But you will still have the visual connection since your roastery is has a glass wall to the café…"
LH: "That is true. And we will still seek out to have direct communication with our customers because feedback is very important. In the last few months, we were already cutting down on the time we spend in our café in order for us to focus more on the roastery.
"The funny thing about [the] Milan [Coffee Festival] was that we sold out of our filter coffee but we didn't sell much espresso coffee."
And we also want to do other things. We went to the Milan Coffee Festival, which was very interesting because specialty coffee in Italy is a few years behind but they're very open to it and it's definitely starting to get bigger.
When you order a cappuccino in Italy, they know how to make it."
TC: "I disagree a bit with that. I've had some terrible experiences where they burnt the milk to a crisp, added a gallon of foam and then sprinkles. And they don't know how to clean the portafilter, flush the group head or even measure the coffee going in."
LH: "Yes but 80% of people there drink only espresso, whereas in Belgium it's the other way round. It was interesting to serve them some our espressos and they were very curious about the light roasts.
Of course, when you go to any coffee festival as an exhibitor, you want to a, sell coffee on the spot and b, meet people and potential customers. The funny thing about Milan was that we sold out of our filter coffee but we didn't sell much espresso coffee."
TC: "Let's talk about the coffee that you will be roasting for our January 2023 box. What did you feel when you tasted this washed Ethiopian coffee from Bonko?"
LH: "Well, we immediately thought that this is a very nice Ethiopian coffee. It comes from a really good mill where they do great work for the farmers. They take their farmers to the local clinic when they need medical attention, for example.
It's not your typical Ethiopian coffee. It's a bit more mellow and it has a bigger body. That's why it's super important to find the sweet spot in the roasting process and then to brew it just right. It has all the right components. It's got a nice acidity but it's also fresh and light."
TC: "Do you have any closing thoughts?"
LH: "Well, I think what's interesting about Belgium is that we're a small country and many people still don't know a thing about specialty coffee. What we do know is our beers. And there is a special beer around here called Gueuze, which is a sour beer.
Everyone's crazy about it. If we give someone a coffee with a high acidity in our bar and we compare that to a Gueuze beer, everyone gets it. And then after two or three cups, they just love it."
TC: "Ha ha. I love that! Thank you for joining me here today Lowie."
---
To order this lovely coffee alongside exquisite picks from Kiss The Hippo and KAWA, just pop over to our shop. There, you can find our different coffee boxes and choose the one that best fits your needs.