When I first became acquainted with Elbgold, I was back from my first or second year of university in the United Kingdom. Annika Taschinski and Thomas Kliefoth had just opened their first café on Mühlenkamp, a lovely shopping street in my hometown Hamburg. Back then, I was still drinking lattes and thought Starbucks was the pinnacle of coffee culture.
It took a few years before my interest in specialty coffee developed and I consequently started looking through different eyes at specialty coffee shops like Elbgold. I still remember their roaster at the back of the first café and the big dispensers with freshly roasted coffees by the entrance. I believe Elbgold might also have been the first place where I ever encountered Cup of Excellence coffees.
Once I had established The Coffeevine as my guide to the best coffee shops in Europe and beyond, I tried to connect with Annika to learn more about Elbgold and take pictures of their stunning roasting space and café in the Schanze neighbourhood. Initially, the response was a bit frosty. She probably thought, 'great, another blogger.' Luckily for me, she quickly realised that I was just as serious about my mission than she and her team were about theirs and before long, we developed a wonderful friendship. I hugely admire what she and her team have built and it's always an honour to work together.
Elbgold is beyond a shadow of a doubt one of Germany's most hyperactive and committed specialty coffee importers, roasters and coffee culture hubs. As one of the earliest pioneers who consistently put the work of producers at the core of its business and communication, Elbgold managed to carve out a sizeable chunk of the German specialty coffee niche for itself and today runs five cafés in Hamburg along with a separate coffee import business (PLOT Coffee) and a growing patisserie division. Their pastries have always been irresistible.
In 2020, during the height of the pandemic, Elbgold made its first Coffeevine appearance with a spectacular anaerobic processed Ethiopian coffee from Bombe that sure enough went on to win the Coffeevine Award for Coffee of the Year. Now, Elbgold is poised to return to our box with another fantastic coffee, a yellow Caturra from producer Roberto Mata in Costa Rica that comes with a juicy honey fermentation.
This week, I caught up with Elbgold's head roaster Sebastian Kohrs to chat about Elbgold's journey during the past two years, its ongoing efforts to put farmers at the core of their communication and whether experimental coffees like this one are making roasting more challenging.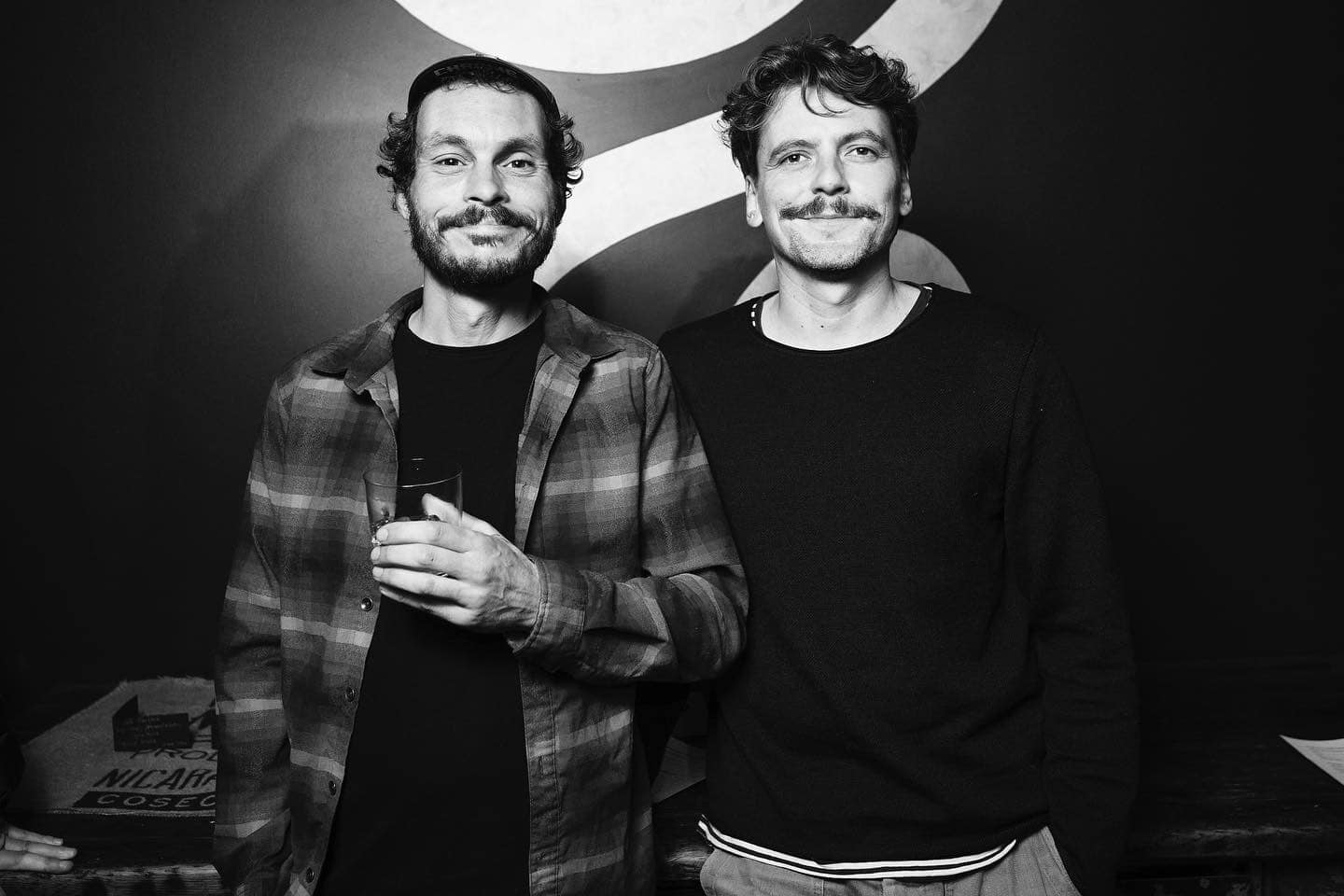 ---
THE COFFEEVINE (TC): "How did y0u end up at Elbgold?"
Sebastian Kohrs (SK): "Totally accidentally actually. I am a trained chef but I haven't worked as such for over ten years. A few years ago, I decided to go travelling in New Zealand to find my center again and when I came back, I wanted to study social work. I returned from my travels in February and had some months to kill before my semester began. I went back to the restaurant where I had previously worked, which happened to be next to Elbgold's roastery and where we used to source our coffee from.
One day, I just asked Elbgold if they needed an extra pair of hands and that's how it happened. In the weekends, I helped carry plates at the restaurant and during the week, I was helping out at the roastery. By chance, around that time, the two roasters at Elbgold quit their jobs, which meant that Thomas had to get back in front of the machine and I started roasting with him. In the end, I never began my new studies and got completely absorbed into the coffee roasting world. It's extremely fascinating and I could draw some parallels between my experience as a chef and what happens to the coffee bean during roasting.
The following year, Thomas took me to Ethiopia and Kenya and that basically sealed my fate."
TC: "How do you look at all these experiemental coffees as a roaster? Is it much harder for you to get the roast profile right now that there is so much more going on or do you find that especially interesting?"
SK: "Both. You now have completely different sugars and acids that develop during roasting and as a result you really have to immerse yourself even more. I think the briefing is also a bit different compared to, let's say, a classic washed Costa Rican coffee, for example. We've been buying washed coffees from producer Roberto Mata for years and with those coffees, you really want to bring out that classic Costa Rican cup profile and showcase the terroir."
TC: "But isn't that becoming virtually impossible with all these fermentations? On the one hand, these fermentations can bring out or add flavours to coffee that you really wouldn't expect but on the other hand, they can also help to improve the score of certain coffees by 2 to 3 points. And this often has the consequence that you can't really identify the terroir any more. Isn't that so?"
SK: "That is true. If you only buy one fancy lot from a given producer, then you simply don't know what the quality of the base product really was. Here at Elbgold, we have been working with most our producers for many years and we usually buy a full container that then contains a mix of lots. This includes a number of classic washed lots with a minimum score of 85 points as well as a bunch of bags of more exotic stuff like this juicy honey fermentation coffee. This allows us to draw informed comparisons.
In addition, we travel to our producers every year and we know how these coffees grow. In Roberto's case, we know how his yellow, red and black honeys taste and he uses those to produce this juicy honey fermentation coffee. So we know what the base is.
"I [do] think that we're in an age now where as consumers, we simply have to be a bit more involved and curious about how and what we consume."
But yes, admittedly, I do struggle sometimes while trying to identify the exact origin of an experimental coffee and yet, it's also exciting that we can work with coffees like these and continue exchanging information with the producers and other roasters. So much has changed in the coffee community in the past ten years and we're now in a position where we can share our knowledge and experiences of working with say anerobic coffees versus washed coffees."
TC: "I think that one of the consequences of this trend is that a lot of people feel really overwhelmed by the terms that are used to describe coffee processing. Many people have no clue what carbonic maceration or frozen cherry fermentation mean. And I've seen some roasters and cafés who are moving away from focusing all of their attention on the producer and instead, are using flavour navigation as their main tool to explain and sell coffees to customers. How do you see this?"
SK: "Well, the way I see it is if you go to the market and you want to know where your vegetables were grown, you have a chance to engage directly with the producers and in specialty coffee it's the same idea. The only difficulty is the huge geographic distance.
Personally, I find that producers should always be at the center of all communication. Of course, you might start your conversation based on the taste of your cappuccino or espresso but one should never try to brush over the hard work of the producers who still get the smallest share of the pie. And that is also what I try to tell other roasters. Just be open about your story and try and communicate everything you know.
However, the producer should always come out on top of all communication efforts."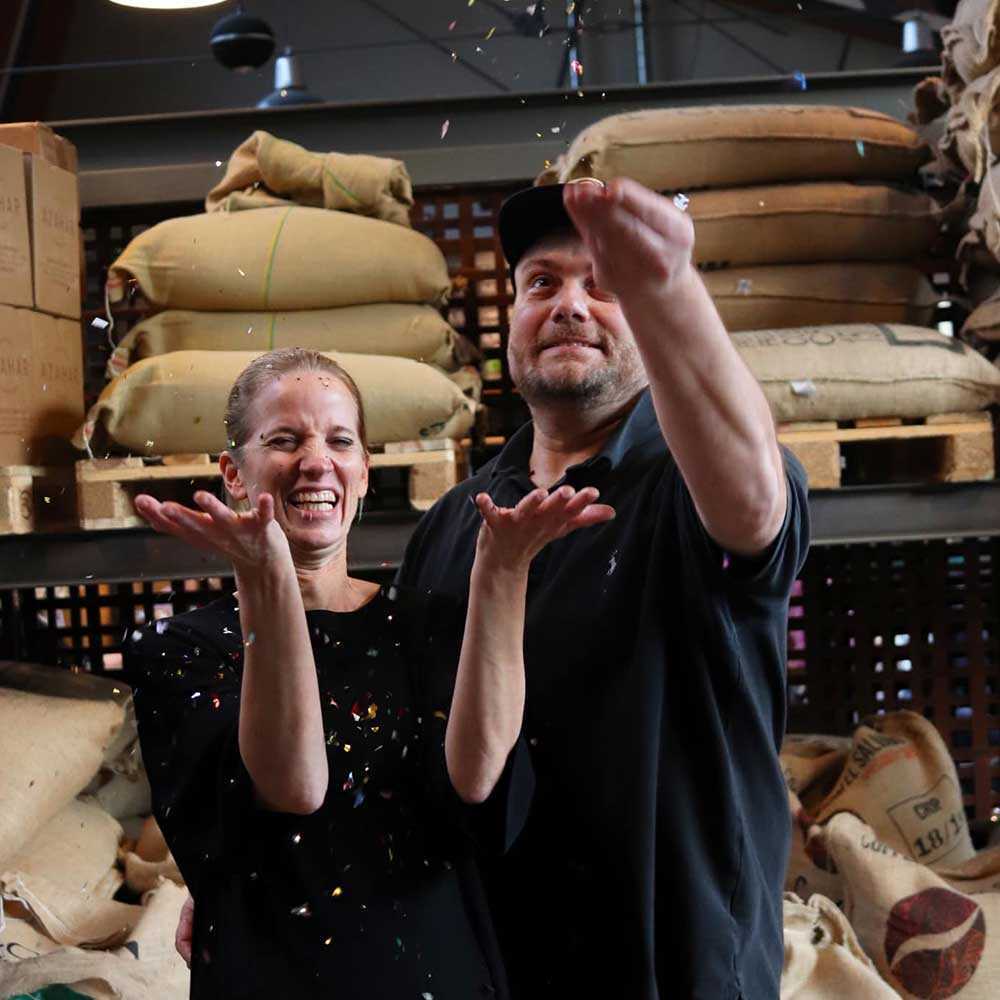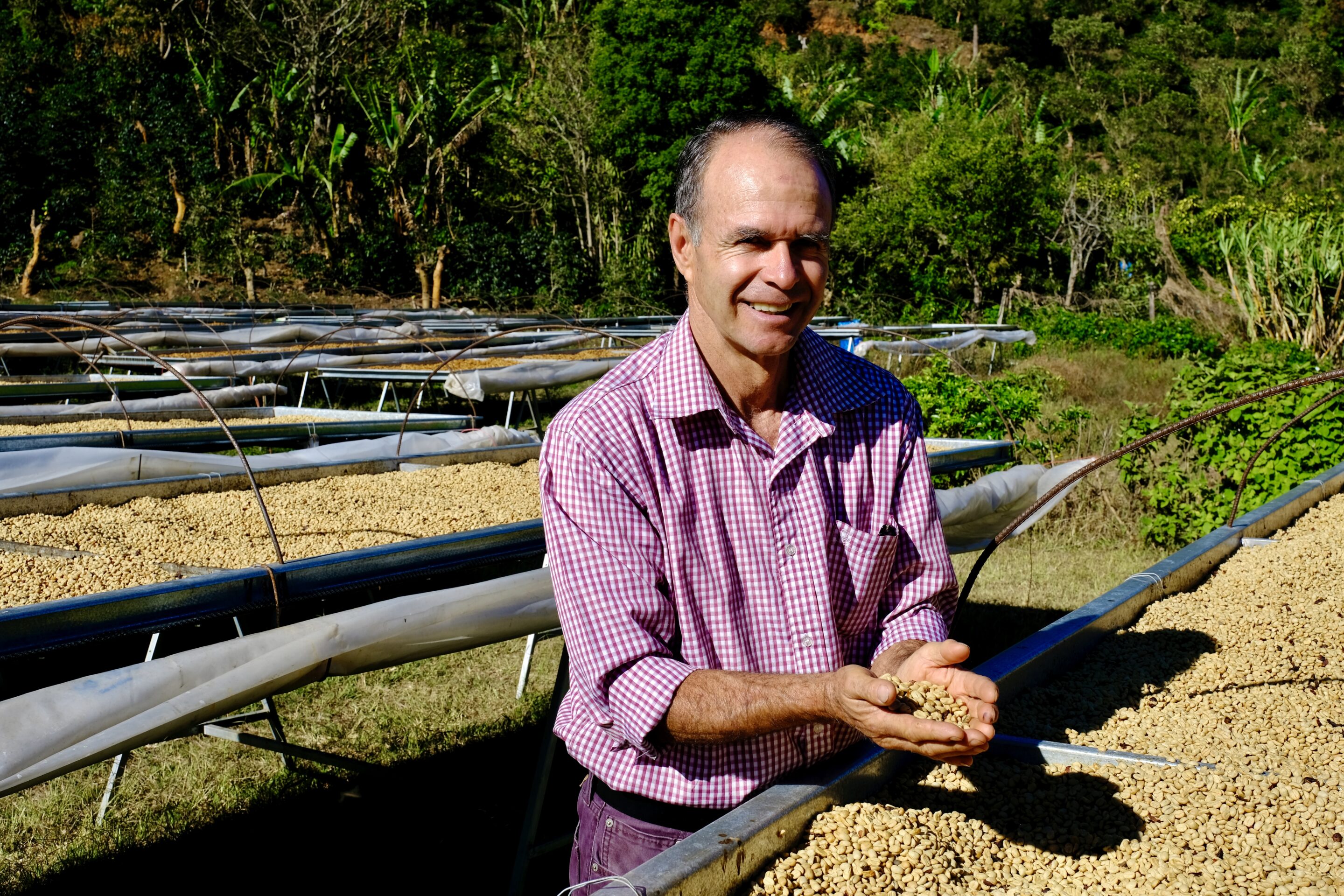 TC: "I agree with you. At the same time, most people do their groceries in the supermarket and don't spend a lot of time wondering where their garlic is from or who produced their sliced cheese. And for many coffee drinkers, I think it's also quite hard to describe exactly what they love about this coffee versus another. What's more, with many of these experimental processing methods, it's quite hard to understand exactly what they are unless you have a degree in chemistry or you've been to the farm and you've seen it in person. 
The way I see it is if you, as a consumer, go and get, let's say, a doner kebab, which is quite simple and you see how they prepare it versus going to a Michelin star restaurant where the waiter explains your dish and you go 'wow, this is incredible' but you don't know how they made it. I can imagine that many smaller roasters who can't afford to go on origin trips every year might also struggle to understand some of these super exotic processing methods and then the question is, how do they properly communicate them to their customers?"
SK: "That is definitely true. Having said that, I do think that we're in an age now where as consumers, we simply have to be a bit more involved and curious about how and what we consume. This applies to groceries as well as energy, for example. Of course, you cannot ask questions about everything you buy or you'll lose all joy in life.
"We want to buy as much as possible green coffee from our producers to have the biggest possible impact."
That's why it's important that people know that they can delegate some of these responsibilities to companies like us. I know that we have many people coming into our shops who are already aware that Elbgold has strict quality control policies and sources its coffees directly from most of its producers to whom it pays a really good price. This means that consumers can make an informed decision and buy their coffees from businesses that act responsibly."
TC: "I appreciate that. And yet, there are also still a lot of people out there who go around buying organic or fair trade products because they think they're automatically infinitely better than conventional products without actually really knowing what these terms even mean."
SK: "That's definitely correct. Organic or fair trade coffee excludes a lot of coffee that is qualitatively better. However, if we can all contribute even a small part towards making the coffee world better, we can have a longterm impact. As a roaster, you also don't just buy from the same importer because that's how you've always done it, right? You need to be able to ask questions and you need to be able to answer them.
If I go to a roaster and I say 'hey, where did you get this coffee from and how much did you pay the producer?' and they can't give you an answer, that should raise some eyebrows. And this is also where I see a bit opportunity for smaller roasters who maybe cannot go on origin trips every year to ask themselves, 'where do I get my green coffees from?' It's a matter of trust, especially for us who have to deal with huge geographical distances and long waiting times.
Of course, we get pre-shipment samples and post-arrival samples etcetera and for us, this level of trust has paid off over the years. I've seen for myself over the past ten years. This model works. So much has improved at origin because people are asking the right questions. We've also been able to offer producers a working alternative to existing coffee trading models and we have a responsibility to be a reliable and trustworthy partner."
TC: "How has your business evolved over the past two years? I remember that I saw with Annika in 2020 and she offered me a tasting of all of the delicious pastries that you make. During this conversation, she mentioned that you wanted to move away from offering cooked breakfast dishes etc and focus more on serving coffee. Can you tell me more about how Elbgold's business looks today?"
SK: "The basic principle is still the same. We want to buy as much as possible green coffee from our producers to have the biggest possible impact. That's also when the idea for PLOT Coffee (Elbgold's green coffee trading arm) came about. Our production is definitely growing. For instance, we bought two new roasting machines. Currently, we're still roasting on a 45kg Probat and we purchased a 70kg Loring for our big production roasts and a smaller 7kg roaster for specials. We also bought a new packaging machine. So, we're investing a lot in the roastery to increase our quality and decrease our energy consumption.
We want to shape the future. Our cafés will remain because that's how Elbgold was created and this has a very important impact on our brand. It allows you to experience the brand, as it were. Whether you come here to the roastery or to our coffee lab in the center, we offer different coffees that allow you to experience different things. The patisserie is also developing in a similar fashion to the roastery. We're paying much closer attention to where we buy our ingredients from and we have star patissiers who've created small macarons but of course, we also still have the classics like apple pie and cheese cake."
TC: "How is the coffee culture in Hamburg developing? I sometimes feel like it's not as exciting or dynamic as in Berlin, for example. We sadly had to say goodbye to Tornqvist last year."
SK: "There scene here is growing despite Covid. It's always great to see that there are brave people out there who still want to go and start their own business. I really like the scene here. Last night, we had an event here with Vladyslav Demonenko who came second in the Coffee in Good Spirits Championship and who was serving his signature drink. Of course, Berlin is a very different world. It's much more international."
TC: "It is interesting to see that in Berlin, all of those roasters are competing with each other a lot whereas in Hamburg, you guys don't have that many competitors."
SK: "Well, Elbgold has been around for 18 years and we did a lot of the pioneering work and we have a lot of very loyal customers. We literally have people who've been with us since the first day. And because we've been around for so long, we have the opportunity to do other really exciting stuff that we've been meaning to do for a while. For example, we're finally buying coffee directly from Indonesia and India.
Naturally, we're always looking at which additional distribution channels we can open but our main focus will always be on origin countries. So basically, we're looking at where can we support producers and often, these are countries where sourcing coffee is challenging for various reasons. That's why we've now divided our roles somewhat so that we can build much stronger networks in those countries. I'm really excited to start travelling again! I'll be looking after Africa, including Ethiopia and Kenya where we already source coffees from and Rwanda, which will be a new origin for us.
When I sit with Annika and Thomas, we don't just talk about how we can roast our coffees better but we think where else can we source great coffees from. It's crucial that you build a network there and find people who are on your own wavelength, who have the same motivation. It's quite challenging finding those people.
Next to our focus on Africa, we're also looking at Peru and Colombia, in particular. This mission to source fantastic coffees, coupled with our well-established hospitality business makes us quite different to many other German roasters. And ultimately, we want to increase the sales of PLOT Coffee and one day, start taking some of our customers to origin countries to give them a chance to share these experiences with their own customers."
TC: "Speaking about origins. Is there any other super exciting origin that you've never been to but that you'd love to work with?"
SK: "Well, I've never been to Rwanda but that's maybe not a very unusual origin. I do find the developements in Asia quite exciting because they have completely different climates and geographies and that means they have very different acidities. And that's what excites me as a roaster. To try and find out things that no one else has found. I also love Indonesian coffees. There is so much variety there, it's insane."
TC: "Thank you so much for your time."
---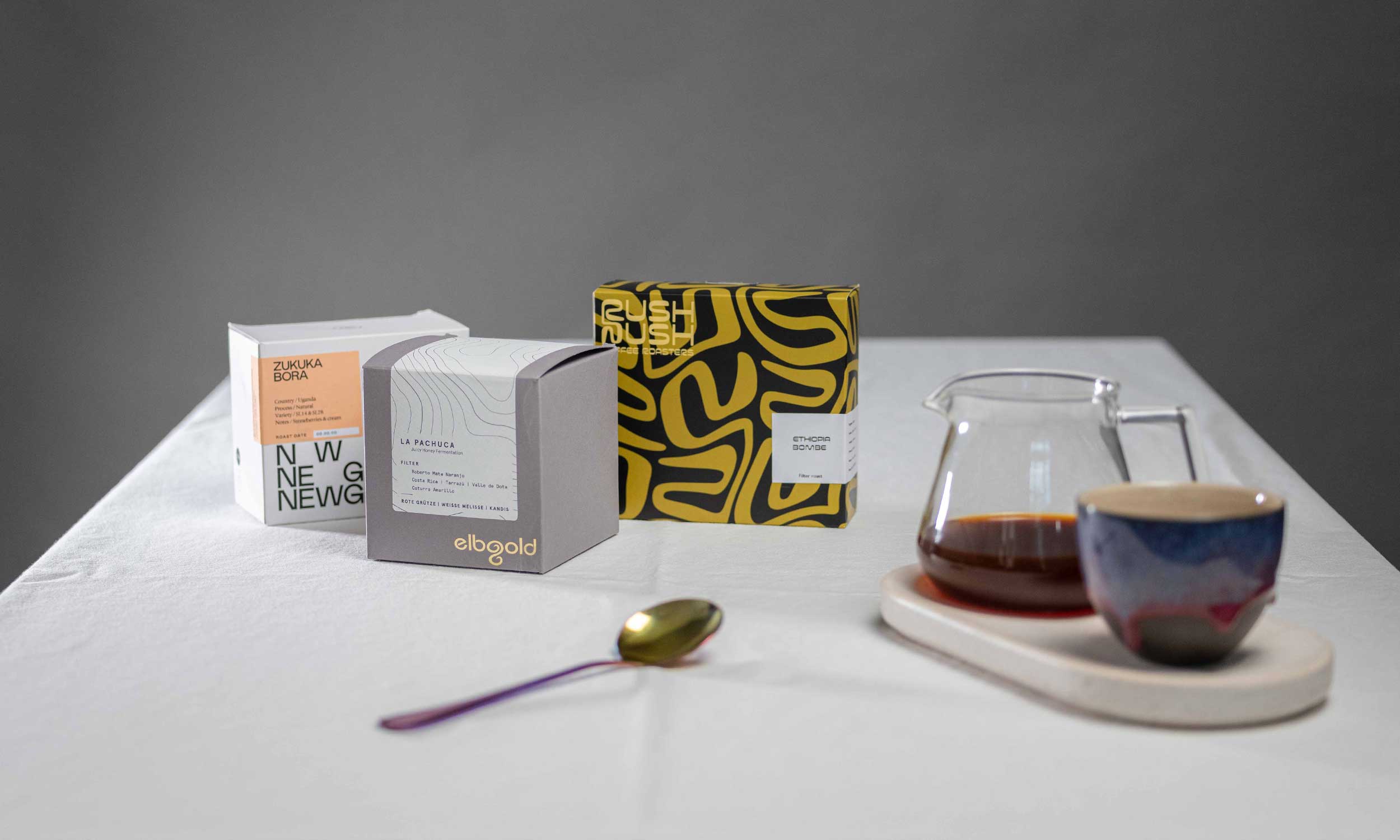 This coffee is part of our upcoming October 2022 Coffeevine box that also features other delicious coffees from Newground and Rush Rush. To choose your ideal box and get in on the fun, just pop over to our shop now.