I first became aware of Kiss The Hippo when its founder, Can Eren, purchased a coffee subscription from me. I looked at the company name and I mused to myself 'what a cute name for a business. I wonder what they do.' But in the process of packing hundreds of orders, I didn't give it any further thought at the time. Soon after, I found out that this funky sounding business was one of the rising stars of the London specialty coffee scene and despite the cute logo, it was dead serious about making an impact.
It was around that time that my friend Joshua Tarlo, formerly of Origin Coffee fame, had joined Kiss The Hippo, shortly followed by Paul Ross, both of who took home the UK Barista Championship title in 2018 and 2019, respectively. An impressive CV for such a young company whose main outlet and roastery was in Richmond, a suburb of London.
Since then, Kiss The Hippo has continued on an upward trajectory, opening a second outlet in Fitzrovia, moving its roastery into a new production space and getting certified Carbon Negative. Yes, you read that correctly. Their aim is not just to completely offset their carbon emissions but to do what is necessary to have positive impact as it were. Thus, Carbon Negative.
After a couple of very well received features over the past few years, Kiss The Hippo is returning to our Coffeevine box in January, presenting a super delicious anaerobic natural processed coffee from Honduras. To learn more about Kiss The Hippo's journey and this coffee, in particular, I recently caught up with their Head of Coffee, Kane Statton.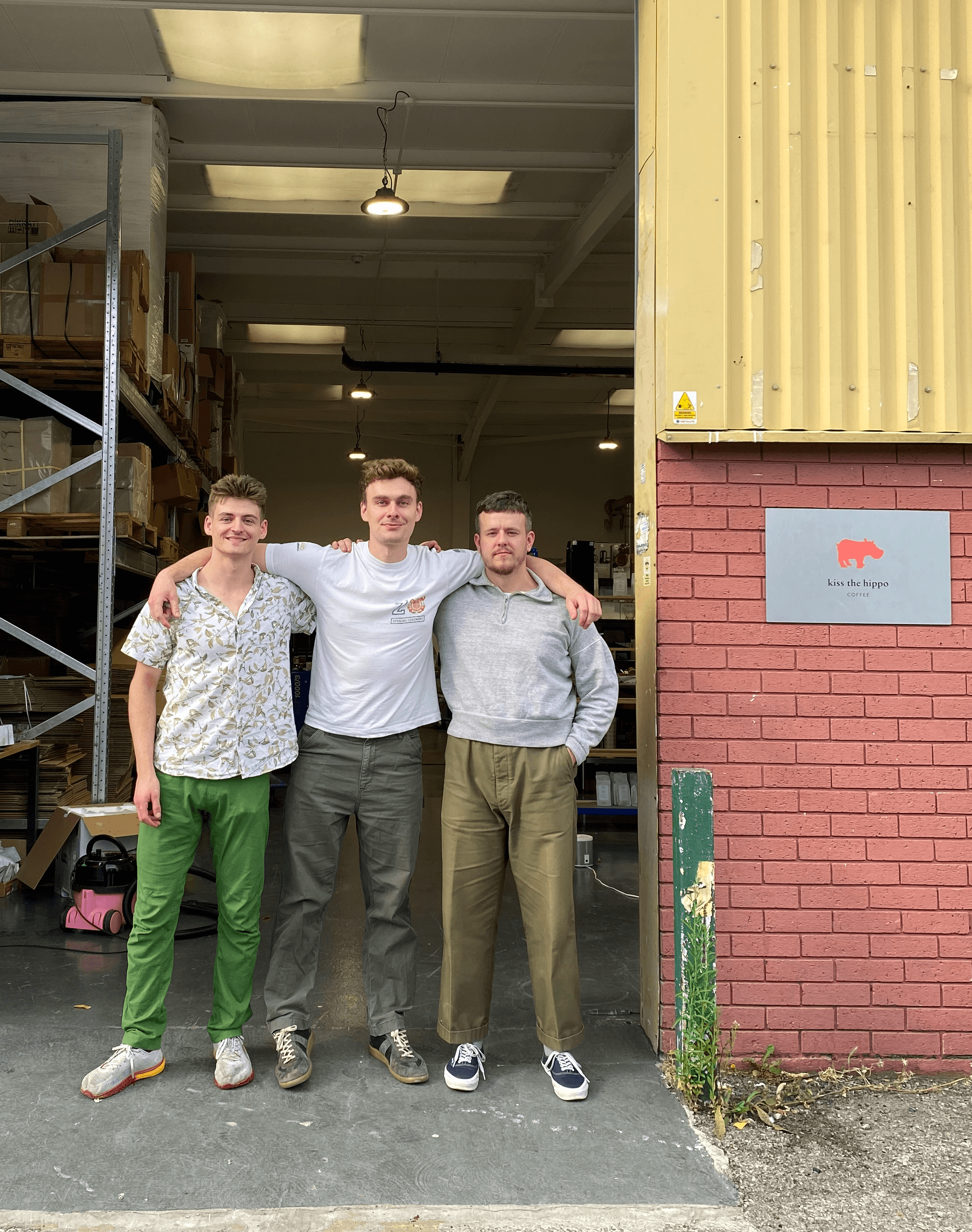 THE COFFEEVINE (TC): "Nice to meet you Kane. We have not actually met in person yet but I know many of your colleagues. You previously worked at London institution Nude Espresso, right? How long have you been in coffee?"
Kane Statton (KS): "I've been in London for about nine years now and in coffee in general since I was like 15 or 16. I was first trained as a barista by Origin Coffee Roasters in Cornwall when I was still a child really, so really long long long ago."
TC: "That's funny! Every time I see Tom [Sobey – founder of Origin], I tell him I'd love to visit him in Cornwall but I've never made it there. I actually studied in Lancaster up north. The beaches are definitely not as pretty there."
KS: "Cornwall has great beaches but it can be more difficult to get there than to travel to Greece."
TC: "After your time at Nude, you joined Kiss The Hippo, which was rapidly taking up a spot amongst London's top roasters. What attracted you to the company?"
KS: "I was really attracted to the green credentials, primarily. I am interested in this part of our industry and how we can make a more positive impact. As you correctly said earlier, there were also a number of former UK Barista Champions here and I thought that it would be great to come and work with them. I could really learn a lot.
The company also offers a very broad range of products. There is a bit of everything really. From Maurico Shattah geshas to darker roasted organic blends. It all came together for me and this made Kiss The Hippo a really attractive place to work."
TC: "In a way, the hippo itself is a hommage to the natural world but I thik to outsiders it's not immediately clear what the name really means or stands for in the context of coffee. Can you elaborate on that?"
KS: "The hippo is indeed a link to the natural world and it sort of reflects the company's green credentials in a way. We try to have a positive impact on the environment and consequently on the animal world. The other reason is that the hippo is one of Can's favourite animals and he thought it would be a quirky marketing gag to call a specialty coffee company Kiss The Hippo.
A lot of coffee roasters have rather homogenous sounding names like roast house or roast work or something along those lines and then a name like ours really stands out. We sometimes have people say 'that's a weird name' but they generally react positively once they understand our take on coffee and our stance on the environment."
TC: "Going back to your previous employer, I do have pretty fond memories of Nude Espresso. I remember they had this roastery next to some car park just off Brick Lane and I used to go there in the early days of The Coffeevine. Then, when they opened the flaship roastery with the Loring roaster, I thought 'wow'. Truth be told, I never actually ended up working with them and I don't know what Nude is all about these days but the last time I checked, I felt like they were in the more 'classic' realm. Do you feel like you have more room for maneuver at Kiss The Hippo when it comes to choosing excentric coffees?"
KS: "At Nude, they have very strong direct trade relations with some key farms and I would say 90 – 95% of all of their coffee comes from there. As a result, while there is some room to play with when sourcing coffees, it was more limited. At Kiss The Hippo, on the other hand, it's quite different. Here, we're still in the early stages of building our relationships. One of them is with Nancy Hernandez who produced the coffee that you guys chose for the January 2023 Coffeevine box.
We still have a lot of things to figure out. For example, does the coffee have to be organic or not? For us, there are a lot of key elements that we need to consider and based on those, we choose and build our partnerships.
I think Nude is at a stage where they're quite happy with where they are. They have a solid customer base and a great business. We want to continue growing. We have a subscription service that is very popular. We have bottled cold brew and Nespresso compatible pods. I would say were still like a coffee start up where as Nude is already established."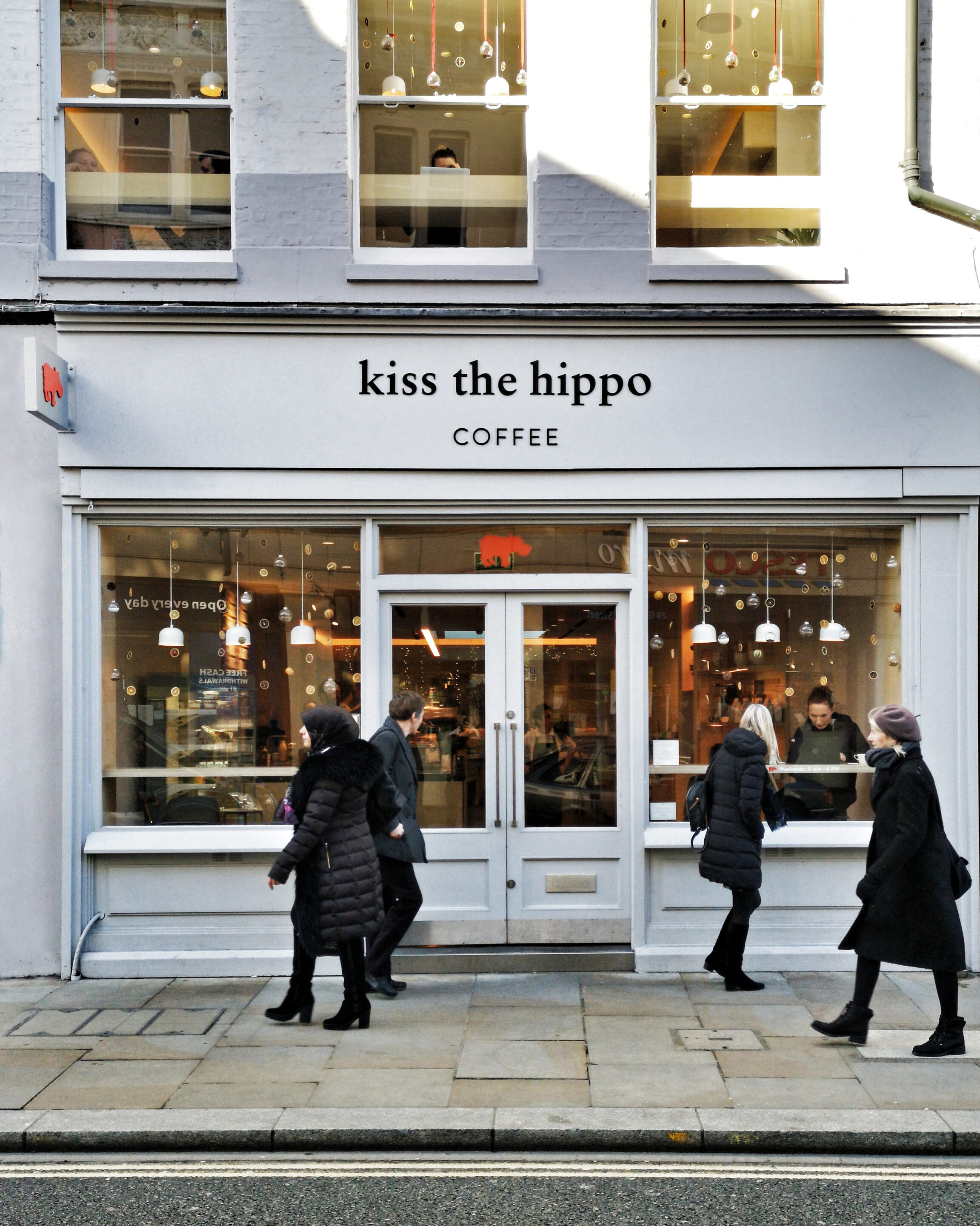 TC: "I once travelled all the way out to Richmond to meet with Josh only to find out that he thought I was coming to Fitzrovia. I was so angry! I had just spent 40 minutes on the Overground to go all the way there, ha ha! But in the end, it was a lovely visit and the team there really looked after me. Why was the business started in the suburbs, do you know?"
KS: "I don't know 100% why the business was started in Richmond specifically but I think they wanted a nice flagship store in a great location where they could showcase their awesome coffees. And I think it was also the charm of South London. Can is from around here.
I once listened to an interview with the founders of Intelligentsia Coffee and they said that, at the time, they hardly spent any money on advertising or events or whatever. Instead, they made sure they locations were unique and the presentation of the coffees was elevated so that when you walked in, you were like 'wow, I want to work with these guys'.
We wanted people to have the same sensation and to think that we could be their suppliers after they walked into any of our cafés and saw our aesthetic and tasted our coffees. It's definitely a mix of marketing and the management team living close by."
TC: "Let's talk about the company's environmental impact. It's not just carbon neutrality that you guys are striving for. You want to be carbon negative. How do you do that in practice?"
KS: "Whenever someone orders anything from us, part of that income goes towards certain causes such as World Coffee Research or planting trees. We also make sure that we work with suppliers who themselves are carbon neutral or use E-Bikes for deliveries in London. Of course, you cannot have no carbon but we try to ensure that everything is properly offset."
TC: "The main reason why I asked this is actually because I recently spoke with Zarah Lawless of Calendar Coffee and she told me that they hired a sustainability manager whose job it is to work out and implement a strategy to massively reduce their impact on the environment. At the same time, she said that some of the biggest carbon emissions are created in the production of coffee, transporting it to Europe and then roasting it. How do you see that?"
KS: "Obviously you need to get the coffee over to Europe and that will produce emissions but again, we try to put measures in place to offset these as much as possible. However, if you're shipping coffee in a shipping container, I think your overall impact is much smaller than if you were to fly a bag of some exclusive lot over by plane.
We also try to make sure that we work with farms like Fina Aquiares in Costa Rica that are already carbon neutral and like most other Costa Rican producers, they also offer mostly honey and natural processed coffees to reduce the amount of water used in coffee production and generally speaking, we try to offer fewer washed coffees to reduce our impact at origin.
"…we try to seek out farmers who want to grow organic coffee and maybe don't yet quite know how to and we help them to get ahead."
It might make your range more homogenic but there are lots of interesting processing methods now that use little to no water. In addition, we try to source as many organic coffees as possible. People often don't realize that organic doesn't just mean no chemicals. It also means that those farmers are using organic farming practices to increase their soil yield and soil health and healthy soil will absorb more carbon.
What's more, generic coffee farms tend to use a lot of pesticides and say there is a flooding, they will have massive run-offs into local rivers and these chemicals are then carried downstram and they will have a negative effect on other people and other habitats. Organic farms have much better soil that will absorb the rain and is much less prone to flooding.
As a result, we try to seek out farmers who want to grow organic coffee and maybe don't yet quite know how to and we help them to get ahead. All of our blends have organic coffee in them so we're largely an organic roaster but yes, there are part of the process that are emission heavy that we can't get around."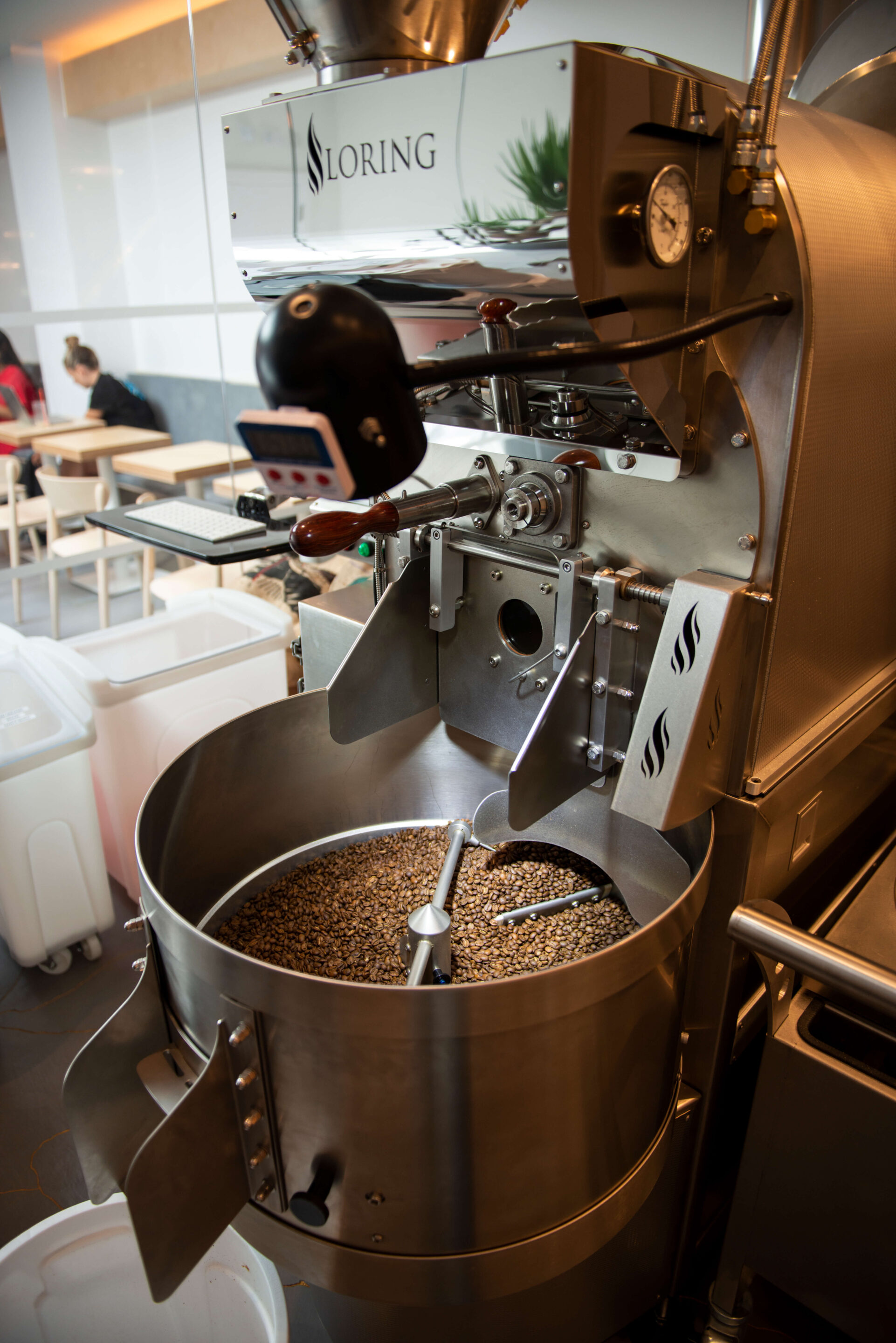 TC: "You sent me a bunch of different coffees for our cupping in Hamburg the other day where we chose the three winning candidates for our January 2023 Coffeevine box. All of your coffees were from Honduras but we ended up picking the anaerobic natural from Jerusalen. What can you tell me about the producer and your relationship with them?"
KS: "I can see that it might have been a little confusing but they're not all from the same farm, however, they were all shipped to us by one lady, Nancy Hernandez. She is both a farmer and a coffee roaster who runs various cafés. Since recently she's also dabbling in coffee export. Previously, we used to only buy directly from her and her immediate family but she recently reached out and said that she was now also representing some local indigenous tribes who are producing some great coffees.
So this particular coffee is actually from Nancy's neighbour and she is basically our local representative who is enabling us to have a pretty direct trade relationship with the farmers she represents. The producer is called Don Victorio who is from the local Lenca tribe.
This coffee comes with an anaerobic natural process, which is obviously very trendy right now and produces some pretty funky coffees. If I go back to the feedback you gave us after the cupping, you noted that it was not exaggeratedly fermented, very clean and floral and that's exactly why we loved this coffee. It almost tastes like a honey process."
TC: "You keep smelling some coffee. Is that the Jerusalen?"
KS: "Yep. After we got your feedback, we wanted to improve the profile a bit more. You gave us some really useful comments on the other coffees too and we adjusted the profiles somewhat. I've slightly increased the speed of the roast and I've got a slightly higher rate of rise throughout the second and third parts of the roast. What that does is it makes the coffee a little bit cleaner and it brings out a bit more of that tropical fruit profile that you guys liked and reduces the caramelization somewhat."
TC: "What are you most excited about for 2023?"
TC: "Oh, there is a lot. Nothing is fully set in stone just yet; we're still organising. We definitely want to focus more on working more closely with Nancy. Right now, we are mainly buying micro lots from her and we know everyone loves them and puts them on Instagram but they are not what producers make the bulk of their money with. We have talked about buying some more classic lots from Nancy but she wasn't sure yet if the farmers could get certified so we'll need to wait and see what will happen there.
Right now, we mainly buy our coffees pre-contracted or on the spot market rather than having firmly established direct trade relationships who can supply the components for our George Street blend and that is definitely something I want to develop further, either with Nancy or producers in Peru."
TC: "And are you planning to participate in any competitions?"
KS: "Not me personally. If I were to participate in any, it would probably be the cup tasters or roasting championships but let's see how the year goes. Right now, my head is a bit scrambled and I can't even begin to think about competitions.
Definitely, some of my colleagues will be competing and rather than competing myself I might be doing some coaching but let's wait and see."
TC: "Thank you for joining me here Kane and I look forward to sharing this lovely coffee with our subscribers in January."
---
To order this lovely coffee alongside exquisite picks from KAWA and Brander, just pop over to our shop. There, you can find our different coffee boxes and choose the one that best fits your needs.