An African fruit bomb, served in a tube – Ethiopia, Dumerso from Placid Roasters
A young and daring outfit from Lyon is making a stylistic statement with its gorgeous packaging and delicious coffee – available in our February '17 box
"You are what you is" is a song by Frank Zappa from the album by the same name. Although it was released more than three decades before the arrival of smartphones, Instagram and so-called influencers, it feels more relevant than ever before.
Today, you are judged 24/7 by people you have never met and most likely will never meet. This isn't just true for people with thousands of followers who document their lives with selfies and vlogs, often getting paid to promote this or that, it also true for businesses. And coffee roasters are no exception.
Over the course of the last five years we have seen coffee packaging come in many different shapes, sizes and colours, but it was not until recent years that roasters began fully exploit the communication potential of these vessels. They no longer just serve the purpose of containing their coffee; they have to also tell a story. These days, many roasters try to outdo each other by using boxes, different types of bags, even bottles, but Placid roasters from Lyon got something different still.
When we first came across them, we were immediately enchanted by their gorgeous black tubes and colourful stickers that represent each one of their coffees. They created a brand identity by using rich blues and greens, or yellows and reds as gradients placed over black and white photos of the coffees' origin, which looks incredibly elegant in both pictures and real life. According to co-founder Aurelien Javelle, he and his business partner Julien Da Silva 'they wanted to create packaging that would break the usual aesthetic associated with coffee and they cut, fold, stick and seal every single tube by hand.'
Naturally, we were extremely curious about their coffees too and invited them to send us samples for our most recent blind tasting session where we determined which coffees would make it into our upcoming February '17 box.
Placid provided us with two coffees, one of them being their Ethiopia, Dumerso, a fine example of Ethiopia's consistently outstanding quality and incredible variety. Ethiopian coffees regularly appear in our boxes and given the wide range of flavours that coffees from this country offer, it's always a thrilling prospect to taste and compare them to previous picks.
The Dumerso really spoke to us with its bright citrus notes and floral cup. It's a really lovely balanced coffee that has a delicate acidity and a caramel-like finish. Produced by hundreds of small-holders in the Yirgacheffe region, this Dumerso is a washed coffee, meaning the beans are separated from the flesh while the fruit is still moist and through fermentation, the mucilage is then removed before the beans are spread out to dry on raised African beds.
Our filter coffee drinkers are going to absolutely love this coffee while our espresso drinkers will be receiving a different coffee from Placid Roasters, namely their Burundi, Buziraguhindwa coming from a relatively unknown processing station that did an outstanding job at producing a truly exquisite coffee from a lesser known terroir.
---
Don't miss out on our upcoming coffee boxes!
Featuring Fjord, Roestbar and Placid in our February '17 edition.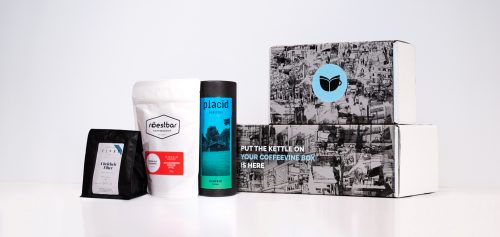 Every month, we feature three spectacular coffees from the likes of: La Cabra, Drop Coffee, The Barn, Five Elephant, The Coffee Collective, Tim Wendelboe and more.
"An absolute must-have for making great coffee" – BBC GOOD FOOD