\

Frukt Coffee Roasters from Turku | in our November '19 coffee box
Hailing from the western Finnish city of Turku, Frukt is part of an exciting group of small businesses that are transforming an old prison into a food haven
Over the years, we have had the honour of working with over 150 different roasters from around the world and one thing that is always really exciting is when someone who previously roasted coffee for us at a different roaster, suddenly reaches out to us from a new venture.
The most recent example of this is Samuli Pääkkönen who roasted coffee for us three years ago when he was still with Turun Kahvipaathimo and since then spent some time at Coffee Collective in Copenhagen before returning to his native Finland to team up with Kyle Papai to run a new coffee roaster in Turku called Frukt.
I had seen Frukt come by on my Instagram account a few times and really liked what they were doing. When Samuli and I started talking to each other about a possible partnership, it quickly transpired that we went way back, something that always helps when you are creating a new relationship with someone in the coffee world.
Frukt will be joined in our November '19 coffee box by Coutume Café and Ernst Kaffeeröster who are all proudly representing their home turf. Keen to get your hands on this box? Make sure you order yours today!
---
Turku is a Finnish city on the West Coast of this naturally beautiful country on the edge of Europe. Finland regularly gets voted one of the most equal, fair and happy countries in the world, part of which surely has to do with the Finns' close relationship with nature, relaxing in the sauna and maybe also enjoying really great coffee.
Frukt is housed in Finland's former Kokola prison, a facility that was notorious across the country until it was closed and designated for complete renovation into apartments and a few high-quality businesses that have set up camp there.
I recently caught up with Samuli for a short interview to find out a few more details about Frukt and the delicious natural Ethiopian coffee from Blida Kojowa that they are providing for our forthcoming November '19 coffee box.
The Coffeevine: What was the most important thing you learned while working for Coffee Collective that changed the way you work if anything?
Samuli Pääkkönen: Working at The Coffee Collective was a dream come true. It was great to see that the day to day tasks at the roastery didn't differ much from my previous experience working at a coffee roastery. I really enjoyed working as a part of the team behind the brand, doing roast work but also being part of the community that they have built. The humble but determined way that they keep on growing as a business but also as a community was one of the most inspiring things I've seen in coffee.
TCV: How do you and Kyle split your work? Who does what?
SP: Both of us have different backgrounds and different areas of expertise. Kyle is a genius when it comes to fixing things, like espresso machines, grinders and anything else really. He's also really determined to understand the roasting process better and better.
Kyle is doing the profile development and most of the roasting too. We roast and pack on one intense day every week. I am handling the communications and customer relations for the most part as well as all things related to the brand that we are building. Decision-making is done together as well as the weekly QC and profile analysis and development.
TCV: What makes Frukt different from other roasters in Finland? 
SP: We feel that what we are doing with coffee is different from a lot of the other roasters in Finland.
For example, we only buy specialty coffees and do not offer darker roasted coffees. We are also doing our best to make specialty coffee as approachable as possible. It should be easy and fun. We believe that by purchasing interesting coffees and being willing to constantly get better in how we understand the roasting process is the key. Also how you present yourself and the coffee, of course. Transparency is a huge thing for us too. We are working on a transparency report staring from the very first coffees we bought.
TCV: You mentioned you will soon also have a small tasting room at the prison. What is the plan for that?
SP: Yes! We are located in a former prison called Kakola. The hilltop where the prison was built is one of the highest in the area and it is also quite in the middle of the city. The old prison is undergoing a facelift as it is now being transformed into apartments. There are a few small quality-focused businesses in the community as well.
Kakola Brewing Company brews tasty beers right next to us. We are opening a coffee shop concept with local sourdough bakers Bageri Å. The shop is going to open on the 22nd of October. We are quite excited about that.
TCV: What can you tell us about the Blida Kojowa that you'll be roasting for is November? What makes this coffee so special to you?
SP: The Blida Kojowa was a standout on the cupping table earlier this year. We immediately wanted to get our hands on this coffee. Blida Kojowa is one of the cleanest natural-processed coffees we have tried. It is a sweet coffee with a pronounced acidity and popping strawberry and fruit notes balanced out with some chocolate in there as well.
Personally, I'm not a huge fan of natural coffees as they ofter a quite ferment-ey and sometimes close to vinegar-like notes because of the processing. Sometimes a bit of a funky or boozy natural is great on the cupping table, but not too enjoyable as a beverage. That is not the case with the Blida. This coffee has been performing really well as filter coffee and also when roasted for espresso. Milk drinks are good too, fruity, of course, but so good!
---
Start a new subscription or order a one-off box today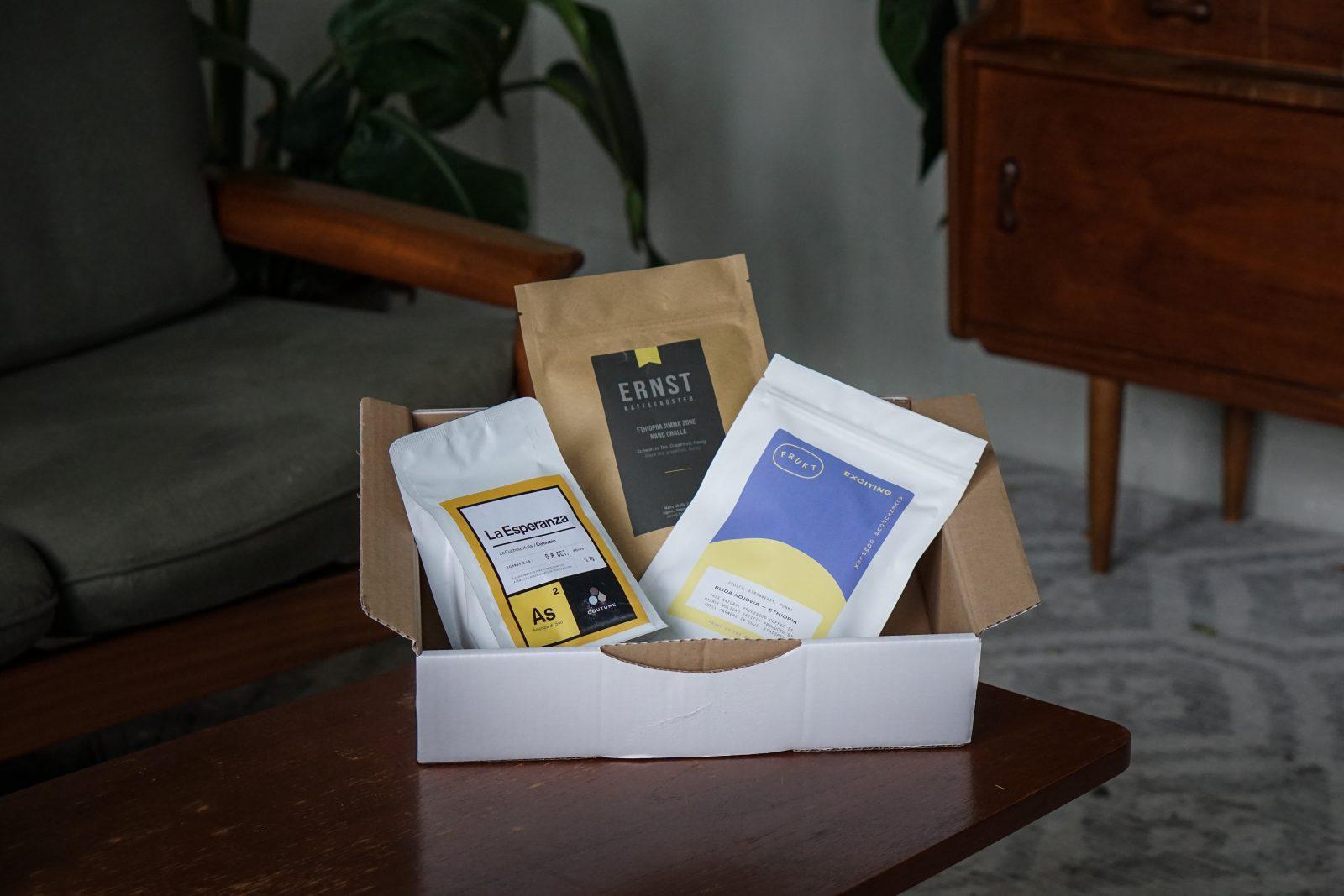 We offer tracked delivery to over 50 countries