A few years ago when The Coffeevine first saw the light of day, Amsterdam's specialty coffee scene was a very tiny affair with only a handful of people trying to break free from the shackles of Dutch commodity coffee. One of those was Lex Wenneker, who at the time ran a small shop in shop coffee bar with his good friend Jonathan Scheeper. Headfirst quickly became known as one of the best coffee bars in town, and when they moved to their first own coffee bar on Westerstraat, Lex was in the process of winning his first Dutch Barista Championship.
When Headfirst suddenly closed its doors, a shock wave went through the local coffee scene, leaving many questions and the Westerstraat with no more good coffee. But, Lex had something else in sight. The following year he went on to win his second Dutch Barista Championship and proceeded to reach 6th place in the World Barista Championships a few months later.
But already way before his second Dutch title and the road to Dublin, Lex and his close friend and coach Dylan Sedgwick had planned to start a new venture after the competition was over. A few weeks ago, Friedhats opened its doors to the public for the first time, becoming the latest specialty coffee roastery to take root in Amsterdam.
In anticipation of our collaboration with Friedhats for our upcoming December '16 coffee box in which we will feature their spectacular Colombia, Las Margaritas Yellow Bourbon, Coffeevine founder Alex Kitain sat down with Lex and Dylan for a chat and a bombastic espresso.
---
Alex Kitain: Hello guys, thanks for taking the time to chat. I am curious. How did you find this space?
Dylan Sedgwick: We were quite lucky actually. Lex had been scouting various areas and one day he came across this space. It used to be rented by this big, burly Dutch man with gigantic hands who fixed motorcycles and scooters in here. Actually the whole block used to be one big space but they recently divided into individual units. He used to smash things up and make holes in the walls and ceiling. One day he smashed up the toilet and then just chucked it out, so when we moved in there was no toilet, ha ha.
AK: How long did it take to refurbish it?
DS: Well we got in April, just before the World Barista Championships (WBC). So for the first three months we didn't do anything except use it as a training space for Lex's competition bid. All of the furniture you see here was used to recreate the stage at the competition. After we got back, we painted the walls, put a new bar in and made it our roasting home really.
The caravan you see there we bought last year already. That was the beginning of things. We moved it around a fair bit before bringing it here and finishing it.
AK: Did you take it to festivals and such?
DS: We finished it just in time for King's Day this year and that was kind of our low key debut. But then we parked it in here for the next few months while Lex was practicing for the WBCs.
AK: Someone told me that Friedhats is an anagram of Headfirst. Is that correct?
Lex Wenneker: Someone said?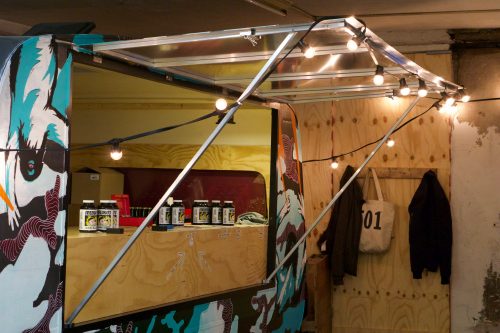 AK: Yes. Months ago Florian Hessel from Stooker Roasting came to me and said: 'Do you know what 'Friedhats' is?' I thought he was delusional. I mean that doesn't mean anything. So he said: 'Look it up.' At the time I couldn't find anything but I remember the moment I launched my personal Instagram account, Friedhats was the first person to follow me. So I thought: "AHA!"
LW: Here, have a shot of this espresso. I think it's pretty good. I pulled a few shots of this before but changed the profile slightly and now it's the bomb.
AK: Wow! This is incredible. Is it your Kenya?
DS: No. This is our Colombia, but it has a similar profile in some ways. It has even confused us a few times. It's a very complex coffee.
AK: Ok, now stop distracting me from my line of questioning! Let's go back to how this all started, because let's be honest, after Headfirst closed, there was a bit of a lull right?
DS: More of a plummet! Well, I worked at Headfirst for the year that we were there and the three of us – including former partner Jonatan Scheeper – got on really well. But after Jonatan went to Single Estate, we wanted to do something new. And the question was: "What to do?" I've worked for many small businesses before and I feel I've gained enough experience to run my own.
LW: Unfortunately even my Espressobus is frozen in the previous company and that really breaks my heart. But we knew we wanted to have some form of vehicle to go back to doing festivals.
DS: Yeah, we had done a few already over the past few years, like Surfana, and we wanted to keep going to these things so we had to find a way to make that possible. A new bus would have been too expensive, but we found this old caravan in someone's backyard for just €300 and we didn't think about it twice.
LW: It was hilarious actually. The people who owned it weren't even home when we went to see it. They just told us: "Climb over the fence and it'll be fine." Most of the caravans we viewed looked like shit but this one was already stripped. They used it for flea markets or something. The only thing was that it was completely painted in pink! Once it was in here, our designer came over and painted the whole thing for us.
AK: Do you already have a few festivals planned for next year?
LW: Yeah, we want to go to Best Kept Secret, mainly for Arcade Fire and Radiohead actually, and maybe a couple more. Last year Lowlands terminated its contract with Douwe Egberts and now there's room for people like us to do coffee there too. Festivals are quite fun, so we'll see.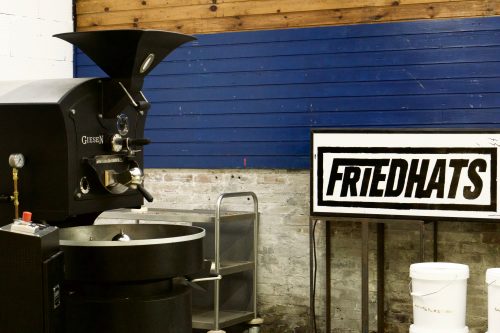 AK: Did you guys not want to start up a new café slash roastery?
LW: Well we thought about all options but the truth is that a café would have been a bit dangerous for me, due to the legal issues with Headfirst. There are so many great cafés out there already and I was quite keen to just focus on the roasting part really.
DS: I think the main issue is that if you start a café with a roastery, in the beginning you cannot do both without losing focus and having to employ people, which is very costly.
AK: Lex you still work a few days a week for Espresso Service West in The Hague. Did you never think about opening something there?
LW: Not really no. The Hague has a really strange layout and it's not really there yet with regards to its development as a specialty coffee city. I felt it was better to stay in Amsterdam.
AK: So then Friedhats came around. Who came up with this name?
LW: Dylan came up with the idea of an anagram. We had quite a lot of names actually, like Tad Fisher.
AK: Ha Ha!
LW: Eventually we arrived at Friedhats and we came to a point where we had to make a decision. In the beginning it was spelled as two words but we decided to change it to one. This way it's more of a name rather than two words that make no sense together.
AK: Who came up with the little guy on your coffee bottles?
DS: That was our friend Ivo. He also painted the caravan and designed the logo.
AK: Why did you choose to use bottles instead of coffee bags?
LW: We're a bit tired of the brown bags. I mean they can look great and they serve a purpose, but we wanted to do something different. Our goal was to encourage people to reuse their bottles for something else and thereby create less waste. Other people have done it before for specials and the likes.
AK: They do remind me a bit of going to the pharmacy.
LW: Ha ha! Yessss!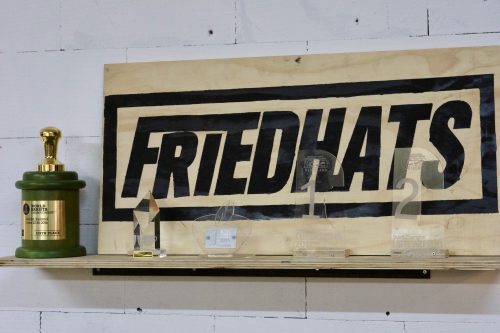 AK: I need my caffeine fix, doctor. Hurry!
DS: We didn't see it quite like that but now that you say it, I totally see it. In a good way! But we also thought very carefully about what we wanted to show on the packaging, hence everything is chosen very carefully. Even the little guy here is the result of a long creative process.
AK: Does he have a name yet?
DS: Actually no. Maybe we should start a poll on Facebook? Ha ha!
AK: Amsterdam already has a very big community of roasters but when a new player comes along, I always wonder, what are they going to do differently to the rest? How will they distinguish themselves?
DS: Well that's also a very hot topic for us.
LW: When you look at most coffee bags, you see the origin followed by the name of the farm, but we want to put the variety in the foreground.
"I think the biggest challenge is to get more people to do specialty coffee. […] especially places like restaurants and bars."
AK: So actually, this is the real link with wine, isn't it? Most often you pick a bottle because it's a Sauvignon Blanc or a Merlot because for the large part, you don't know much about the estate.
DS: Precisely! And, we're at a stage now where people are starting to order coffees by country, so then what is the next step? Telling people about the altitude doesn't necessarily do anything for them. And tasting notes are very subjective, but varieties can tell you a lot about the origin and the expected flavour profile.
AK: Interesting angle, because some people say that the specialty coffee industry has become a bit monotone, hasn't it?
DS: Well, some people even go as far as saying it has plateaued and that more and more roasters are more concerned with money than with being innovative. It's hard to say what the future will hold.
AK: I think it's very much down to the individual desire to try new things. I was in Taipei recently and what really baffled me was that people there didn't just distinguish themselves with their coffees or their shops' design. They all had a completely unique approach to the way they served their coffees. One guy swears by the siphon and Berg Wu (this year's WBC winner) only uses the Clever Dripper. Why don't we see more of that here?
DS: I think the issue is that, in many respects, coffee is still seen as a commodity. Why should you pay €6 for this amazing coffee when you can buy one for €2 elsewhere?
AK: For you guys it will probably be quite tough to address this issue then, I assume, since you don't have a café. What will you do to educate the public?
DS: Well we might do regular open days for people to come in and have a chat. Maybe have tasting days, events etc.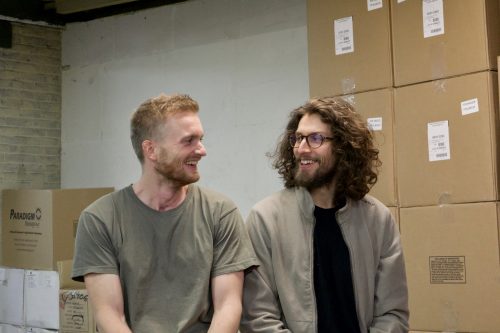 AK: How about offering some sensory workshops for example?
DS: That's a good idea yes. Because the truth is, cuppings are not very accessible to most people without an understanding of what they're actually used for. Sensory or tasting workshops would in turn also help us to guide people in the right direction with regards to understanding what our crazy cuppings notes actually mean, ha ha!
LW: I think the biggest challenge is to get more people to do specialty coffee. I mean these days you have so many cafés to choose from who also roast their own beans but it's also about other places like restaurants and bars and so on where there is enormous potential for growth.
AK: I personally feel like Amsterdam has become a bit stagnant. A few years ago it was one of the hottest tickets in coffee, and now its coffee scene has turned into something more monotonous with very few people trying to actually raise the bar higher.
DS: I think overall the quality has gone up and the prices at which most people sell their coffees are pretty level, but yes, it will be interesting to see what will happen next year.
AK: You guys plan to only have a small assortment of coffees right? Only three or four?
LW: Yes. We want to keep it specialised and focused. If you have too many coffees you spread yourself too thinly. We're super interested in Colombia and Kenya and we'd like to keep those origins at our core. It's good to focus on a few countries and get really good at working with those. Bocca is the only Dutch roaster who is really specialised in Ethiopia and that has really paid off. They have some of the best out there.
AK: I have to ask. Are you planning to compete again Lex?
LW: Definitely not next year. I cannot say more at this stage.
AK: Thank you guys. We're thrilled to be working with you next month and we wish you the best of luck!
---
Keen to try Friedhats' Colombia, Las Margaritas Yellow Bourbon from our December '16 box? Place your order by 15/12 to avoid missing out on this delicious edition!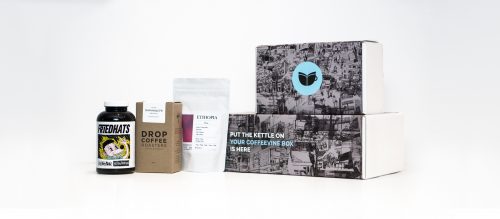 *Please note, if you specifically want to receive this coffee, make sure to add this to your order note at check out.