Juicy, fruity and just sooo good – Kenya, Karimikui AA from Roestbar
Roestbar's Karimikui AA is one of the best Kenyas we've tasted in a very long time and is rightfully making an appearance in our February '17 box
People often ask us how we choose our coffees. Whether we have a particular preference for roasting style, flavours or origins. The truth is, we don't. Every month is a new journey of discovery for our tastebuds and we feel really fortunate to savour so many extraordinary coffees before we make our final selection.
For our February '17 box we had a big selection of African coffees on our cupping table. Many gorgeous Ethiopians – as usual -, a couple from Rwanda and Burundi, and a few Kenyans. We know Kenyan coffees are really polarising. You either love their juicy, fruity and acidic taste or you don't. It's ok, we won't judge you. Wink, wink.
After picking our winners, our team discussed each coffee individually and when we got to Roestbar's Kenya, Karimikui AA, everyone's face lit up. It was an all around winner, one that shined like sparkles in the sky. This does not come entirely surprising, given Roestbar's specialty with Kenyan coffees.
We previously had a truly delicious natural Kenya from Roestbar in our May '16 coffee box and it's a real thrill to have them return to another coffee box edition, this time with a washed Kenya.
This particular coffee comes from the Karimikui coffee factory on the outskirts of Nairobi and serves a couple of villages in its near vicinity. The rich, red volcanic soil is ideal for coffee growing, with a temperature year round ranging between 13C to 24C. Sourced by trusted green coffee traders Nordic Approach, who are also working on a long term plan to increase quality and farmer education, this coffee is a great ambassador of the great work that is being done by small-holders, factories and coffee traders.
Don't miss out on this exquisite coffee with notes of red currant, cherry and apple that is part of our February '17 coffee box, alongside two delicious coffees from Fjord and Placid Roasters.
---
Don't miss out on our upcoming coffee boxes!
Featuring Fjord, Roestbar and Placid in our February '17 edition.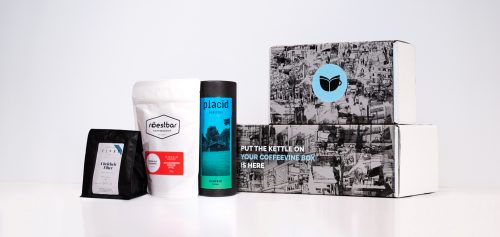 Every month, we feature three spectacular coffees from the likes of: La Cabra, Drop Coffee, The Barn, Five Elephant, The Coffee Collective, Tim Wendelboe and more.
"An absolute must-have for making great coffee" – BBC GOOD FOOD