Meet Fjord Coffee Roasters | in our February '17 coffee box
A young collaboration between two leading Berlin coffee shops is building up its reputation with fine coffees and great customer service
A few years ago, Berlin was third wave coffee no-man's land. A big European capital that was so incredibly progressive in everything but coffee. At first, its early specialty coffee pioneers were somewhat of a curiosity, a blip in the latte macchiato system. But over time, Berliners, most likely influenced by trips abroad and a fast-growing wealth of expatriates, developed a taste for brighter, more delicate coffees that stood far above the Italian espresso style so commonly available across the country.
These days, Berlin's coffee scene is by far one of Europe's most interesting, not just because of its huge diversity but also because it shows no signs of plateauing. If it's not a new specialty coffee shop opening its doors somewhere, then its a new roastery that's arriving on the scene, or better still, new concepts that combine third wave coffee quality with other areas such as arts, food, hotels and more.
One of the city's latest specialty coffee roasteries to carve out a niche is Fjord Coffee Roasters, a collaboration between existing coffee shops Silo and Father Carpenter. Located in an industrial area in Marzahn, Fjord Coffee was born out of simple economic thinking, as head roaster and Father Carpenter founder Kresten Thørgesen explained to me this morning: "Both Morgan (of Silo Coffee) and I wanted to start roasting coffee for our respective shops, but after working out the numbers, we realised it would make a lot more sense to join forces than to run individual operations and competing with each other."
Fjord Coffee Roasters, unlike most other Berlin coffee roasters, is not a place that you can visit and marvel at while you sip your perfectly prepared pour over. It's a place where, currently once a week, the team gets to work to roast its favourite seasonal coffees for its own outlets and its fast-growing number of clients who are located even far beyond the German capital's own borders.
The inspiration for the name and its raison d'etre partially comes from Kresten's Nordic ancestry and both Silo and Father Carpenter's no non-sense approach to friendly customer service. In addition, Fjord pays homage to the Nordic style of roasting by making a great effort to bring out the most delicate and nuanced flavours in its carefully selected coffees.
What's more, while many coffee shops are dabbling with roasting their coffees but often lack the real manpower, skills or space to do so at a high level, Fjord may be a great model for smaller outfits to join forces rather than trying to fight for themselves.
We're really excited to welcome Fjord to our upcoming February '17 coffee box with their best-selling Ethiopia, Chelchele, a gorgeous coffee that Kresten described as: "Delicate, clean and elegant."
---
Don't miss out on our upcoming coffee boxes!
Featuring Fjord, Roestbar and Placid in our February '17 edition.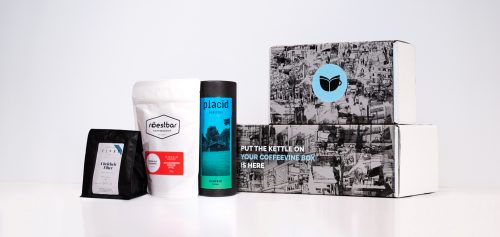 Every month, we feature three spectacular coffees from the likes of: La Cabra, Drop Coffee, The Barn, Five Elephant, The Coffee Collective, Tim Wendelboe and more.
"An absolute must-have for making great coffee" – BBC GOOD FOOD