Meet the roasters from our April '17 box
We're taking you on a trip to Honduras, Indonesia and Ethiopia in April with delicious coffees from Java Coffee, Man versus Machine and Langøra
It's officially spring now and believe it or not, we've already had a few opportunities to sit on a nice terrace with our faces basking in the warm sunlight. A few weeks ago the Amsterdam Coffee Festival took place in our city and for the duration of the weekend, we had a little stand next to our friends from Koppi and April Coffee roasters, seeing old friends and making lots of new ones.
Now, we're incredibly pleased to present to you the three awesome roasters who are making an appearance in our upcoming April '17 coffee box, and to tell you a little bit more about their coffees. Furthermore, starting with our recently shipped March '17 edition, we moved over to our brand new sleeve design, this time created specially for us by Amsterdam-based artists Ren Phillips.
ORDER UNTIL 15-03 / SHIPS ON 20-03
---
#1: Java Coffee
Poland has an incredibly vibrant specialty coffee scene and Warsaw in particular was way ahead of its Western European cities a few years ago when no one in Amsterdam knew what a flat white was and most cafés offered nothing more than tired-looking croissants or to go with your Americano. When The Coffeevine first launched as a blog at the start of 2013, Warsaw was the second city to be added, and during our short visit, we discovering a myriad of amazing coffee bars dotted around the city. It's probably time we went back to find out how much has changed.
In the meantime, it's a great pleasure to welcome our second ever Polish roaster to our April '17 coffee box. Java Coffee from Warsaw was set up in 2011 and has quickly become a leading name in the local specialty coffee scene. It's the modern day incarnation of a chain of coffee shops that first opened in 1999 and over time shed its retail stores to focus entirely on the roasting part.
Java Coffee roast all their coffees on a modern Loring 35kg coffee roaster and they supply a vast number of cafés, restaurants and hotels all over the country. Naturally, their coffees speak for themselves and each one gets a beautiful custom label illustration from artist Karina Pest.
Our pick for the April '17 coffee box is a full-bodied and chocolatey Honduras, El Sauce.
Our selected coffee from Java Coffee:
Honduras, El Sauce
Santa Barbara, 1.555 – 1.630masl
Pacas – washed
Filter & Espresso
Order now

---
#2: Man versus Machine
Munich, the capital of Bavaria, has a small but very advanced specialty coffee scene dominated by three names that have gained country-wide recognition of the years. Mahlefitz, JB Kaffee and Man versus Machine. The latter is a great roastery and coffee bar that has one of the most ingenious brands and matches its coolness with amazing coffees.
Two years ago, Marco Mehrwald and his team made their debut in one of our previous coffee boxes and we can't actually believe it took them so long to return for another feature. Man versus Machine represent something that we wish more people in specialty coffee did: having a serious commitment to great coffee while not taking yourself too seriously.
They will be sharing with us the first ever Indonesian coffee to make an appearance in one of our boxes. Indonesian coffees are really difficult to like and we generally stay away from them but this Toarco A is incredible and we are sure you will love it too.
Our selected coffee from Man versus Machine:
Indonesia, Toarco A
Sulawesi, 1.400 – 1.600masl
S795 – washed
Filter & Espresso
Order now

---
#3: Langøra
These guys from near the fjords on Norway's central coast probably have the world's cutest coffee roastery, one that looks particularly beautiful when surrounded by snow. Kristian Helgesen founded Langøra far away from the capital Oslo and perfectly secluded on a quiet farm so that he could focus on roasting the most incredible coffees without being exposed to distractions. Yes, this may be very purist of him but the results prove he is doing something right.
Norway's coffee culture is by far one of Europe's most advanced and with two World Barista Champions under its belt, this country raised the bar very high. Although these days the 'Nordic roasting style' has been adopted from Taipei all the way to the US west coast, people like Kristian have really refined their roasting styles to bring out the very best flavours in each coffee instead of roasting light by default.
We're incredibly thrilled to have Langøra back in our midst two years after their last appearance.
Our selected coffee from Langøra:
Ethiopia, Kochere PB
Gedeo, 1.800 – 2.000masl
Mixed heirloom – natural
---
Don't miss out on our upcoming coffee boxes!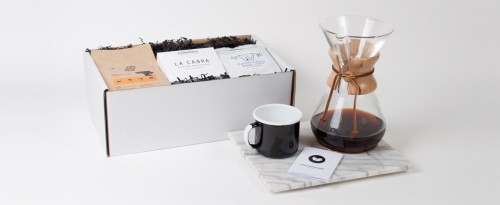 Every month, we feature three spectacular coffees from the likes of: La Cabra, Drop Coffee, The Barn, Five Elephant, The Coffee Collective, Tim Wendelboe and many more.
"The coffee lover's must have" – BBC GOOD FOOD