Meet the roasters from our March '17 box
In March we're sharing with you four exquisite coffees from April, Workshop Coffee and Five Elephant, taking your tastebuds to Ethiopia, Kenya and Brazil
The worst part of winter seems to be over, the days are getting longer and we've even had our the first lunch on a terrace earlier this week. We cannot wait to put our thick winter coats back into storage and cycle around our beloved city without gloves on.
Next month is a big month in the coffee calendar here. First, from 10 – 12 of March we have the annual Amsterdam Coffee Festival – come visit our stand if you're planning to attend – and then we will be shipping our gorgeous March '17 coffee box that we're incredibly excited about. See below for more details on this edition and how you can order your box now.
ORDER UNTIL 15-03 / SHIPS ON 20-03
---
#1: April 
Our first Danish roaster since La Cabra in June '16, April was founded by the ever so charismatic Patrik Rolf and is located in the heart of Copenhagen. With an extensive history of working with some of Europe's most prolific coffee roasters, Patrik was perfectly equipped to pursue his dream of founding his own roastery in October 2016.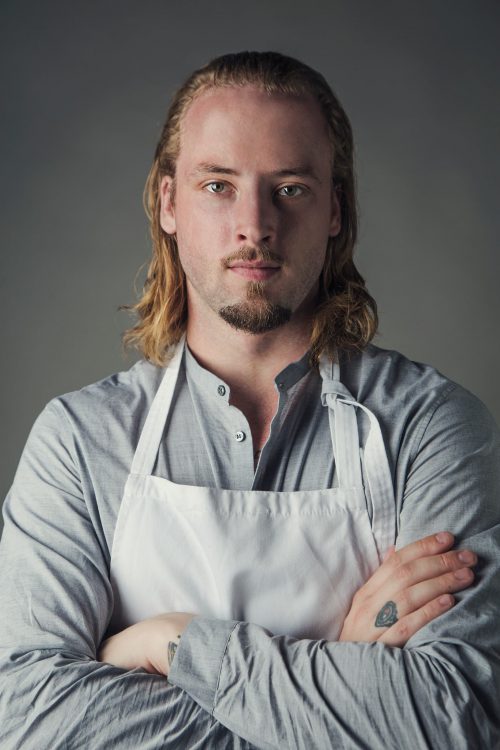 He strongly believes that coffee is not the product of individuals but of a collective of people who bundle their strengths to produce the most unique and exquisite coffee experience possible. His role, he said, is to source and roast the most beautiful coffees he can find, such as the gorgeous Ethiopia, Konga that will be making an appearance in our upcoming March '17 coffee box.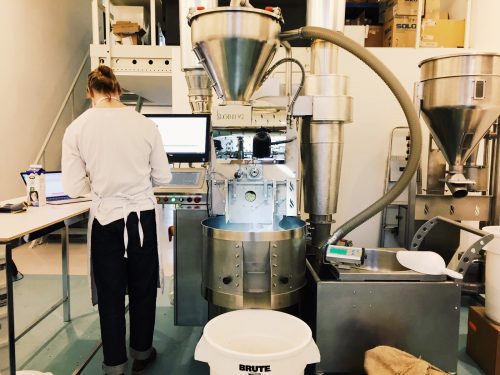 We're incredibly proud to welcome this Danish master to our family of amazing coffee roasters.
Our selected coffee from April:
Ethiopia, Konga
Yirgacheffe, 2.000masl
Mixed heirloom – washed
Filter & Espresso
Order now

---
#2: Workshop Coffee
Few roasters have been on our wish list for as long as London-based Workshop Coffee and we feel incredibly fortunate to finally welcome them to one of our boxes. Founded by James Dickson in April 2011, Workshop quickly established itself as one of London's finest coffee bars and roasteries, and today runs a total of four outlets across the British capital and a separate roastery in Bethnal Green.
Since day one James wanted to create a coffee experience like no other. One that effortlessly combines outstanding coffee with excellent service. At Workshop's Clerkenwell restaurant one can even enjoy fine dining and cocktails.
It's an honour to add Workshop Coffee to our March '17 box.
Our selected coffee from Workshop Coffee:
Kenya, Gatomboya PB
Nyeri, 1.700masl
SL28 & SL34 – washed
Filter & Espresso
Order now

---
#3: Five Elephant
Every city has its coffee pioneers and in Berlin one of them is Five Elephant. This fine specialty coffee brand that was originally founded as a small café and cake shop by husband and wife team Kris and Sophie Schakmann, quickly became synonymous with the German capital's rise to coffee stardom.
With a strong focus on sourcing nothing but the finest coffees, many of them directly from selected farms, Five Elephant doesn't just taste great, it also looks great. It's elaborate packaging won the 'Best packaging' Sprudgie award in 2016 and most recently Five Elephant opened its first outlet in China followed by a brand new coffee bar in Berlin Mitte.
For our March '17 box, we selected two outstanding Brazilian coffees that taste like tiny drops of heaven.
Our selected filter coffee from Five Elephant:
Brazil, Novo Canaã Obatã
Caconde, 1.300 – 1.380masl
Obatã – natural
Our selected espresso coffee from Five Elephant:
Brazil, Fazenda Ambiental Fortaleza
Mococa, 1.000 – 1.100masl
Yellow Catuaí – natural
---
Don't miss out on our upcoming coffee boxes!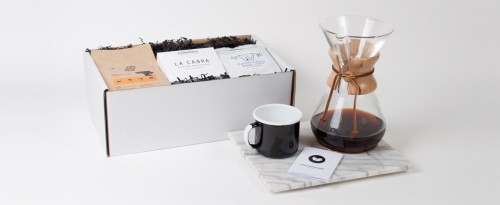 Every month, we feature three spectacular coffees from the likes of: La Cabra, Drop Coffee, The Barn, Five Elephant, The Coffee Collective, Tim Wendelboe and many more.
"An absolute must-have for making great coffee" – BBC GOOD FOOD