Meet the roasters from our June '17 box
In June we're teaming up with our 'Celtic Connection' to bring you a very unique 'Britain special', featuring: Root & Branch, Coal Town and Artisan Roast
Anyone who's ever been to London will know that the British capital is literally coffee shop heaven. No matter where you are, you are never far away from a great local roaster, a cute corner café that serves a delicious food too, or from a small coffee cart that whips up a delicious flat white. When it comes to specialty coffee, London is probably Europe's most developed and possibly saturated city.
During our visit to this year's London Coffee Festival we tried to connect with people from other parts of the country who are doing great things with specialty coffee, and consequently we decided to dedicate our June '17 box to them. For our next edition we will be teaming up with a roaster from Northern Ireland, one from Wales and one from Scotland. They've dubbed this box the 'Celtic Connection' and we're happy to run with it.
For us it's a great opportunity and honour to showcase the passion, talent and craftsmanship from the other countries that, together with England, make up the United Kingdom and to draw your attention away from it's overbearing capital. Our June '17 box will be the first ever coffee box to unite roasters from these three nations under one roof. We hope you will enjoy these coffees as much as we enjoyed picking them for you.
Don't miss your chance to discover and enjoy our fine selection of beautiful coffees from these great British roasters.
ORDER UNTIL 15-05 / SHIPS ON 20-05
---
#1: Root & Branch
Probably the first specialty coffee roastery to open its doors in Belfast (Northern Ireland), Root & Branch is the result of five years of travelling all over the country with a mobile coffee cart. Founders Simon Johnston and Ben Craig didn't just want to set up shop somewhere in Belfast, they also wanted to roast their own coffee instead of sourcing it from London or Dublin.
Their cute roastery-cum-café on Ormeau Road functions as a workspace and tasting room where customers can watch the team at work and taste their fine selection of coffees. Scott mostly takes care of the roasting while Ben is the master behind the bar. Together, they are doing a great job at not only bringing their fine specialty coffees to the people of Belfast, but to Northern Ireland as a whole.
We are extremely proud to welcome these two local heroes to our upcoming June '17 coffee box with a truly delicious Kenya.
Our selected coffee from Root & Branch:
Kenya, Gatuyaini
Nyeri, 2.000masl
SL28, SL34, Batian & Ruiru 11 – Washed
Filter & Espresso
Order now
---
#2: Coal Town
When it comes to the three countries that make up Great Britain, Wales is probably the quietest of them all, but that certainly doesn't mean it doesn't have a beautiful story to tell. Wales has a very unique culture, its own language and stunning scenery that ranges from wild beaches to stunning cathedrals and rolling hills that turn into its famous valleys.
There, in a small town called Ammanford, you'll find local specialty coffee champions Coal Town Coffee Roasters who have established themselves as one of the country's leading third wave roasters. For many decades, Wales was famous for its coal mines, producing a different type of 'black gold', but now that many of them have shut, Coal Town Coffee Roasters are entering the scene with a more delicious kind of black gold.
Founders Scott James and Gordon James take great pride in their artful roasting process and in being 100% Welsh, making them a perfect candidate to be the first roaster to represent this beautiful nation in one of our boxes.
Our selected coffee from Coal Town:
Colombia, Acevedo
Huila, 1.500masl
Caturra & Colombia – Washed
Filter & Espresso
Order now

---
#3: Artisan Roast
The third and final roaster to join our June '17 coffee box is Artisan from Edinburgh. These early pioneers of specialty coffee were amongst the firsts to bring carefully selected and roasted single origin coffees to the people of Scotland, probably the most outspoken and fiercely independent nation in the United Kingdom.
Even though the people of Scotland rejected independence during a national referendum in 2014, they are extremely pro-European and proud of their country's wild history and myriad of traditions. Who doesn't love a bit of golf in the Scottish highlands while wearing a kilt and getting drunk of whiskey, right?
Artisan Roast from Edinburgh is probably the country's best known and largest specialty coffee brand, one that operates a number of cafés in Edinburgh and Glasgow and focuses on sourcing nothing but the most exquisite coffees. It's our honour to welcome them to our June '17 box and together with Root & Branch and Coal Town complete our 'Celtic Connection'.
Our selected filter coffee from Artisan Roast:
Ethiopia, Aricha
Yirgacheffe, 1.950 – 2.100masl
Mixed heirloom – Washed
Our selected espresso from Artisan Roast:
Colombia, La Esperanza
Huila, 1.700masl
Caturra – Washed
---
Don't miss out on our upcoming coffee boxes!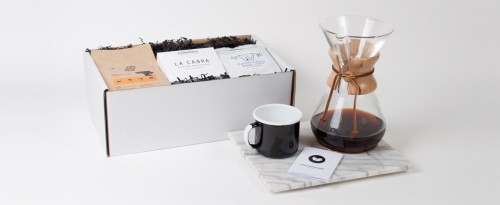 Every month, we feature three spectacular coffees from the likes of: La Cabra, Drop Coffee, The Barn, Five Elephant, The Coffee Collective, Tim Wendelboe and many more.
"The coffee lover's must have" – BBC GOOD FOOD