Meet the roasters from our May '17 box
Our fresh selection of delicious and unusual coffees this month hails from Cloud Picker, Vertical Coffee and Ernst Kaffeeröster
May has been a fickle month so far. One moment it's sunny and the next it's cold and rainy. But despite the changing weather, we hope that summer is not too far down the tunnel.
Other past few weeks, we've been very busy setting up a super exciting new product that will hit the shelves in the coming months – more on this soon – but in the meantime, we're gearing up to ship our delicious May '17 coffee box that will see us team up with two long time favourites, Cloud Picker and Ernst, and our first ever roaster from Switzerland, Vertical Coffee.
Don't miss your chance to discover and enjoy our fine selection of beautiful coffees from these great European roasters.
ORDER UNTIL 15-05 / SHIPS ON 20-05
---
#1: Cloud Picker
Last year, Dublin played host to the World Of Coffee event where barista champions from all over the world came together to compete for the ultimate title in coffee, the World Barista Championship. For a few days in June, the Irish capital was brimming with international coffee people, many of them visiting Eire for the first time.
This was a great chance for local roasters like our very dear friends Cloud Picker to come face to face with a wild mix of coffee professionals and coffee lovers from all over the planet. Founded in 2013 by Peter Sztal and Frank Kavanagh, Cloud Picker's two main goals were to roast outstanding specialty coffees and make them accessible to the people of Dublin and Ireland as a whole.
Since then, Cloud Picker has become a firm fixture on the Irish specialty coffee scene and they recently upgraded their Giesen roaster to give them even more control of the roasting process than ever before, and this year they will be hosting the 2017 Irish Brewers Cup.
Cloud Picker were last featured in our December '15 coffee box and have since made great strides towards becoming even better at what they do. Regular visits to origin, a meticulous quality control process and a team of bright minds are testimony to this.
We're honoured to welcome them back for their second feature.
Our selected filter coffee from Cloud Picker:
Rwanda, Huye Mountain
Huye District, 1.600 – 2.300masl
Red Bourbon – Washed
Our selected espresso from Cloud Picker:
Guatemala, various producers
Huehuetenango, 1.600 – 2.000masl
Blend – Washed
Order now

---
#2: Vertical
If Switzerland is known for anything then it's banks, watches, chocolate, Roger Federer and the Alps. If you live in a place like Amsterdam where the highest peaks a couple of hundred meters high and you have to leave the country for sweeping views and the possibility of skiing, you come to develop a real sense of appreciation for that clear mountain air and the calm that are so typical for this part of the world.
Vertical Coffee Roasters from Unterlunkhofen near Zürich have the witty slogan: Coffee With Altitude, and that's exactly what founders Simone Ernst and Denise Morf do. They roast beautiful coffees in a gorgeous mountain setting that keeps them away from the noise and pollution of the big cities.
Initially founded under the name Gipfelstürmer, the pair recently underwent a complete rebranding in order to attract a more international audience that wouldn't have to try and pronounce a real tongue twister to make reference to Switzerland's most prolific specialty coffee roasters.
We're thrilled to finally welcome our first roaster from this small landlocked European country to our continuously growing family of amazing talent.
Our selected coffee from Vertical Coffee:
Kenya, Kagongo AA
Kirinyaga, 1.800masl
SL28 & SL34 – Washed
Filter & Espresso
Order now

---
#3: Ernst
Last but not least, we're welcoming back our dear friend Maren Ernst and her team of talented and keen coffee lovers from Cologne. Maren, who has a long history of working in coffee related FMCG, always dreamed of setting up a boutique specialty coffee roastery where she could explore the incredible wealth in varieties and flavours that coffee has to offer.
As the first real third wave coffee roastery in Cologne, she quickly set out to conquer the local market and has made quite a name for herself as one of Germany's leading female roasters. Her cozy café in Cologne's Südstadt neighbourhood is a great place to hang out and watch Maren at work on her Diedrich roaster while sipping on one or two of her exquisite coffees.
After a first appearance in 2015, we're incredibly thrilled to welcome her back this month with our first ever Peruvian coffee.
Our selected coffee from Ernst:
Peru, La Flor Del Café
Cajamarca, 1.200 – 2.000masl
Caturra & Pache – Washed
Filter & Espresso
---
Don't miss out on our upcoming coffee boxes!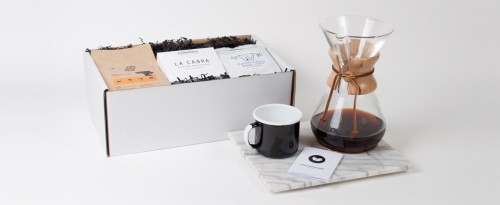 Every month, we feature three spectacular coffees from the likes of: La Cabra, Drop Coffee, The Barn, Five Elephant, The Coffee Collective, Tim Wendelboe and many more.
"The coffee lover's must have" – BBC GOOD FOOD