Our first Peruvian coffee, courtesy of Ernst Kaffeeröster
Germany's first lady of specialty coffee roasting is providing us with a sweet and creamy coffee for this month's coffee box
Here at The Coffeevine, we've worked with hundreds of coffees. Every month we get sent dozens of samples and our tasting team gets to work to sniff, sip and evaluate the single origins on offer before a final selection is made. Naturally, many of the coffees on offer hail from the usual origins, i.e. Ethiopia, Kenya, Colombia, Centrals etc, but sometimes, we get sent surprising coffees from less common producing countries.
This month, Ernst Kaffeeröster from Cologne submitted a truly delicious Peruvian coffee that convinced and delighted our critical tasting team's tongues and was consequently selected to go into our May '17 box. Peru has been growing coffee since the 19th century but due to poor infrastructure in the growing areas and a lack of a national coffee organisation to support Peruvian coffee with marketing, coffees from this South American nation have gone largely unnoticed.
Over the past few years, Peru has made great efforts to improve its global standing, in particular vis-a-vis its neighbours Brazil and Colombia who are the continent's largest producers of Arabica beans. This gorgeous and creamy coffee from Ernst Kaffeeröster is a wonderful example of the high quality and interesting varietals that are grown in Peru.
Working with Cafe Imports on sourcing this coffee, Ernst Kaffeeröster described their choice as: 'We were looking for a more caramel, clean, sweet coffee because sometimes you need something less fruity in your cup. However it still has a wonderful lime note in the background keeping it fresh and lively.'
We're very happy to add a new origin to our extensive list of featured coffees and in particular, we're thrilled that this coffee was freshly roasted for us by one of Germany's leading female roasters: Maren Ernst.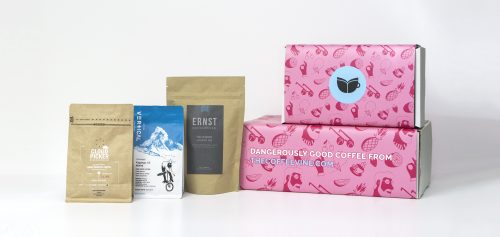 ---
Get this coffee together with Cloud Picker's Rwanda, Huye Mountain and Vertical Coffee's Kenya, Kagongo AA in this month's coffee box.
Order by 15-05 / Ships globally on 20-5