Reach new heights with Vertical's yummy Kenya Kagongo
Making their debut in our May '17 coffee box, Vertical Coffee Roasters are serving up 'coffee with altitude'
Vertical Coffee Roasters from a small town in Switzerland recently underwent a name change that saw them ditch their ambitious but tongue-twister German name 'Gipfelstürmer' in favour of a new name and identity. Being based in a small country that has the Alps at its core, Vertical Coffee Roasters clever new tagline 'coffee with altitude' perfectly describes what founders Simone Ernst and Denise Morf aim for: reaching new heights and putting Swiss specialty coffee on the map.
When we spoke to them about a possible collaboration at this year's Amsterdam Coffee Festival, the two women were incredibly excited at the prospect of seeing one of their finest coffees traveling to all four corners of the world in our May '17 box.
During our April blind cupping session their Kenya, Kagongo AA was one of the standouts on the table and was universally lauded by our strict and critical tasters. It shone with its bright and sparkling acidity, juicy berry flavours and a clean aftertaste.
This coffee was produced by a large number of smallholders who produce fine coffees like this one on the southern slopes of Mt. Kenya. The rich volcanic soil gives this coffee extra nutrients that leads to its bright flavour notes and vibrant acidity.
Simone and Denise gave this outstanding coffee its final touches that led us to picking it for this month's coffee box.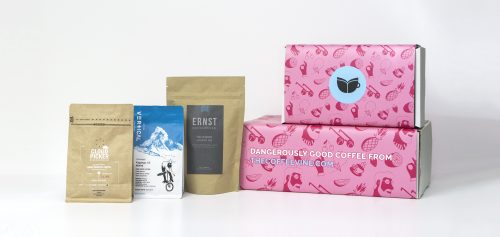 ---
Get this coffee together with Cloud Picker's Rwanda, Huye Mountain and Ernst Kaffeeröster's Peru, La Flor Del Café in this month's coffee box.
Order by 15-05 / Ships globally on 20-5
---
Every month, we feature three spectacular coffees from the likes of: La Cabra, Drop Coffee, The Barn, Workshop Coffee, The Coffee Collective, Tim Wendelboe and more.
"An coffee lover's must-have" – BBC GOOD FOOD