When I decended on Barcelona a few weeks ago, I had set myself the goal to reconnect with all of my local friends in the coffee scene there and make some new ones too. The city on the Med is truly one of the finest in the world. I love going back there and enjoying its plentiful sand, sun, culture, food and outstanding coffee.
During this most recent visit, I kicked things off with a public cupping at the Three Marks roastery where I aimed to cup, score and select the three winning coffees for the upcoming July 2022 Coffeevine box. Although, over the past few months, I have featured a number of local roasters from the city, including SlowMov, Three Marks and Hidden, there are still plenty more who had not yet made the cut.
One of them was Orbita, a fresh new brand wholly owned by Barcelona specialty coffee pioneers Cafés El Magnifico, a company that is now in its 4th generation and synonymous with the rise of specialty coffee in the city. Orbita is the brain child of Claudia Sans and Jorge Verdú who realised that they needed a different brand with a fresh appeal to help them reach a different kind of specialty coffee customer.
At the very last minute, Orbita sent some samples of their current coffees to the cupping venue with the hopes that maybe, just maybe, they'd be the newest Barcelona based Coffeevine partner. Well, to cut a long story short, they did make the top three as voted by the public with a really exciting El Salvadorian coffee from Finca El Himalaya.
The day after the cupping, I popped by the Cafés El Magnifico / Orbita HQ above their retail store in El Born and caught up with Claudia and Jorge over a cup of coffee to get a better understanding of this young brand, the decades of experience it brings to the table and where it aims to go from here.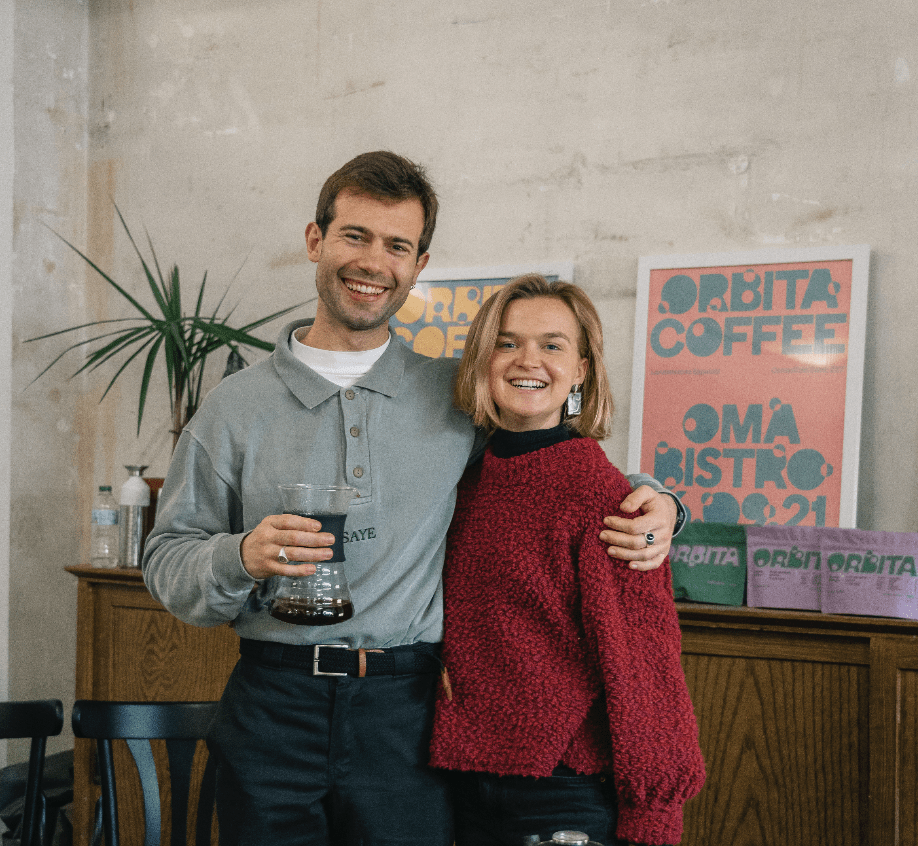 ---
(Translated from Spanish)
THE COFFEEVINE: "Can you guys just introduce yourselves for our readers?"
Claudia Sans (CS): "Should I go first? OK. My name is Claudia Sans and I have been working in coffee for many years. Since 2018 I am managing quality control at Café El Magnifico and since last year, I have a new brand called Orbita."
Jorge Verdú (JV): "I am Jorge and I actually come from the bio-medical engineering world originally, noting to do with coffee really. At some point, I decided I wanted to go into translation and to pay my way through class, I got a job here. The stars aligned themselves in a way. I already loved preparing specialty coffee at home but I never thought I'd end up working with it. I joined Cafés El Magnifico in 2019 and have since worked as a barista, roaster, quality controller and well, since recently I work on Orbita too.
TC: "Why did you start this new brand?"
CS: "The idea was to create a new brand through which we could reach out to new customers, specialty coffee bars to be exact. We also wanted to create a new brand, something that would be different and representative of our new approach. Lastly, we also wanted to work with fewer coffees. At Cafés el Magnifico, we have a very wide range of coffees but that also means that we are not always able to play as much with the processing methods or work with smaller producers. It's a bit more complex."
"Orbita is my way of taking a step out of that family base and trying something different but still remaining within the gravitational field of my family business."
JV: "When you have such a broad spectrum of customers that includes hotels, Michelin star restaurants and the like, you don't always have the option to offer more experimental stuff. That's why we created Orbita, to allow us to focus on a higher rotation of coffees from fewer farms and offer our customers something new and different every month."
TC: "It's funny, because when I first reached out to you, I contacted you via the Cafés El Magnifico site. That brand also has really beautiful bags and really great coffees…"
JV: "100%. It's not a criticism of our parent company. In fact, the quality is very high across the board. From the design to the coffees that we buy but with Orbita we're able to be a bit more adventerous at an already very high level."
TC: "You started this brand only in September of last year. How has it been going for you since?"
CS: "Well, it's been a bit of a roller coaster, right?" [laughs]. "All beginnings are hard, I'd say. In our case, we also don't have a physical store. It's all online and online takes up a lot of time. We're both twentyeight and our generation is all on Instagram, TikTok etc but honestly, I find it tough! The other thing is that we need to approach coffee bars while, at the same time, avoid stepping on other peoples' toes.
We're building a coffee community and we don't want to go around stealing other roasters' business. It's growing pains at the end of the day and I know that just like the river finds the sea, we will find our way."
JV: "Also, we initially set out with a B2C (business to consumer) model but we quickly realised that people need to know who you are before they buy your coffee. And how would they get to know us if we're not present in any cafés? That's when we changed our approach and began to focus more on working with coffee bars."
TC: "What does the name 'Orbita' stand for?"
CS: "I'll explain. Orbita basically stands for a celestial body that orbits. I am the fourth generation in this family-owned business. My whole career in coffee was formed at Cafés El Magnifico; it's a part of me. Orbita is my way of taking a step out of that family base and trying something different but still remaining within the gravitational field of my family business.
We spoke earlier about the high rotations we aim for with our coffees. That's another example of how we're constantly in motion, like a sphere that's rotating around a static base [Cafés El Magnifico]. I wanted a brand that offered a lot of room for interpretation. I studied literature so I always look for meaning in things. Orbita offers us that. It stands for our coffees but it also stands for never-ending circles, constant motion."
JV: "We started with a certain vision but in this short time, we have also noticed that some things will have to change for the business to grow. We're true to our original idea but how we do certain things is constantly evolving. For example, when we send samples to cafés and they say 'well, I got some coffee sent to me by someone else that was way cheaper', that's when we realise that we have certain lines we won't cross. We want to work with coffees that are 86+ and nothing else."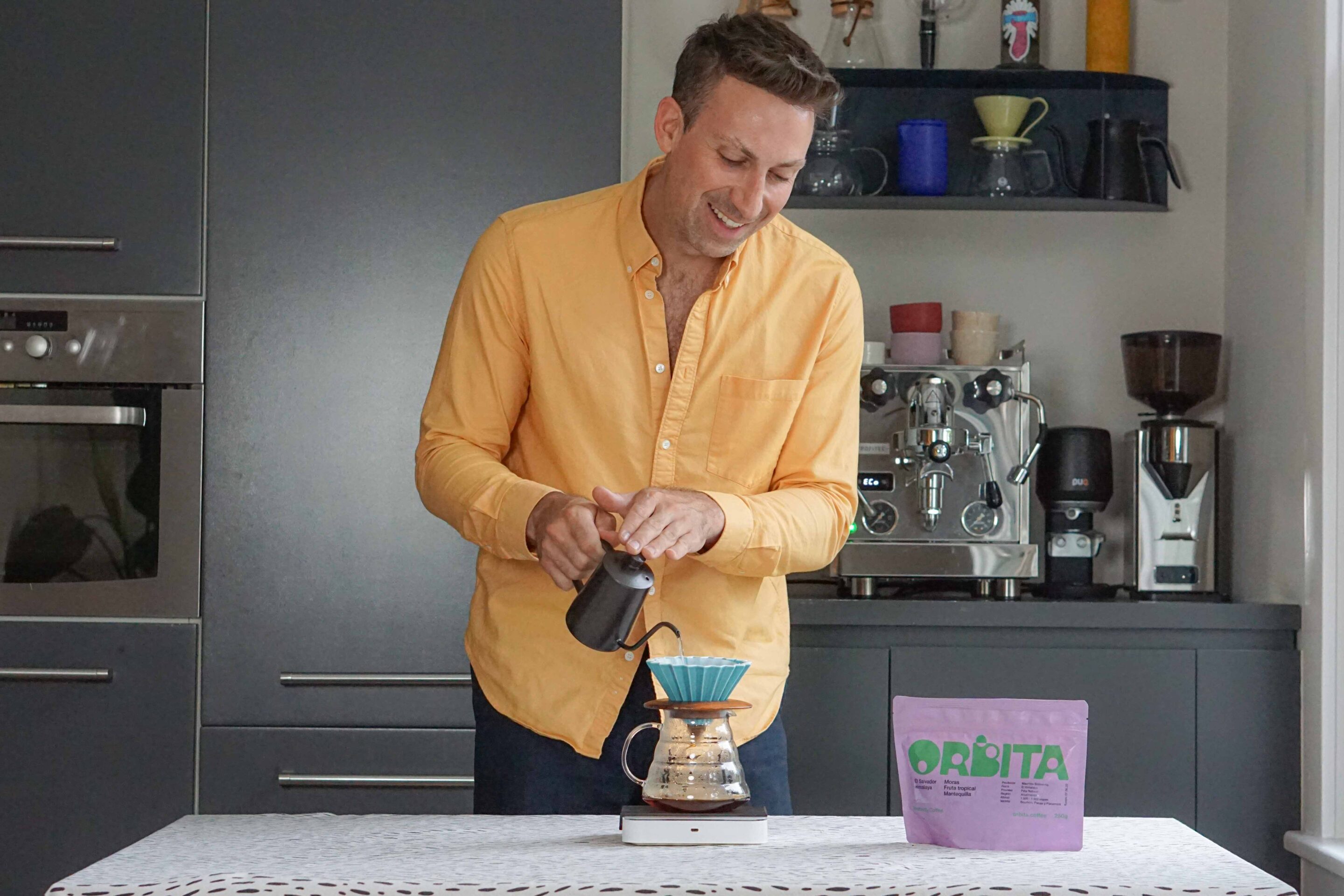 TC: "When it comes to sourcing, how do you choose your coffees? You already have such a big network of suppliers for Cafés El Magnifico and I wonder if you specifically look for new producers for Orbita? For example, how did you find the producer of this El Salvadorian coffee from Finca El Himalaya that we picked for our July 2022 box?"
CS: "The importers that we work with send us so-called premier samples, which are the finest lots basically, before they are sent to everyone else and one of the coffees we got from El Salvador this time was this one from Finca El Himalaya."
JV: "We have had a very close relationship with Diego Baraona of Finca Los Pirineos. Before his father passed away, they used to come here a lot. The owner of Finca El Himalaya is someone we didn't know and we thought, why not buy some coffees from someone we know well and someone new? This could be a great way for us to build new relationships."
TC: "How do you explain the processing method that this coffee comes with. It's described as 'pineapple natural'. What does that entail?"
CS: "What's so great about the world we live in is that we can communicate with anyone in just a few minutes. If I want, I can jump on a call with a Colombian producer right now and talk to them about a possible purchase or give feedback on some samples. With this particular producer, however, we have not actually had any direct contact. It's funny because it also makes him a bit more mysterious.
What we know is that this coffee is the result of some experimenation by the producer and that he got inspired by beer. He knows that fermentations are super popular right now and that people are going crazy over them. I've always said, I love clean and delicious natural processed coffees. Yeast are something I don't really like, especially when they turn the coffee into something really bizarre.
"What we would really love is to have a growing but stable network of customers across Europe who buy from us and subscriptions have turned out to be a great way for us to reach out to people."
What this producer did is he experimented with the drying period of the cherries. Normally, natural processed coffees are dried for around fourteen days or so. This producer, in turn, dried his coffees for around 24 days or almost a month. What happens often with these kind of experiments is that they are not necessarily following a strict rule. The producers are testing things out to see what happens."
JV: "The opposite of that is people like Diego Bermudez from Finca El Paraiso in Colombia who measures everything meticulously."
TC: "Right, because at the end of the day, it's all a chemical process and if you don't keep a record, it will be hard for you to pass the knowledge on or know what went well and what didn't go well."
JV: "What I've been thinking is that it would be a good idea, given the success this coffee has had so far, to reach out to the producer and see if he can actually record a video for us to show us how he processed his coffees because it is indeed a bit mysterious."
TC: "That would be great! I'm sure my customers would love to learn more about this. Tell me a bit about your future plans. Where do you want to see this brand in one year?"
CS: "Honestly, one of the things that has really surprised me is the subscriptions market. I really didn't even consider it when I stared this business. You guys have both individuals and businesses that are subscribed and this is a great way for us to reach potential new customers. What we would really love is to have a growing but stable network of customers across Europe who buy from us and subscriptions have turned out to be a great way for us to reach out to people. You're basically doing the work that I would otherwise have to do, ha ha!"
JV: "What would be great is to build a solid base of customers who orders from us weekly. We already have two coffee shops in Barcelona that order from us regularly and in a year's time, I would love for this number to be five or six. That way we can also build some consistency and improve our roasts. We'll also do more events and collaborate with other subscriptions to reach more people for sure."
CS: "At the end of the day, people who are subscribed to coffee boxes like yours are adventurous. They want to discover something new and that's what we're here to offer."
TC: "In that spirit, thank you for your time and I cannot wait to share your lovely coffee with our customers."
---
This coffee is part of our upcoming July 2022 Coffeevine box that also features other delicious coffees from KB Coffee Roasters and Old Spike. To choose your ideal box and get in on the fun, just pop over to our shop now.