Many modern coffee roasters started out small. As a coffee cart at the local organic market, as a cake shop or a whole in the wall espresso bar. In the case of Sample Coffee in Sydney, it was indeed the latter. Founded by Reuben Mardan in 2011, Sample Coffee added a roastery in 2014 and has since gone from strength to strength.
Like many other roasters, Sample Coffee gave great importance to accessibility, education and appreciation of all kinds of coffee, especially tasty single origin coffees. As the name suggests, they want to offer a sample of the great work being done by coffee producers all over the world and share their stories with the world.
We first learned about Sample Coffee after being contacted by Ainhoa Martínez who looks after Comms and Marketing and who was keen to discuss the details of a potential partnership. Prior to launching our Global coffee roasters box, this would not have been feasible but the arrival of this latest Coffeevine venture, provided the framework for a collaboration.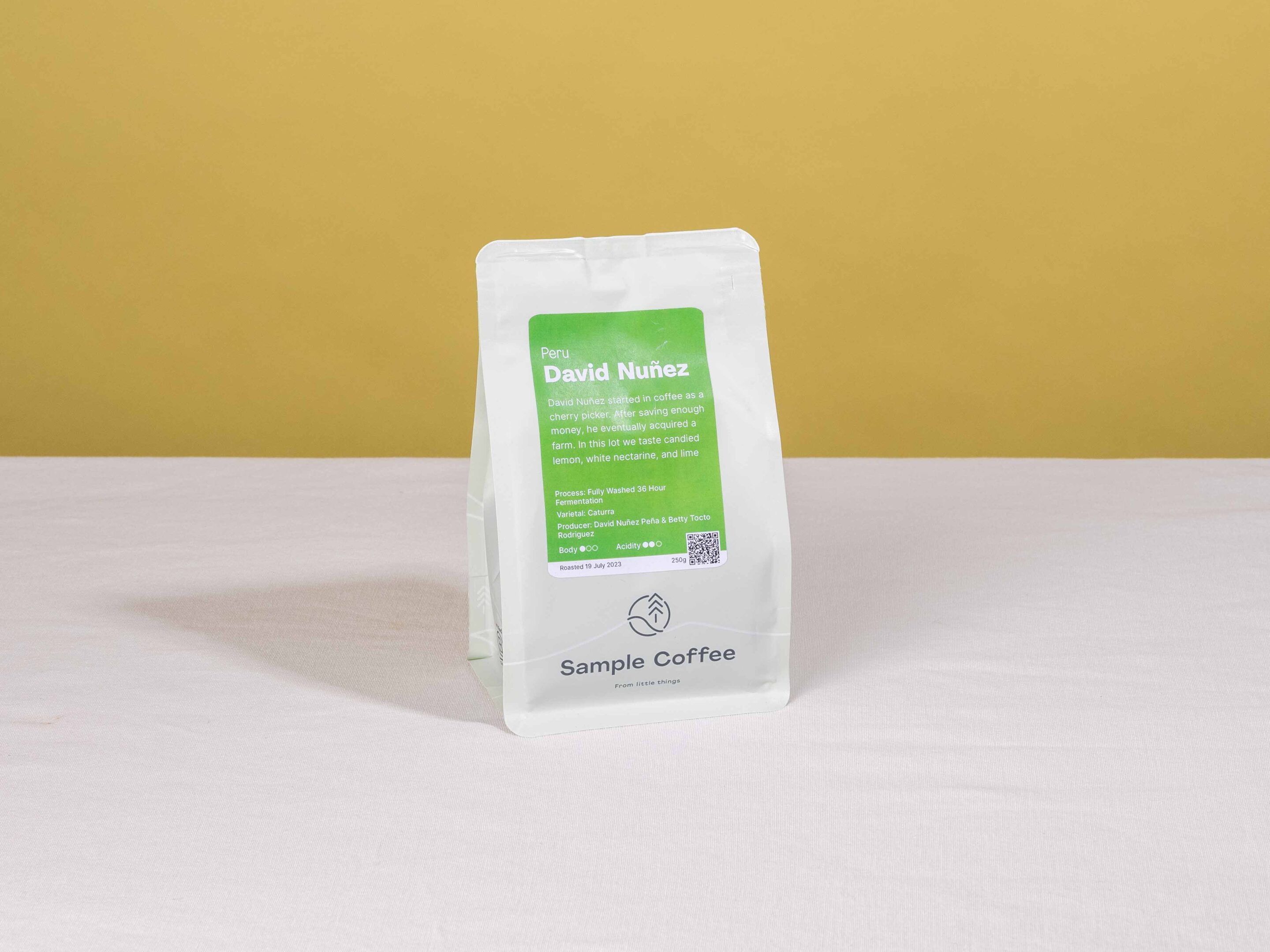 Australia holds a special place in the heart of many specialty coffee folk. It was fundamental in the advancement of specialty coffee quality, set the bar high for hospitality practices and inspired many entrepreneurs who set up brunch places and coffee bars in other parts of the world. In fact most pioneering roasteries in Europe were founded by Aussies and Kiwis or by people who had been travelling Down Under and wanted to bring a taste of it back to their home countries.
What sets Sample Coffee apart is a no-nonsense approach to making coffee accessible, delicious and exciting. The company is a B-Corp certified business that takes great care to be socially responsible and engaged with the global coffee community. Their partners are all handpicked coffee producers like David Nuñez in Peru whose outstanding washed Caturra we picked for our September Coffeevine box.
This coffee hails from the Cajamarca region and has a 34-hour ferment washed process that resulted in a fresh and citric cup profile.
---
Receive this coffee along with a delicious washed Guatemalan coffee from Cat & Cloud as part of our upcoming September 2023 Global coffee roasters box. Order a one-off box now Ships on 20.09.2023.