Paris, city of lights, city of love. Always worth a trip, don't you think? Especially when you arrive in the French capital on an early morning in late October and the city greets you with sunshine and near 20 degrees Celcius. We knew from the get go that Paris has a more temprate climate than Amsterdam but right now, I am sitting here at a local café in shorts and tank top looking at clear blue skies and excited about the promise of another stunning late summer weekend away.
One of my missions on this trip was to visit a few of the local coffee roasters who we have either been chatting to over the past few months or, as in the case of Coutume, have worked with in the past. It might come as a surprise to you that France is still relatively behind when it comes to specialty coffee, especially considering its world class cuisine and wine culture. My goal was to get under the skin of the French capital and find out what's been happening here over the past few years and how certain coffee pioneers are changing the way locals view, understand and consume great coffee.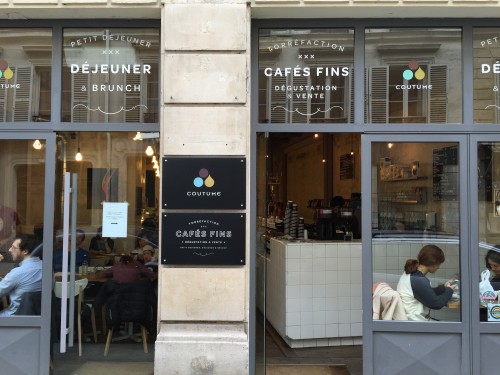 My first point of call after dropping off our luggage was Coutume. This wonderful island of excellent coffee is one of the front runners with regards to driving the coffee express into French every day life. Founded by Australian Tom Clark and Frenchman Antoine Netien back in 2011, Coutume has become a fixture on the local coffee circuit and their commitment to elevating the coffee/food experience is quite evident.
After walking into their main outlet on Rue Babylone I was greated by super friendly staff who directed me to a free spot at the former cupping bar and asked me to wait for Tom, who was finishing up some stuff downstairs. I asked the waiter what the password for the wifi is to which he said: "coutumecafe, no capitals no hifens. Easy peasy." And off he danced. This put a smile on my face. When Tom arrived he offered to have lunch together before he gave me a tour of the place and explained a bit more what Coutume is all about and what their exciting plans for the future hold. The lunch menu contained a myriad of delicious sounding dishes and it was hard to pick something. In the end I went for the roasted lamb, quinoa, veggie and baby spinach salad with a kiwi, mint and coriander dressing while Tom ordered the Bun Boeuf with fennel, red pepper, tomato and horseradish. See what I mean?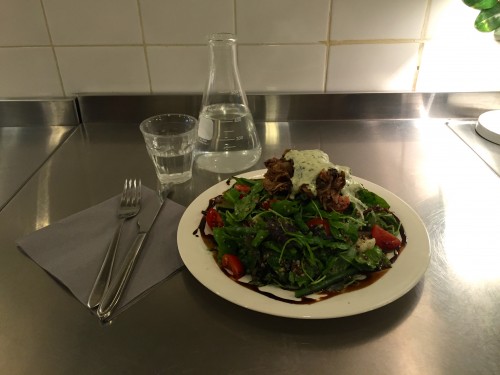 When Tom moved back to France to be with his French wife, he was shocked by the lack of good coffee. Admittedly, coming from Australia, which is indeed one of the world's most advanced nations with regards to great coffee, he was a bit spoiled. "Even my parents are coffee snobs. My mother only goes to a handful of cafés and sometimes even drives up to 30 minutes to get a great cup of coffee. It's sort of in the genes," he laughed. "It was hard work in the beginning. People came in here and were often shocked by the fact that they only got such little liquid in their Espresso cups. "Where's the rest of it" they'd say. It has been a real exercise educating the local public about specialty coffee but after a few years of doing what we're doing, we have seen a real change in local preferences and tastes and that's a great reward for us."
Back in the day they used to roast on location too but now their roastery has moved to the 11th arrondisment and they now even have outlets in Japan. "We have one in Aoyama in Tokyo and we're opening one in Osaka in November. Another Tokyo outlet is scheduled to open in January. Japan is a super exciting market and we're also looking at other countries at the moment but those talks are still very premature," Tom explained.
After we finished our lunch we ordered an Espresso each, using beans from the same finca that we had selected for Coutume's appearance in our September '14 tasting box. Find out more about that particular coffee here.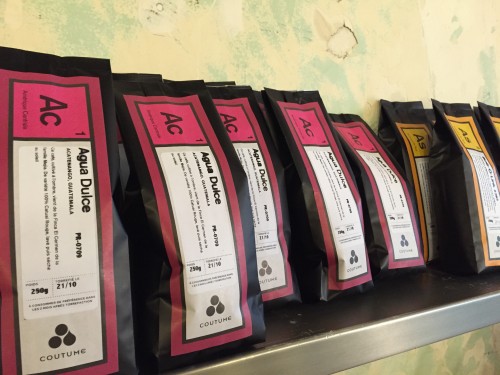 Indeed, the guys here at Coutume are also very committed to sourcing the finest coffees directly from the growers and making the trip to origin countries is a formidable part of their business as usual. Like many other roasters that we have met along the way they strive to constantly push their boundaries and that can only be a good thing for Paris, right?
Did you enjoy Coutume's El Ganzo, Guatemala coffee from our September '14 tasting box? Let us know what you thought. If you're not yet subscribed to our bespoke coffee subscription service, click here to find out more on how you can enjoy three beautiful coffees from Europe's finest roasters every month.