Skye Coffee – Barcelona (ES)
A super cool coffee truck in Barcelona serves Right Side Coffee in a spectacular open plan space near legendary nightclub Razzmatazz
opening times:
Mon - Wed: 9 - 17, Thu: Closed, Fri: 9 - 17, Sat - Sun: Closed
urls:
Facebook
price check:
Espresso: €1 / Flat White €2,30 / Filter: from €3
machine:
La Marzocco Linea
coffees on offer:
various from Right Side Coffee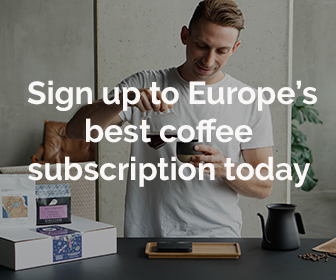 Skye Coffee – Barcelona (ES)
A super cool coffee truck in Barcelona serves Right Side Coffee in a spectacular open plan space near legendary nightclub Razzmatazz
Food trucks have taken Europe by storm and these days, you won't be far from some amazing little van that serves Georgian dumplings, Iranian stews or Korean tacos. Being a coffee site, we focus more on the ones that serve a banging cuppa Joe, so when we found this particular one in Barcelona, we were overjoyed (even more so because the barista was a total legend who took us out for beers later).
Pat Bronson has been running Skye Coffee ever since it first moved into the spectacular warehouse space called Espacio 88. "I just asked if they needed a barista, and they happened to need one, so I've been here pretty much every day since I started. Don't you just love this place?" Pat asked while handing over a perfectly prepared flat white.
Espacio 88 regularly hosts events such as exhibitions and performances, and doubles as an free co-working space for anyone who needs to sit down with a laptop and a good cup of coffee.The truck itself is a beautifully restored 1972 Citroën HY, but according to Pat it gets very hot in there in summer.
Currently they also offer a limited selection of filter coffees and some pastries, while all coffees come from local coffee roasters Right Side.
A great spot to visit if you're in the area, and it handily happens to be right next door to legendary Barcelona nightclub Razzmatazz.
More Reviews from Barcelona & Spain