Mision Café – Madrid (ES)
Nolo Botana and Pablo Caballero have done it again. Following Hola Coffee, they recently opened their new Malasaña-based café: Misión
opening times:
Mon - Fri: 8 - 19, Sat - Sun: 10 - 19
wifi:
Yes
urls:
Facebook
price check:
Espresso: €2 / Flat White: €2,50 / Filter: €4 - 7
machine:
Modbar
coffees on offer:
various from Hola Coffee
milk:
Quintián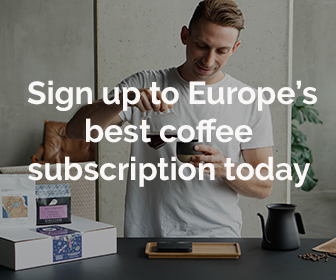 Mision Café – Madrid (ES)
Nolo Botana and Pablo Caballero have done it again. Following Hola Coffee, they recently opened their new Malasaña-based café: Misión
Nolo Botana and Pablo Caballero have been somewhat of Madrid's coffee poster boys. It's true! The year before opening the doors to Hola Coffee in 2017, Pablo became the Spanish barista champion and then Nolo came in second place of the roasting championships the year after. Not to mention hosting the Aeropress championships last year.
Over the past year and half they've been extremely busy, as you can probably imagine. Specialty coffee pilgrims travel across town to get their coffee at Hola, while more and more cafés all over the continent have started serving Nolo and Pablo's coffees, not just because they're delicious but also because they're a great alternative to Barcelona's dominating roasters. You know who we mean and love. Wink, wink.
However, this post is not about Hola Coffee, but Nolo and Pablo's newest café: Misión. Located in the heart of Malasaña, Misión is undoubtedly Madrid's most high-tech coffee bar, while it is also a new direction for the duo that is known for its facial hair and friendly attitude. The interior retains some of Hola's familiar elements, such as the heavy use of wood and exposed brick, while the Modbar espresso machine setup and the kitchen add new levels of sophistication.
I was lucky enough to catch both Nolo and Pablo during my visits and had plenty of time to chat with them about the idea behind Misión, tuck into some dangerously good coffee and cake and even try one of their lunch dishes. "Hola was our way to introduce ourselves to the coffee world and it will remain our roastery / tasting room concept, whereas with Misión we're trying to get more into the coffee / food sector. It's going to be very interesting to see how this develops," Nolo said while making a Kalita pour-over with his Modbar.
While I stood by the bar chatting to them, regulars and friends kept walking in and out, signalling that Misión has already begun to establish itself despite only being open a few weeks. The coffees on offer all come from Hola Coffee, as was to be expected, but they are given a new spin with all the precision brewing and espresso equipment. "One customer once said to me: can I have a beer please?, pointing at our Modbar," Nolo said laughing. They do look a lot like fancy beer taps, don't they? He continued: "After I explained what this is he gave me a funny look but then ordered a coffee anyway."
The food is cooked with a lot of love but still needs a bit of refining, which I am sure they are going to work out over the coming weeks. I mean, builders were still fixing a few things here and there while I was typing away on my laptop. What's great to see is that Nolo and Pablo are continuing to add new layers to Madrid's vibrant and exciting coffee scene, and who better to do that than these two wonderful gentlemen?
More Reviews from Madrid & Spain