Santa Kafeina – Madrid (ES)
This cosy bar in vibrant Chamberí serves great coffee and a glimpse of the way of life in one of the capital's friendliest residential areas
opening times:
Mon - Fri: 8 - 19, Sat: 8 - 17, Sun: Closed
wifi:
Yes
urls:
Facebook
price check:
Espresso: €1,80 / Flat White: €2,30 / Filter: €3
machine:
La Marzocco Strada
coffees on offer:
various from Puchero and other guests
milk:
Los Combos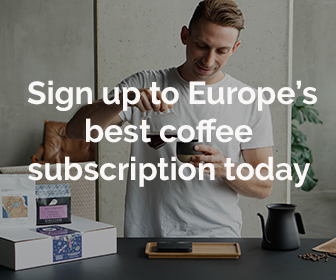 Santa Kafeina – Madrid (ES)
This cosy bar in vibrant Chamberí serves great coffee and a glimpse of the way of life in one of the capital's friendliest residential areas
One thing that I personally love a lot about very small coffee shops is that you can easily strike up a conversation with the owner or barista while he or she is preparing your coffee. Many of them are so cosy that most of their business is take away, but if you swing by during a quiet moment, you might be able to pull up a stool and hangout for a while as was the case during my visit to Santa Kafeina in Madrid's specialty coffee Mecca Chamberí.
Run by Javier Castillejo and his partner Yessika Pacheco, Santa Kafeina is the cutest corner coffee bar in Madrid and one that was very warmly recommended to me by many other coffee shop owners in the city. It's located on a relatively quiet street near Iglesia Metro station and attracts a mixed crowd of business people working in the area, local residents and tourists staying in Chamberí.
When Javi first came in contact with specialty coffee, it sparked in him a passion that would lead him to visit courses at local coffee shops, attend the London School of Coffee and ultimately inspired him to open his own coffee shop. He consciously chose Chamberí because of its very local way of life, lack of tourist buses and affordable rents. In recent months the whole area has transformed into the Spanish capital's most vibrant specialty coffee neighbourhood, thanks to places like Santa Kafeina, Saint Georges and the second Toma Café outpost.
Javi's pulls his espresso shots on a Strada, offers a small amount of filter coffee options, homemade cold brew and even some tasty sandwiches and pastries. The shop may be small but taking a seat outside and soaking up the daily life inside one of Madrid's most vibrant residential areas gives you an excellent idea of life in capital away from the masses at Gran Via and Atocha.
Santa Kafeina is also a great way to start your local coffee tour around Chamberí thanks to its close proximity to Metro line 1. Highly recommended!
More Reviews from Madrid & Spain