4850 – Amsterdam (NL)
Oost's latest arrival combines Nordic-inspired dishes with exquisite specialty coffees and a fabulous selection of wines into a fresh new concept
opening times:
Mon- Tue: 9 - 23, Wed: Closed, Thu - Fri: 9 - 23, Sat - Sun: 10 - 23
wifi:
Yes
urls:
Facebook
price check:
Espresso: €2,50 / Flat White: €3,80 / Filter: €4
machine:
Synesso Hydra
coffees on offer:
various from Koppi, April and others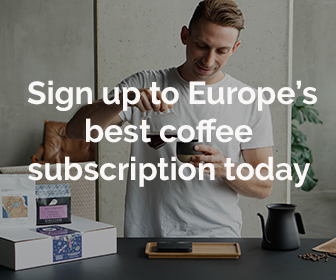 4850 – Amsterdam (NL)
Oost's latest arrival combines Nordic-inspired dishes with exquisite specialty coffees and a fabulous selection of wines into a fresh new concept
I've long been worrying about the state of the Amsterdam specialty coffee scene. After a real boom some 3-4 years ago, it virtually plateaued and offered little innovation, excitement or variety. While other cities continue to push the boundaries of specialty coffee, here in Amsterdam complacency seems to be the rule, which has turned the Dutch capital into one of the least exciting coffee cities in Europe. Thankfully, we can still count on a few progressive entrepreneurs who don't fit the mould and are doing things differently.
4850 is a new project by Rikard Andersson and Daniel Schein that opened its doors a few weeks ago. Both men have been working in the local food and coffee scene for some time, with Daniel even spending one year in Belgium working as a sommelier at Michelin-starred restaurant de Wulf, and they now run what will surely be one of Oost's favourite new hangouts.
Located literally facing the backside of OLVG Oost and just a few meters down the street from local favourite Roost, 4850 offers a fresh take on exquisite Nordic inspired food and coffee as well as a selection of wines that can only be described as 'to-die-for'.
As Daniel explained: "Our menu showcases three Champagnes, five whites and five reds that we offer by the glass, but thanks to this ingenious little device – meaning the Coravin – we practically offer all our wines by the glass."
The coffees on offer come from Swedish superstar roasters Koppi as well as April and other guests. At this moment, Daniel and Rikard don't want to fixate on one roaster, in particular, rather choosing their coffees like their wines, by taste and season. As I waited to try Rikard's signature dish, the rather opulent sounding 'tartar on hang-dried beef, caviar and foie gras', Daniel poured me a cup of April's surprisingly non-herby Rwanada, Matyazo that perfectly cleared my palate for the richness of the dish that was about to come to my table.
Needless to say, and I am a real tartar lover, this dish was almost more than I could chew, offering an intense depth of flavour that was cushioned by a layer of grated frozen foie gras on top and further enhanced by the raw egg yolk underneath. I can confirm that it's quite an experience, but it's probably better shared between two people.
If you're not looking for something quite as heavy, then pop into 4850 for a light and tasty breakfast with locally baked sourdough bread, cheeses from Kef or a pulled moose sandwich. I bet you've never had one of those before. 4850 is open from 9/10 am until 11 pm, except on Tuesdays when it's closed, making it one of the few places in central Amsterdam where you can truly enjoy a great cup of coffee until almost midnight, but given Daniel's fine selection of wines, you'd probably rather want a little tipple or two anyway.
More Reviews from Amsterdam & The Netherlands