FUKU – Amsterdam (NL)
Lex Wenneker and Dylan Sedgwick's long-awaited café has finally opened its doors in the city's vibrant Bo-Lo neighbourhood. Go now!
opening times:
Mon - Wed: 8 - 15, Thu - Fri: 8 - 20, Sat - Sun: 9 - 20
wifi:
Yes
urls:
Website
price check:
Espresso: €2,50 / Flat White: €3,50 / Filter: €3
machine:
La Marzocco Mistral
coffees on offer:
various
milk:
Moma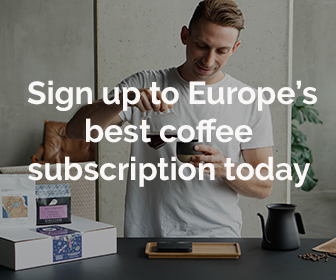 FUKU – Amsterdam (NL)
Lex Wenneker and Dylan Sedgwick's long-awaited café has finally opened its doors in the city's vibrant Bo-Lo neighbourhood. Go now!
The moment of truth has come. FUKU, the new café by Lex Wenneker and Dylan Sedgwick has finally opened its doors today and with it, the duo behind cult brand Friedhats Coffee reached another epic milestone along its admirable journey through the world of specialty coffee. If you don't know who Lex and Dylan are, I need to ask: "Where have you BEEN lately?" No, I'm just messing with you. No, seriously. Where have you been?
When I first met Lex five years ago, he and his close friend and coach Jonatan Scheeper had just opened Headfirst Coffee, one of the first serious specialty coffee bars in town and already then, Lex had his eyes firmly set on competing in the World Barista Championships. In the five years since our first meeting, Lex accumulated countless awards on the local and international stage with the second place in this year's World Barista Championship in Amsterdam being the best achievement of his enviable career.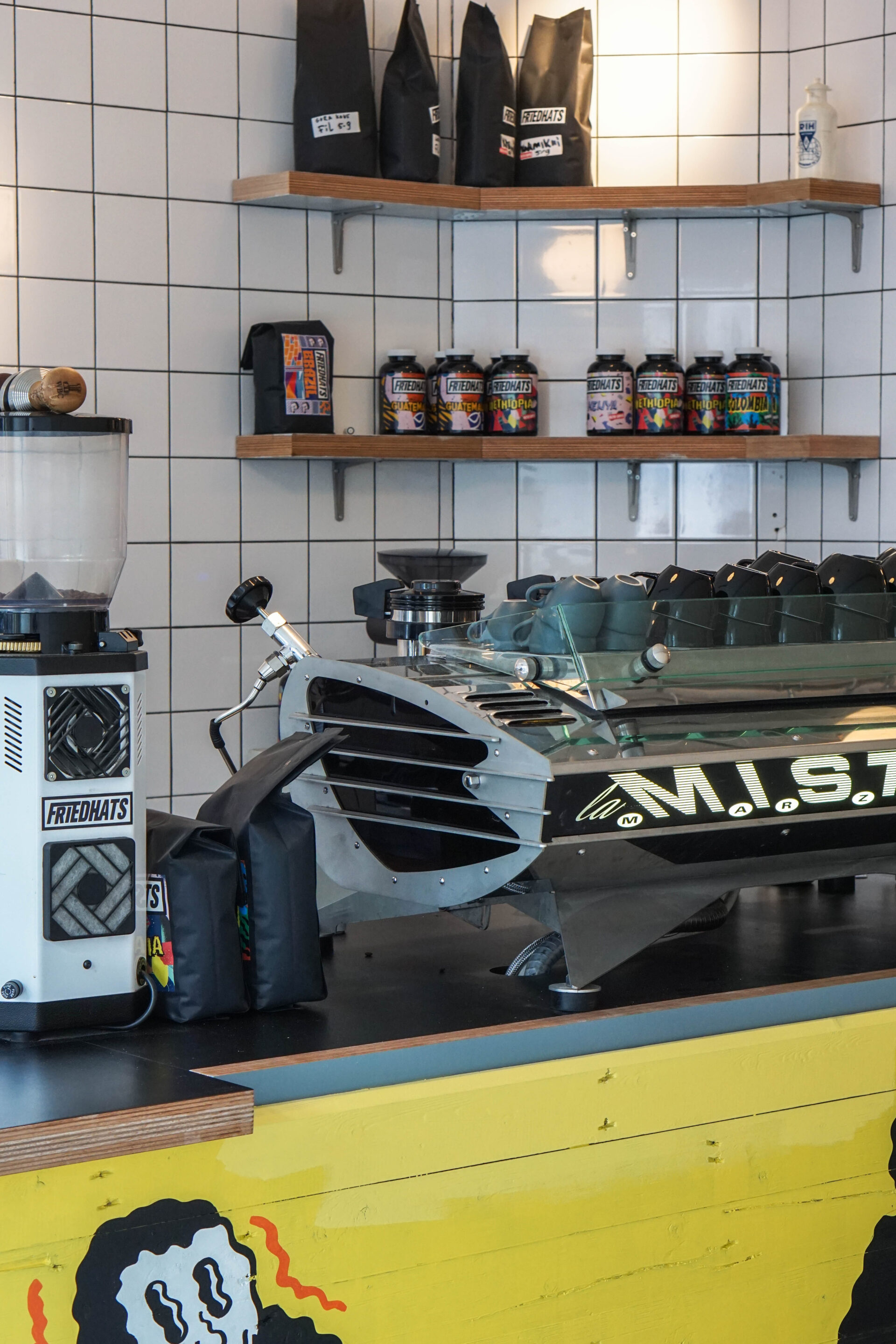 All this time, Dylan was by his side as a friend, coach and business partner and together they relentlessly worked towards making specialty coffee not just accessible and interesting but also a little fun, something that often falls a bit short in an industry that can seem rather serious and stiff at times. As someone who spent the last two years sharing a warehouse with the pair, I witnessed firsthand the exciting path they've been on and with FUKU they've at last created a space where they can do what they enjoy most: make fabulous coffees and engage with their customers and fans face to face.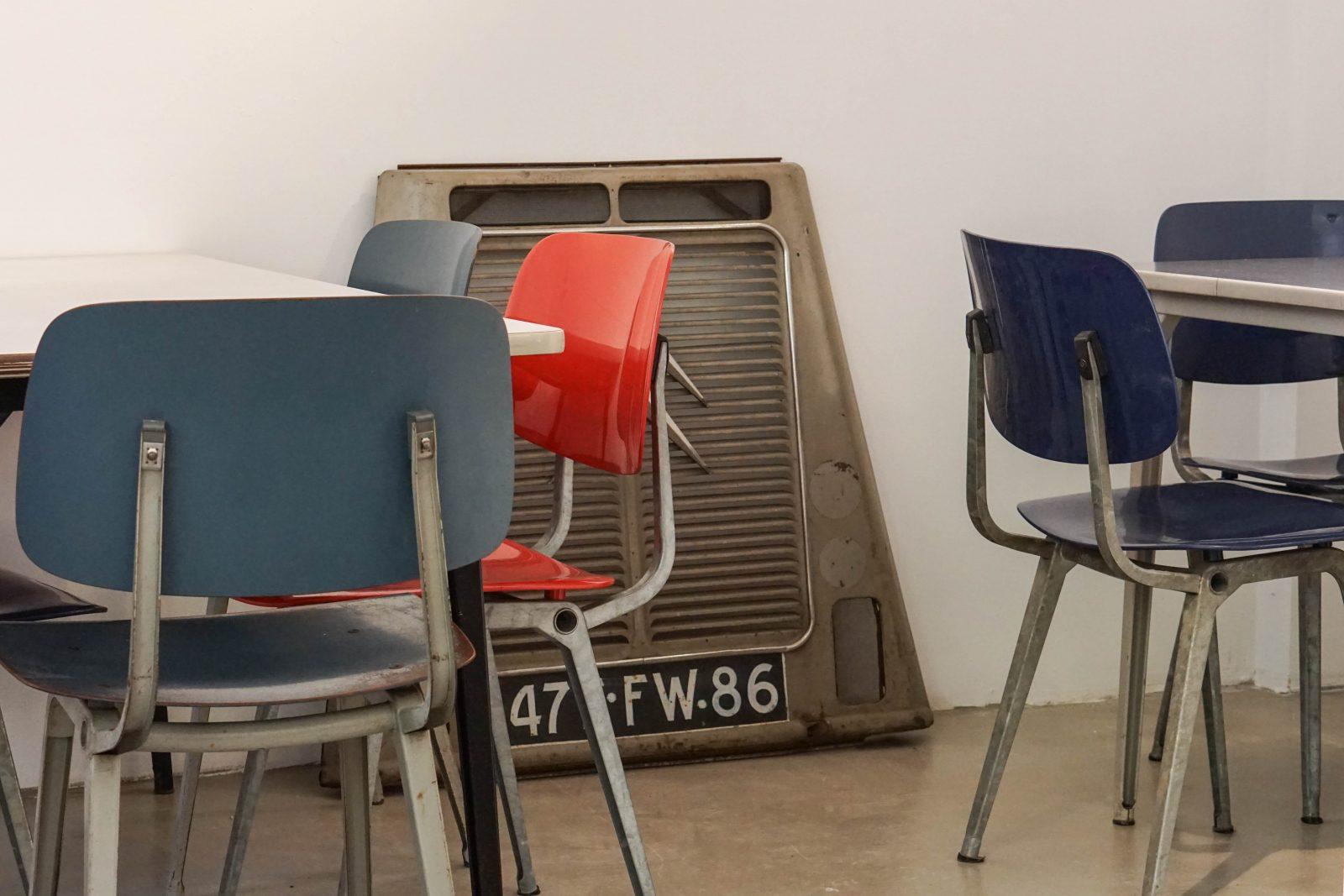 FUKU is the first specialty coffee shop to open in Bos en Lommer, aka B0-Lo, a part of Amsterdam that is diverse and exciting but one that had been disregarded by other café owners until this point, a welcome addition to a city where many areas are completely saturated with cafés and coffee shops. I remember sitting in our warehouse with them when they first came across this space and both of them excitedly thinking about what they could do there to make it a real neighbourhood favourite.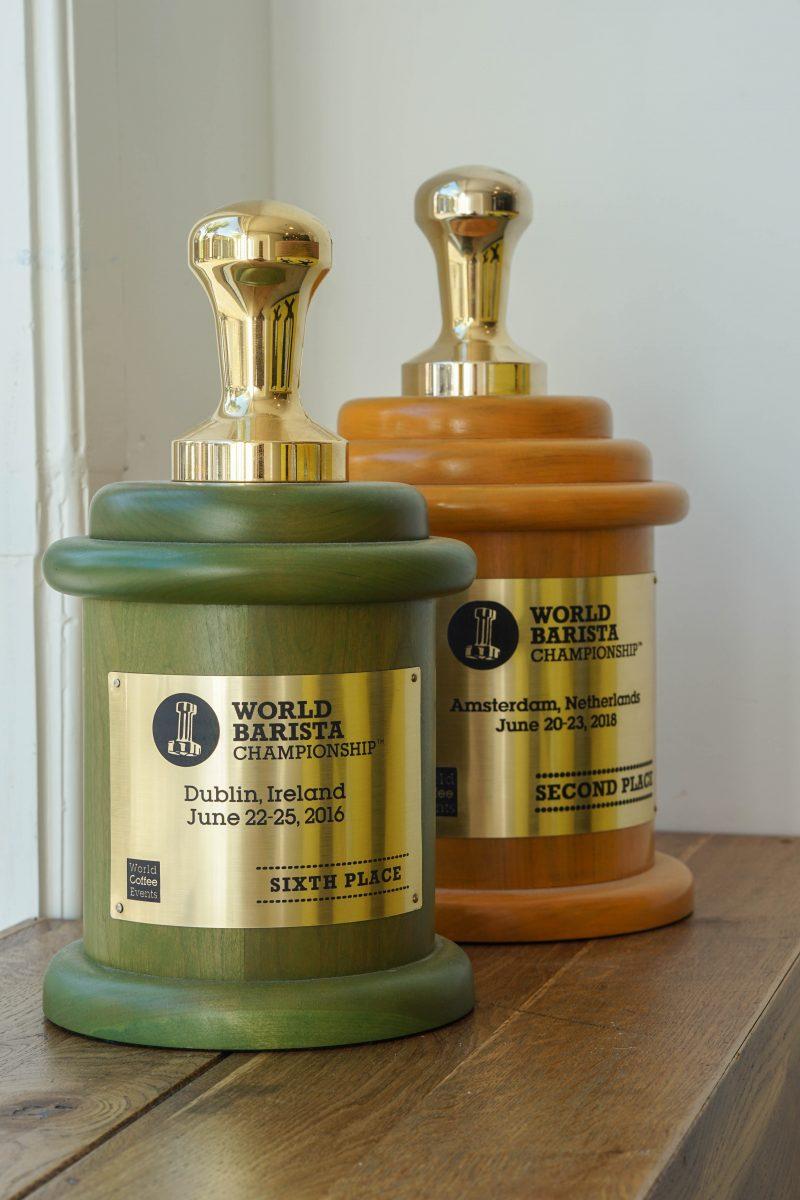 The result? A friendly, fun and extremely well-equipped café where the finest coffees are the star of the show, with exquisite wines and cheese the supporting acts. When I popped in today to take some pictures I spotted some of my favourite coffee locals sitting at the bar – you know who you are – drinking coffee and tucking into freshly baked bread from Yoeri Joosten, formerly of Stooker Coffee, who recently set up his own bakery called Ulmus, topped with cheese from Kef.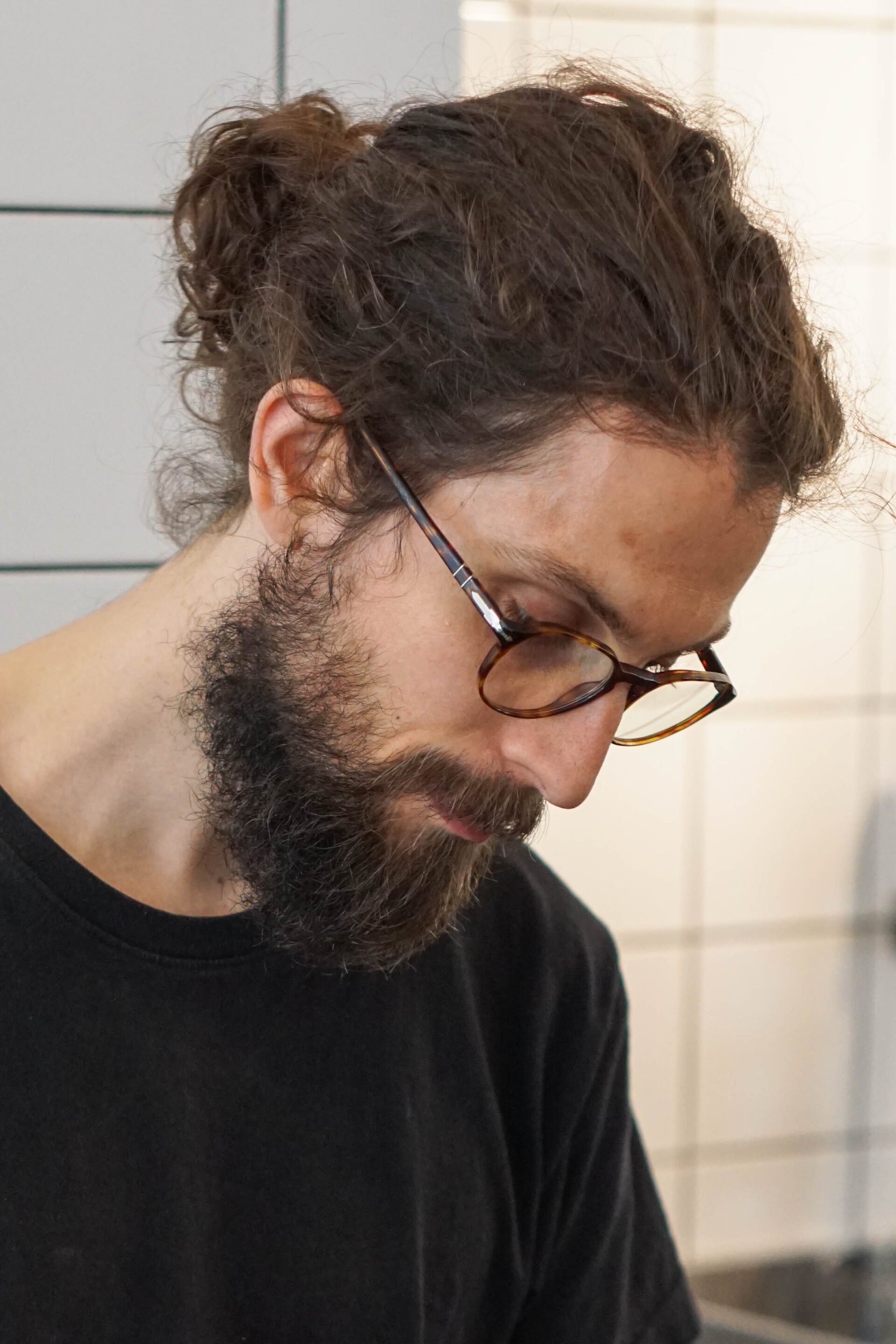 There is even a retro vending machine in the hall that you can buy your Friedhats Coffee bottles from as you would buy cheeseburgers and Krokets from legendary Amsterdam fast food chain Febo. Some remnants of the past also made their way into this new café such as the grill of a vintage Citroen H-Van that Lex formerly used as his Espressobus and the obligatory LCD Soundsystem LP on the counter. If you watched any of Lex's competition performances you'll know he always competed to a song from the legendary US band.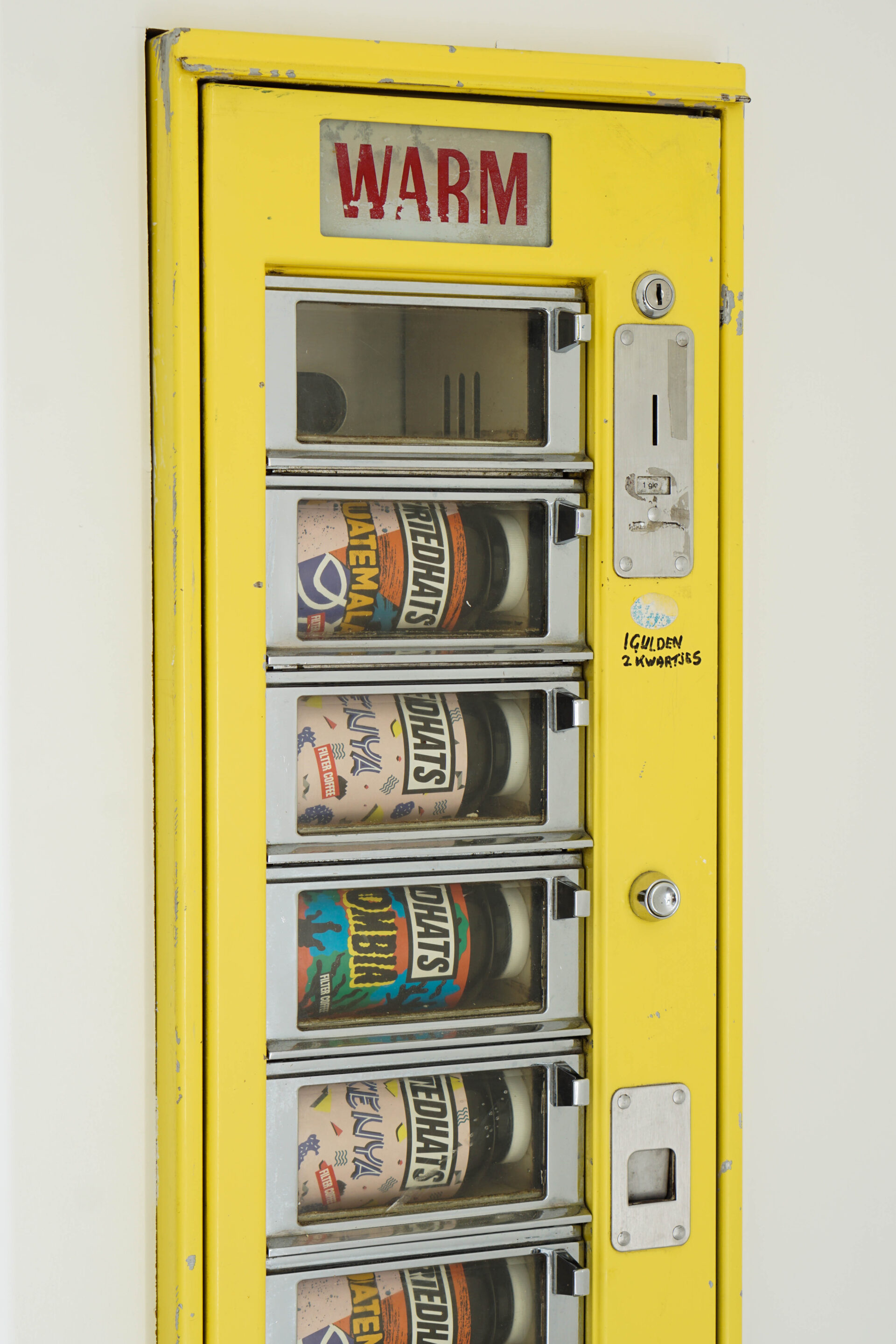 Some things are still to be finished, such as the outside deck, but if you can look past that, then you will find the most exciting new coffee bar in Amsterdam, run by some of the nicest and most talented people you can imagine. VISIT NOW before the hipsters find out. Just kiddin'. No, seriously.
More Reviews from Amsterdam & The Netherlands