Toki – Amsterdam (NL)
Amsterdam's newest coffee bar is a blend of influences from across the world, manifested in a cozy neighbourhood hang out with great potential.
Toki – Amsterdam (NL)
Amsterdam's newest coffee bar is a blend of influences from across the world, manifested in a cozy neighbourhood hang out with great potential.
After so many years of blogging about the local coffee scene in Amsterdam and further afield, it doesn't happen often that I visit a new coffee bar and meet an owner who is a total newbie to the industry. Usually, and I am sure this is not a condition that's exclusive to Amsterdam, new coffee bars are opened by people who come from an existing coffee business but want to go it alone.
In the case of much talked-about new coffee bar Toki, it was the case that the owner is someone with no history in the coffee industry but funnily enough, a long history with me, something that totally took me by surprise. When Jeff Flink, Toki's funky founder, came over to shake my hand I was a bit embarassed that he addressed me by my first name and I couldn't remember his because I totally knew his face too but I didn't know where from.
It wasn't until he brought up our previous client/agency work relationship that the penny finally dropped. Jeff and I met in the naughties but then didn't see eye to eye for a good five to six years. Hence the unexpected reunion.
Jeff explained that after getting fed up with the advertising world he decided to quit his job in the beginning of 2015 to try and make his life-long dream of owing a coffee bar a reality. Initial searches for a suitable location had not been fruitful but as fate would have it, a friend coincidentally came across a restaurant that had gone bankcrupt and whose owner was looking for a buyer. Jeff didn't hesitate for a second and within a week he was given the keys.
Toki is the result of many years planning, designing and dreaming. A coffee bar that is as friendly as it is different. The interior is a mix of old and new with carefully placed design elements that show how much thought has gone into it. Although the brand identity was created in collaboration with Harriman Steel, Jeff shaped the look and feel entirely by himself.
"I knew from the start what I wanted and who I wanted as my suppliers. Bonanza are so bloody good at what they do and they have been so supportive of my project that I am proud to be their first permanent Amsterdam account," Jeff said about his coffee roaster of choice. During our chat he explained that every partner hails from a city he loves. Crate Brewery from London supplies a fine selection of craft beers while Bellocq Tea Atelier from Brooklyn has been drafted in to provide loose leaf teas.
As one of the very few coffee bars in town to have a full-on restaurant license, Toki could potentially become your next level coffee / restaurant / cocktail bar concept but Jeff wants to take his time. "There's no rush here. I have a fully fledged kitchen but I am not going to start doing brunch tomorrow just because I can. Everything I do will be done right and at the right time," the stylish owner explained while carefully preparing two pots of tea.
Toki may not be on the busy Haarlemmerdijk but it has a winning formula none the less. It's a neighbourhood café with a very unique character, great products that are prepared with love and the potential to serve food, cocktails and much more. It's in Jeff's hands to decide what comes next.
---
Not yet a member of our critically acclaimed coffee subscription?
Receive a brand new, monthly tasting box with three delicious coffees from the likes of: The Barn, Koppi, Ozone Coffee, Bonanza, Coutume, Nømad, La Cabra and many more.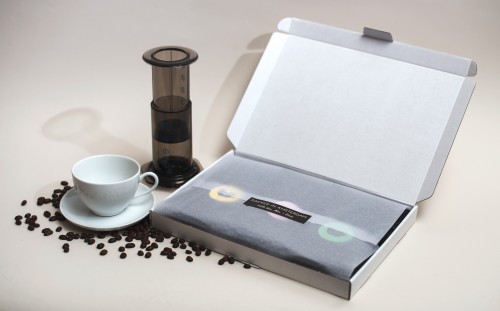 ---
More Reviews from Amsterdam & The Netherlands