Work with us
The Coffeevine is one of Europe's leading websites for globally trusted café reviews and maker of Europe's most exciting monthly coffee box. Everything we do revolves around finding and sharing the most delicious coffees and shining the light on their producers and the roasters that add the finishing touches to them.
We offer various ways for businesses to work with us. Are you interested in reaching thousands of coffee lovers with your brand message or coffee? Are you looking for an extremely targeted way to achieve your marketing goals? Then we can help you.
---
Our reviews and blog
Over the years we have accumulated more than 300 personally written reviews of the best coffee shops and roasters all over the world, personally visited and vetted by Coffeevine founder Alex Kitain. Our reviews attract thousands of monthly visitors and are universally trusted by readers and coffee shop owners alike.
Our goal is to showcase the diversity, passion and skills of baristas, roasters and café managers and direct more traffic to their establishments through individual articles or city guides such as our incredibly popular guide to LA's coffee scene.
Each review is displayed on our homepage for several days and supported with posts on Instagram and Facebook.
Our website gets between 15.000 and 20.000 hits from coffee aficionados every month, either looking for a great place to drink coffee or to order our critically acclaimed coffee box. All of our reviews are accessible either through our handy coffee map or by searching the website for keywords such as 'location', 'roaster' or 'restaurant'.
Finally, in an effort to make our reviews even more trustworthy, we only review places that we personally really like and would also recommend to our friends and family. Should a place fall short of expectations, we will provide ample feedback but refrain from publishing any form of review. As a rule of thumb, we never post negative reviews because we believe that everyone deserves a second chance.
Are you interested in seeing your business featured on The Coffeevine? 
We offer various media exposure packages that you can choose from. Just send us an email via our contact form or to hello [@] thecoffeevine.com to find out more.
---
Our coffee box
Nominated for a Sprudgie Award in the category 'Best Coffee Subscription' three times in a row, our coffee box has received accolades from many different coffee experts and customers alike.
Hailed as 'The coffee lover's must-have' by BBC Good Food and 'The best coffee subscription in Europe' by Caffeine Magazine, our boxes have travelled to coffee-loving customers in over 70 countries since we started in 2014. We have worked with some of the specialty coffee scene's biggest names, featured mind-blowing coffees from exciting and up and coming roasters and had several Coffeevine-exclusives in the form of micro-lots or special packaging.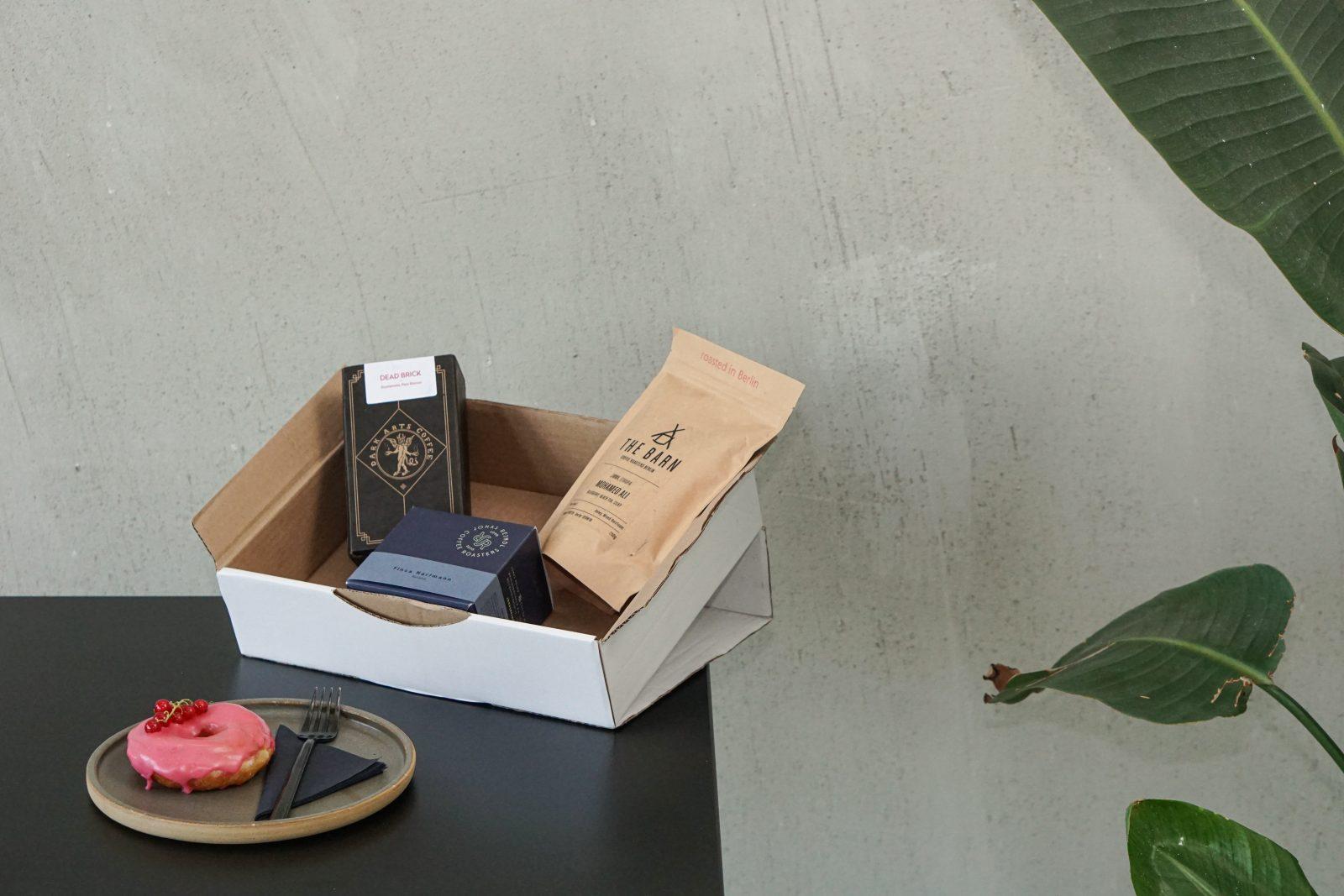 Every month we feature three carefully selected single-origin coffees that successfully passed through our strict blind-cupping procedure, attended by our voluntary team of experts. This includes two-time Dutch Barista Champion Lex Wenneker, SCAE trainer and former Dutch Barista Championship contestant Kim Staalman, co-founder of Friedhats Coffee Dylan Sedwick and former Dutch Aeropress Championship organiser Stijn Braas.
We take great pride in offering roasters from all walks of life a unique and fair platform to share their finest coffees through and we believe we offer the most refined and diverse coffee subscription experience in Europe.
Does that sound interesting to you? If you want to follow in the footsteps of The Barn, La Cabra, Parlor Coffee (NY), Drop Coffee, The Coffee Collective and many more in reaching hundreds of coffee aficionados across four continents, then our coffee box is the right marketing tool for you.
Here are a few facts about our box:
We offer three sizes: small, medium and large
We don't open or repack any coffee bags. Everything is shipped in its original packaging.
We offer the choice betwen filter, espresso and a mixed box
Our boxes always ship on the 20th of every month
Customers can preorder our box for the duration of one month in which we actively promote the contents of that box and the roasters across our various channels, incl. our website, newsletters and social media
We have subscribers and one-off buyers in over 50 countries at present
Our biggest markets are: Sweden, Germany and The Netherlands
Are you interested in chatting to us about potentially featuring one of your coffees in one of our upcoming editions?
Just send us an email via our contact form or to hello [@] thecoffeevine.com and we'll be happy to share more information with you about how The Coffeevine can help you reach your marketing goals.