It goes without saying that Amsterdam is one of the world's most creative, innovative and progressive cities in the world. During the last few years the Dutch capital has undergone an incredible transformation at breakneck speed. Maybe, after many years of suffering bad food, poor service quality and rather tacky shopping, the city discovered that if you nurture talent across many different industries you can create a place to live that is now ranked amongst the 10 most livable places on earth. And we're not just talking short bike rides from A to B here peeeps. We're talking about a city that has reinvented itself into a place that is overflowing with creativity and talent. No matter where you go these days, almost every neighboorhood is being jazzed up with great new places to eat, refurbished monumental buildings that are getting a second chance, specialized shops selling products from many different crafts and a plethora of innovative businesses that are turning Amsterdam into a bit of a tech haven.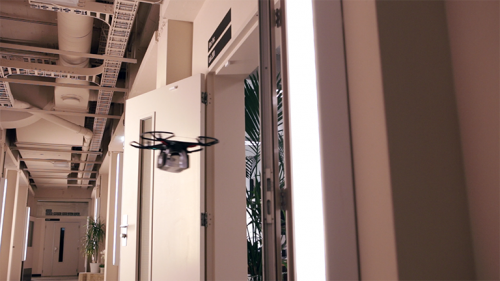 One such place is a shared working space called A-Lab, which is also home to one of our reviewed cafés The Coffee Virus. Located inside a former Shell laboratory A-Lab is home to many creative start-ups. Some of them recently got together to develop a new way to deliver coffee and when we got the press release we couldn't stop laughing at the ingeniuty of the concept. It's absolutely brilliant!
We've all heard about Amazon and Google investing millions of $$$ into the drone business to deliver their products to hard to reach customers out in the pampa but why think so big when you can also use drones on a much smaller and more effective scale. The guys at Instability We Trust, Unc Inc, Puurontwerp & Skeyework, The Coffee Virus and Screenturner thought the same and came up with the Coffee Copter, which was recently successfully tested inside the A-Lab building.
You just get out your phone, select the coffee you want and the order is then passed down to the guys at The Coffee Virus who prep your freshly brewed cuppa Joe before hanging it into a small bag that a drone then flies through the building to a little heliport closest to you.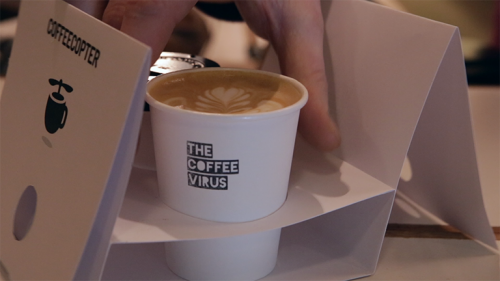 The guys at Unc Inc developed a 3D map that allows the drone to fly various routes through the building and the hardware is equiped with motion detectors and object recognition to avoid crashing into people or pillars. The drone also features stabilizing technology to make sure none of that delicious coffee gets spilled along the way. Of course, we're still many years away from living in cities that buzz with tiny drones that deliver your McDonnalds or Starbucks to your office but considering the bad rap that drones have gotten in recent years for their roles in various wars, it's good to see that these ingenius devices can be put to good use to get a simple task done, namely: fuelling your caffeine addiction.
Currently the Coffee Copter is still in development stage and the guys behind it are looking for some funding to turn this into a commercial success but if you're keen to find out more, head to the website to get all the details you might need.
Erica and I were just debating if one day we'll be deliving our monthly tasting boxes with drones, ha ha! Sign up for our bespoke coffee subscription today and get three gorgeous coffees delivered to you every month!