Meet the roasters from our September '17 box
A group of old friends come together for the first time in our upcoming coffee box, each one roasting a yummy coffee for our customers
We're proud to share with you a bit more substance on the three amazing roasters who are making an appearance in our upcoming September '17 coffee box.
While in August we're celebrating a triple debut from three new partners, Reykjavik Roasters, Hola Coffee and Lippe, in September we're welcoming back three old friends who haven't been featured in quite some time. It's an honour to be teaming up again with Neues Schwarz, Caffènation and JB Kaffee and sharing their freshest and most delicious coffees with you.
Don't miss your chance to discover and enjoy our fine selection of beautiful coffees from these great roasters.
ORDER UNTIL 15-09 / SHIPS ON 21-09
---
#1: Neues Schwarz
Ok, we weren't entirely truthful with you earlier. Benedikt Heitmann from Neues Schwarz will technically be making his third appearance in one of our coffee boxes, but only his second with his own roastery. The first time he roasted a fine coffee for us was when he was still working at Nürnberg-based roasters Machhörndl a few years ago. After leaving Machhörndl he moved back to his native Dortmund and together with his wife set up Neues Schwarz as the city's first specialty coffee roastery.
Quality is their most sacred principle, something that you really smell and taste. Benedikt and his team aim to source only the freshest and most exclusive coffees from small-scale producers in various origin countries that are then roasted to perfection using state of the art equipment.
While the German palate is more atuned to darker roasts, Neues Schwarz makes a big point of roasting relatively light, thereby bringing out all the finest flavours that are hidden deep within each coffee.
We're thrilled to have Benedikt back on board again with a truly exquisite Ethiopia, Rocko Mountain natural.
Our selected coffee from Neues Schwarz:
Ethiopia
Rocko Mountain, Yirgacheffe
1.950 – 2.150masl
Mixed heirloom – Natural
Filter & Espresso
Order now
---
#2: Caffènation
If there is any specialty coffee roaster that can come close to being something of a rock star, then its Caffènation from Antwerp. This funky outfit that was founded by Rob Berghmans 13 years ago set the bar high for others to follow when many people hadn't even heard of specialty coffee yet.
They have a no nonsense approach to sourcing outstanding coffees, roasting them on a 25kg roaster in the heart of Antwerp and serving them in a fun and friendly way, which has made them one of the most respected brands in Western Europe.
Today, they operate two stores and a roasrtery in Antwerp as well as one international outpost in Amsterdam that is run by the iconic Bert van Wassenhove. We're so happy to have them in our midst again, this time with a banging Kenya, Weithaga AA washed.
Our selected coffee from Caffènation:
Kenya
Weithaga AA, Muranga
1.600 – 1.800masl
SL28 & SL34, Baitan & Ruiri 11 – Washed
Filter & Espresso
Order now
---
#3: JB Kaffee
Completing our coffee box in September is JB Kaffee, Bavaria's renowned roastery led by Johannes Bayer. Johannes has been in the business for many years and a large number of Germany's leading coffee bars serve his fine coffees. From Balz & Balz in Hamburg to The Coffee Gang in Cologne and Coffee Nerd in Heidelberg, we've had the pleasure of drinking Johannes' finest single origins and his custom blends all over the country.
Now, he's returning for his second feature in one of our boxes with a delicious Ethiopa, Kochere washed. Coffees from this wet mill are amongst our absolute favourites and most recently we featured a delicous peaberry Kochere from Langøra in Norway in our February '17 coffee box.
We look forward to showcasing Johannes' take on a great coffee from this wet mill in our September '17 box.
Our selected coffee from JB Kaffee:
Ethiopia
Kochere, Yirgacheffe
2.000 – 2.200masl
Mixed Heirloom – Washed
Filter & Espresso
Order now
---
Don't miss out on our upcoming coffee boxes!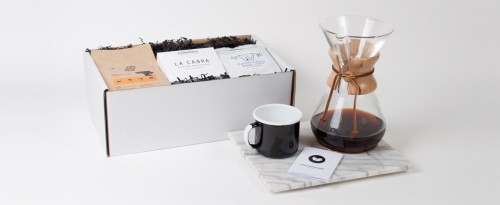 Every month, we feature three spectacular coffees from the likes of: La Cabra, Drop Coffee, The Barn, Five Elephant, The Coffee Collective, Tim Wendelboe and many more.
Available as a subscription, one off or gift box.
"The coffee lover's must have" – BBC GOOD FOOD