All I want for Christmas is ……….. my Coffeevine box! 🙃
That's right ladies and gentlemen. This is the end of the year 2022 and I still cannot believe how quickly it flew by. I guess it helps to keep yourself busy.
Now, since this time of year is always marked by one person in particular, I have taken the liberty to create a playlist with some of her finest songs. And this does not include the one that is being played on repeat from October until December.
I hope you will enjoy the fine coffees from Calendar Coffee, Morgon Coffee Roasters and Nomad that we featured in this month's edition. And if you bought our special Christmas box or the eighth GEMS release from Gardelli, I wish that you thoroughly enjoy those extra treats.
See you on the flipside coffee lovers.
---
---
Basic Setup
As in any good kitchen or bar, you want to be sure to have a few key items at your disposal that will aid you in preparing a delicious cup of coffee.
These include:
Scales (with or without a timer – you can use your phone or your watch)
A good quality burr grinder such as the Comandante Grinder
Your favourite brew method (Origami, Kalita Wave, V60, AeroPress etc)
A clean vessel for brewing and decanting
A ladle or stirrer for agitating the grounds
Water for brewing
A pouring kettle but a regular kettle will also do, however, it requires more precision
Feel free to take a look around our shop to see if there are things that you might like. We have a nice selection of items from Timemore and other brands to help you brew delicious coffees.
It's very important to always freshly grind your coffee just before preparation because coffee is very volatile and quickly loses its full aroma in a matter of minutes.
You can also vacuum pack your coffee in portions, name and number each batch and then keep it in a dry cool place or put it in the freezer. More information about freshness and how to rest your coffees can be found in this article.
For espresso, I use my home espresso machine, a Profitec Pro600 espresso machine and a Profitec ProT64 grinder.
---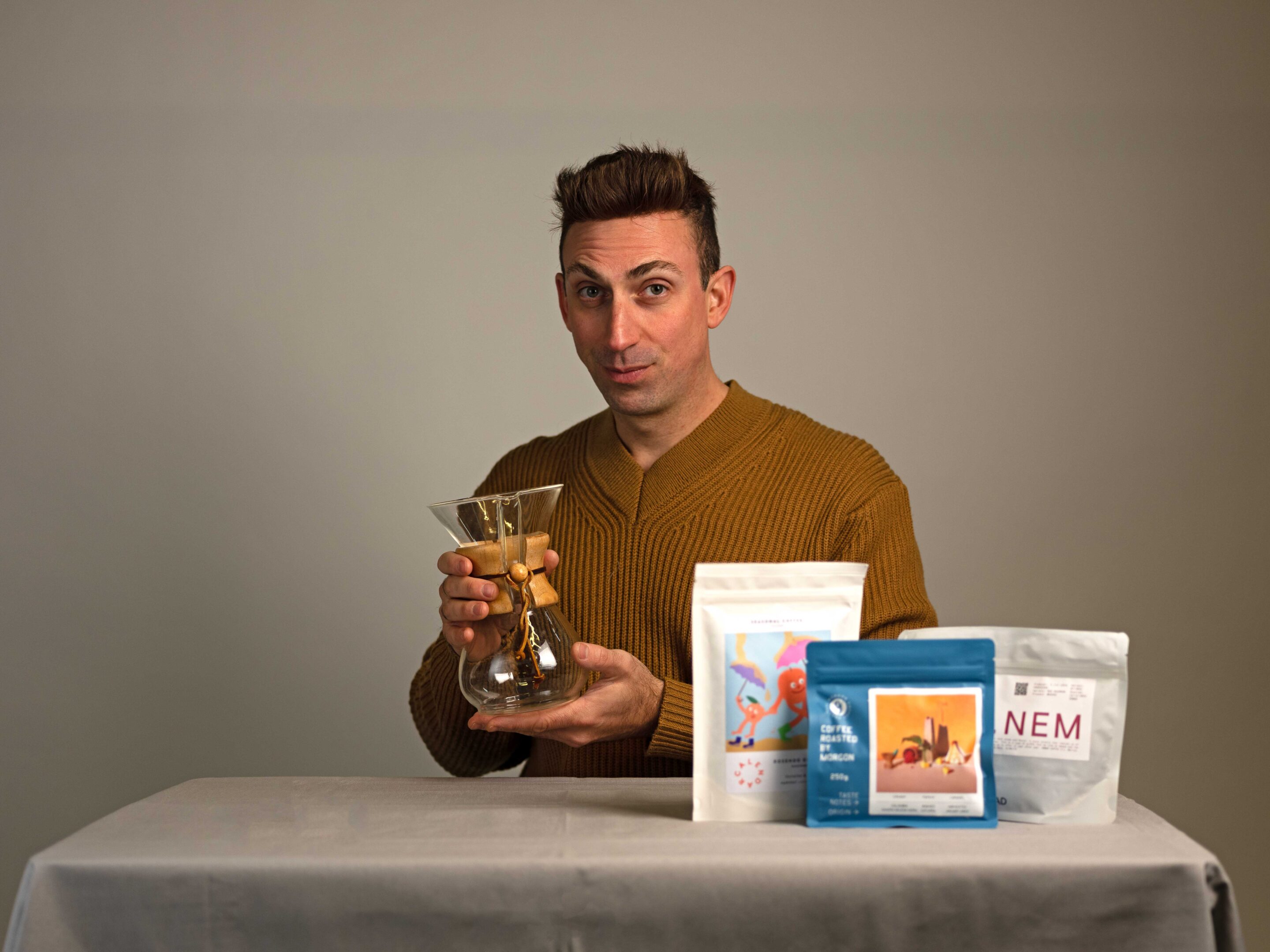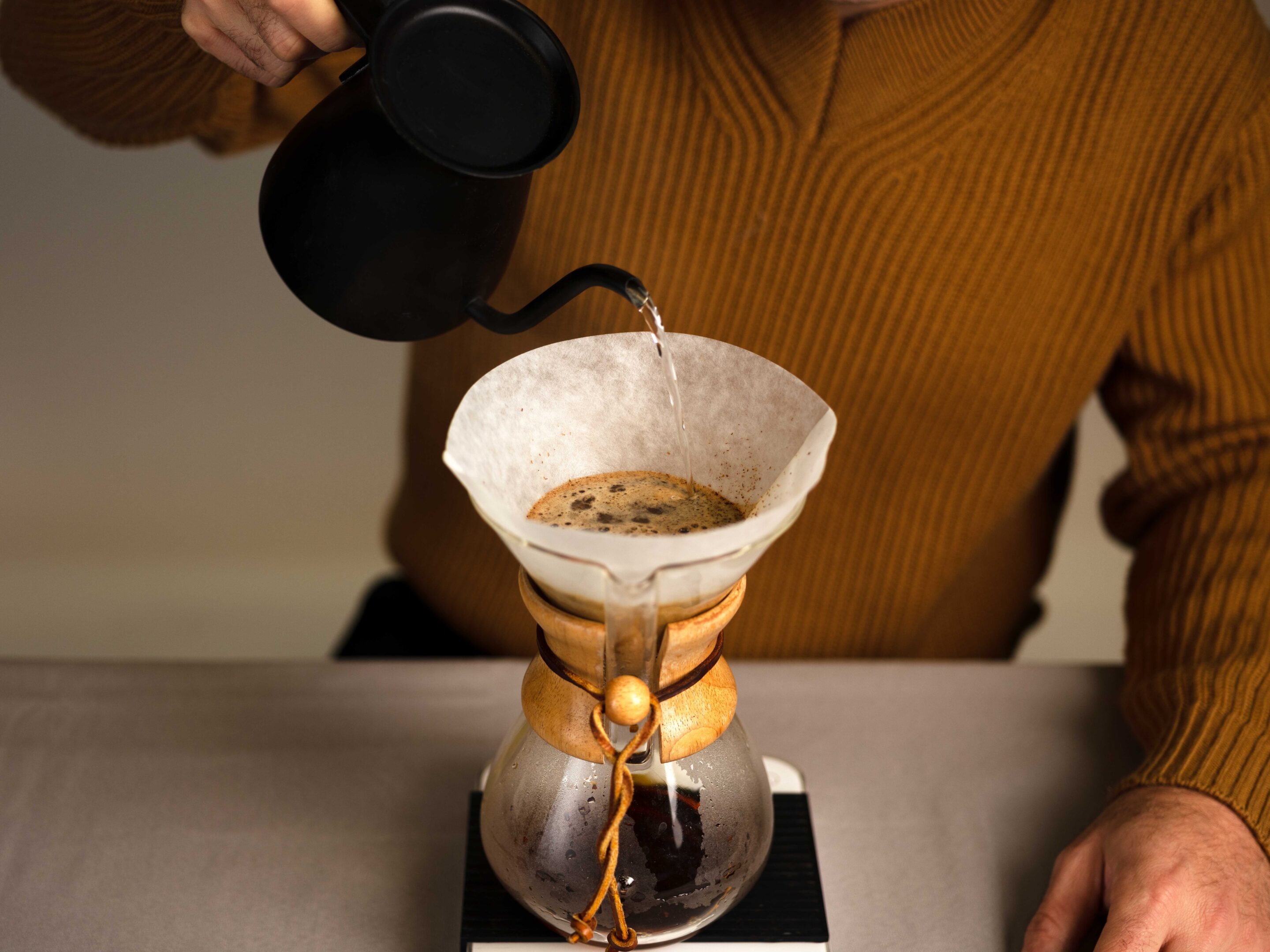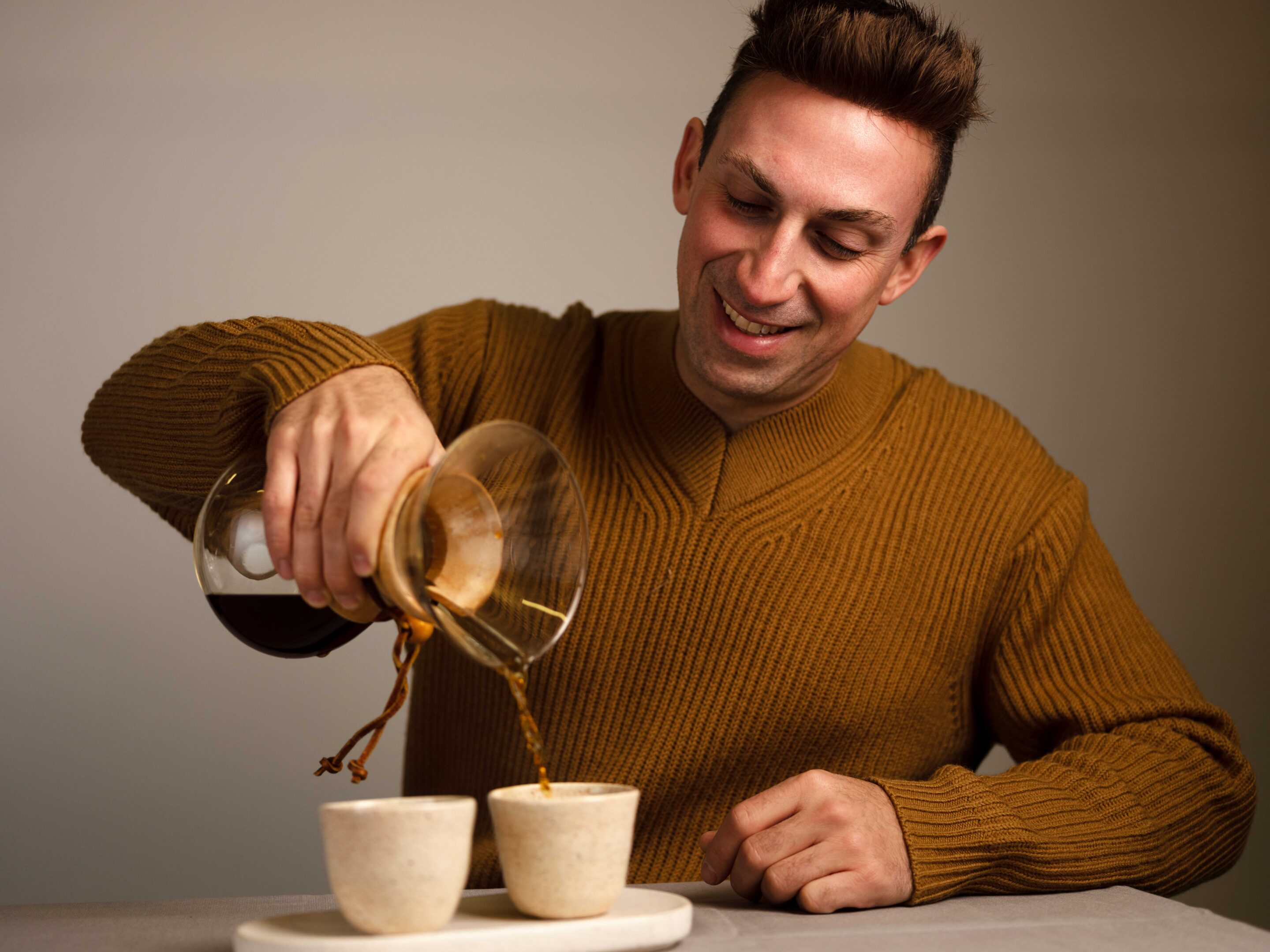 My recipe for the classic Chemex:
This was requested by some of you via Instagram and I'm happy to oblige since it is also one of my favourite brew methods, especially when I am sharing coffee with Michal at home.
Use 30g of coffee and grind quite coarse. You want to be sure that you don't get any fines that will lead to your filter clogging. If you have a Kruve sifter at home, this can be a useful tool here. Wet your paper filter and then add your coffee. Make sure the bed is flat.
Start with a long bloom using 60g of water fresh off the boil. After 45 seconds, add 60g to reach 120g, after another 30 seconds, add 120g more and repeat this sequence until you've poured a total of 480g of water into your Chemex. You can then give it a stir to ensure all coffee grounds are released from the sides. Brew time should be around 3:30 – 4 mintes. Swirl and pour.
–
Calendar's recipe for filter:
V60: Put your water on to boil. Thoroughly rinse your filter paper and discard the water from the decanter. Step 2 – Weigh out and grind your coffee, aiming for a coarse sugar like consistency. Step 3 – Add the coffee to the brewer, and using your stirrer make a small nest in the middle of the grounds. This will help saturate the grounds during the blooming stage.
Step 4 – Place the brewer on your scales. Once the water has boiled, start your timer and 'bloom' the coffee by adding 60g of water. Step 5 – After 30 seconds, begin adding the rest of your water. Pour small amounts in concentric circles until the scale reads 300g. Aim to keep the level of your brewing water about two thirds up the inside wall of the brewer. Once you reach the desired weight, stir the slurry to help the bed drain evenly. Your water should have completely drained through the bed by 3 minutes. If it takes longer, try grinding coarser or pouring faster.
Calendar's recipe for espresso:
18g coffee in, 38g coffee out, 27 – 31 seconds.
–
Morgon's recipe for filter:
At the roastery we most often use the April Brewer for our morning brews. We use 30g of coffee, medium grind, 500g of water and a total brewing time of 3:30 min. To start with we tare the scale and pour 60g of 98ºC water and let it rest for 30 seconds. After 30 seconds we pour up to 200g total weight, and every 30 seconds we pour 100g more until we reach 500g. Give it a swirl and let the water go though ending at 3:20-3:30 in total time. Enjoy!
Morgon's recipe for espresso:
For espresso we use 20g of coffee in, 42-45g espresso in the cup in around 30 seconds. We use 9 bars in our espresso machine and no pre infusion. Keep it simple folks!
–
Nomad's recipe for filter:
Ratio 1:17 / 93ºC / 2:30 minutes.
Nomad's recipe for espresso:
19gr IN / 40gr OUT / 30 sec / 9 bar / 94ºC.
–
Gardelli's recipe for filter:
V60: We work with specially prepared Third Wave Water and boil it to 91ºC. Use 22g of coffee and grind it medium coarse (or 24 clicks on the Comandante). Rinse your filter and add the coffee. Give it a good shake to make sure it's even. Then quickly add 60g of water for a 20 second bloom. Follow this by adding 100g. After 1 minute, add the last pour of 140g in a Yoyo motion. Swirl at 1:20 minutes for a nice even extraction.
---
What did you think of these recipes and the coffees from the December 2022 Coffeevine box? Let me know in the comments down below and make sure you subscribe in time for the upcoming January coffee subscription box.