\

The Mexico City Guide
The Mexican capital has one of the world's finest food and drinks scenes, and is currently developing an enviable specialty coffee scene of its own.
Mexico City is a thrilling monstrosity that a lot of people have a poor image of, unless they've been, in which case they think it's the bees' knees. I totally think so too, in any case I have to defend my city of birth because despite all the bad rap it gets in the media, it's an incredibly exciting place to live and visit.
In a piece I wrote for Caffeine Magazine that will be published in April 2016, I argued that Mexico City's specialty coffee scene is probably one of the most exciting in the world because of its close proximity to Mexican coffee growers. And, while you still have to wait a few weeks before you can pick up a copy of Caffeine's new edition, you can already visit some of my favourite coffee bars in the mean time.
Chiquitito Café
Run by a charming husband and wife team, Chiquitito Café was one of the city's first specialty coffee shops that arrived in Colonia Condesa in 2012. The premise was always to allow customers from all kinds of backgrounds to explore the finest coffees from Mexican growers, with a particular focus on coffees from Veracruz state.
Now, with a second location close to Avenida Reforma, Chiquitito Café is taking its cozy neighbourhood café concept to more parts of the city.
Alfonso Reyes 232E, Colonia Condesa, México D.F. – read our full reviews of Chiquitito Café Condesa and Cuauhtemoc
Buna 42
This is flagship store of one of Mexico's first specialty coffee brands, Buna. A true coffee lover's wet dream, fitted with some of the finest equipment in town, including the first Mod Bar in Mexico and all your favourite filter coffee methods, Buna 42 also has a truly amazing kitchen where chef Luis Palma cooks up Mexican staples like enchiladas and chilaquiles.
Orizaba 42, C. U. Benito Juárez, México D.F. – read our full review here
Dosis
Taking things up a notch with regards to style and offerings, Dosis will remind you of a classic Californian specialty coffee shop. There are cold brew and nitro taps, a myriad of filter coffee brew methods and legendary cronuts that greatly complement the coffees made with the Strada.
At the back, there's even a great events space that can be rented for private events and where Dosis often hosts small crafts markets, movie nights and more.
Av. Álvaro Obregón 24, Roma Nte., Mexico D.F. – read the full review here
Hey! Brew Bar
Just south of Condesa there's a nice neighbourhood called Napoles, that happens to be close to the World Trade Center, and is considered by many to be a really up and coming district. There, amongst craft beer shops, cute eateries and other fun businesses, you'll find Hey! Brew Bar, one of the city's best coffee shops for filter coffees.
Sporting an impressive brew bar with four Acaia Pearl scales integrated into the counter and rotating filter brew methods that are expertly paired with varying single origin coffees from different Mexican states, Hey! Brew Bar does a truly great job at showcasing some of Mexico's finest homegrown coffees.
Texas 81, Nápoles, Mexico D.F. – read the full review here
Alma Negra
Probably one of the cutest hole-in-the-wall coffee bars in town, Alma Negra was the first specialty coffee bar to set up shop in the slightly remote Colonia Narvarte. A true working class neighbourhood that offers a unique opportunity to get to know the real Mexico City, Colonia Narvarte was recently named the most exciting foodie destination in town by Time Out Magazine.
Alma Negra offer expertly made espresso-based drinks and filter coffees in one of the most relaxed environments. And, since recently they also have a second location in Colonia Roma.
Av. Universidad 420-A, Benito Juárez, Narvarte Poniente, Mexico D.F. – read our full review here
---
Use our handy mag to find all Coffeevine reviewed coffee bars in Mexico City and navigate to them using your mobile.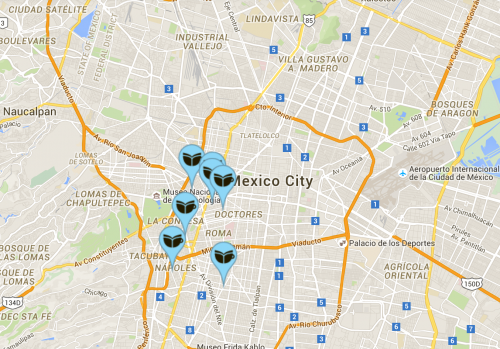 ---
Looking for freshly roasted coffees from some of our most favourite roasters? Buy them now in our brand new online shop.