Roberto Café – Tehran (IR)
A spectacular specialty coffee bar and restaurant is taking Tehran's young third wave coffee scene to new heights. Highly recommended!

Roberto Café – Tehran (IR)
A spectacular specialty coffee bar and restaurant is taking Tehran's young third wave coffee scene to new heights. Highly recommended!
The Iranian capital may not be the first place that comes to mind when you think of a nascent specialty coffee scene, but Tehran is a city that's full of surprises.
For many decades, Iran was shunned as a rogue state, but since sanctions were lifted and the country has slowly begun to open up to tourism, it has reappeared on the world map as a must-go destination. I could go on and on as to why you need to visit Iran now, but this particular piece is about one specialty coffee bar that surpassed all of my expectations.
Nestled in one the city's more affluent northern neighbourhoods, Roberto Cafe is the kind of place that you don't expect to come across in the Islamic Republic of Iran. Founded almost one year ago by a large oil and gas holding company, Roberto Cafe is the kind of third wave coffee bar-cum-restaurant that you'd easily stumble upon in places like London or San Francisco.
Equipped with the latest technology and brewing equipment, Roberto Café uses high quality specialty coffees from Dubai-based roasters RAW Coffee and Special Batch for all of its coffees. Manager Hossein Assadi explained: "Initially we went to Italy to look for inspiration, but only after visiting Dubai did we come to realise that we actually didn't want to open just another Italian espresso bar. We wanted to create something unique and different."
Espresso shots are pulled on a La Marzocco Strada – probably the only one in the country – and single origin filter coffees are prepared using every single filter coffee brew method that you can possibly think of. Head barista Nima Salimian went out of his way to walk us through Roberto's current offering and we soon settled for a Rwandan coffee that barista Morteza Nezamipour skilfully prepared with the Aeropress. Later, we also sampled a Panama cold brew and a delicious ice-tea made with local herbs, chia seeds, lemon and fresh mint.
---
Love our reviews? Meet our delicious new coffee subscription service!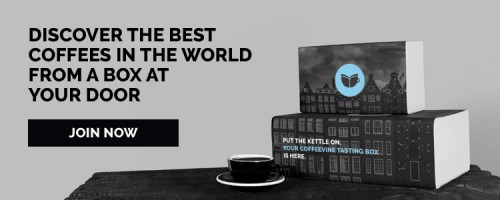 Featuring freshly roasted coffees from the likes of: The Coffee Collective, Five Elephant, La Cabra, Origin Coffee Roasters, Tim Wendelboe, Koppi, Drop Coffee and more…
Order by the 15th / Ships on the 20th of every month
---
Next to its extensive coffee offering, Roberto also provides a full breakfast, lunch and dinner menu that includes delicious things like the Asian salad with chicken, the grilled beef sandwich and other light meals.
Salimian went on to explain: "The first few months were really tough. People simple didn't get or didn't like our coffees. They often complained that the milk wasn't hot enough or that the filter coffee tasted too weak. It's only now that our customers are getting used to the idea that there is a whole different world out there that doesn't include Illy and Lavazza."
Roberto Café certainly made a bold move. In Iran, to this day, most of the coffee you come across is Nescafé, Illy or very poor locally roasted stuff. But, as I found out on this incredible adventure, Iran is a country that is a lot more modern and forward-thinking than one may give it credit for.
It's probably only a matter of time before Tehranis, and Iranians in general, develop a serious thirst for delicious specialty coffee and Roberto Café, like its fellow third wave coffee bars across the country, are making important first steps to get them there. Highly recommended!
More Reviews from Tehran & Iran