After a dreadful July and early August, it seems that summer finally wants to return to The Netherlands and we can hopefully look forward to a few more weeks of sunny weather before we slowly enter the sunset phase of this year. I, for one, have been using this time to work on some pretty exciting coffee-related projects that I will share more about soon and of course, I am continuing my neverending search for the most delicious coffees from the world's most exciting roasters.
For the upcoming September 2023 European and Global roasters editions, I selected a range of really extraordinary coffees that will come to you from Candy Cane, Process and HAYB as well as Cat & Cloud and Sample Coffee. Apart from our great friends at HAYB, none of these roasters have ever been featured by The Coffeevine before. Let's check them out.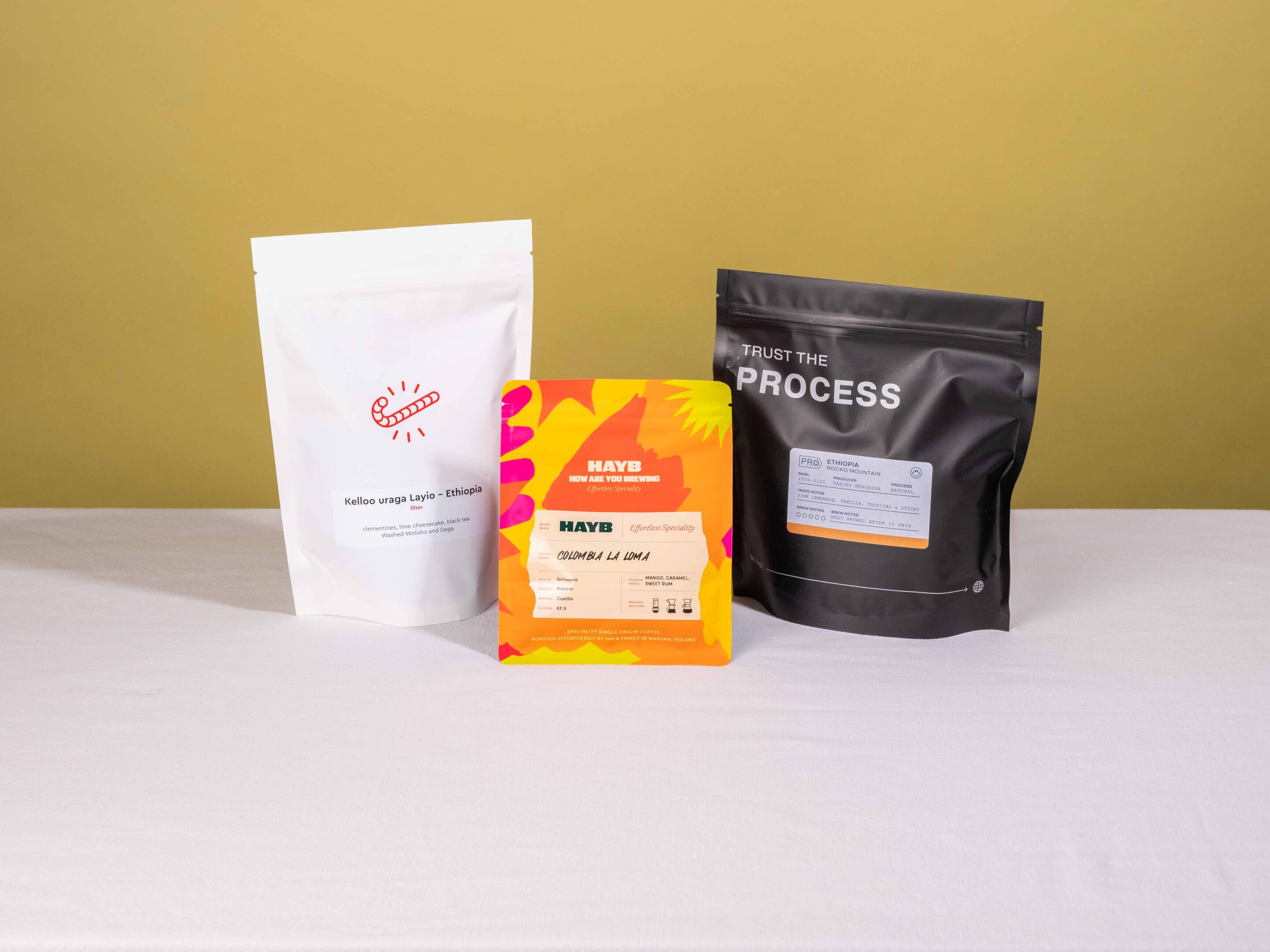 Candycane from Prague
Many years ago, when I was in Prague for a few days, I couldn't help but notice that the Czech capital, not unlike some of its fellow Easter European neighbours like Warsaw and Budapest, had a pretty exciting specialty coffee scene at a time when many Western European cities were still figuring out what third wave coffee was.
Candycane, a new roaster for us, was founded in 2017 by a group of friends who also happened to be seasoned coffee professionals. They include Ondrej Stoksa, Zdenek Hybl, Adam Gaszczyk, Jan Hrna and Jaroslav Slamecka. Adam and Zdenek also own famed local coffee bar Onesip where they serve Candycane as well as coffees from other leading roasters from around Europe.
The founders of Candycane are huge fans of washed Ethiopian coffees, which they praise for their clean and delicate cup profiles that often include notes of nectarine and delicate tea notes. How fitting it is then that they will mark their debut with a gorgeous washed Ethiopian coffee from Kelloo Uraga, one of the absolute standouts on our cupping table last week. Expect notes of lime cheese cake and black tea.
Please note: customers with an espresso and some with a mixed box will receive the natural processed Diima Danche for espresso instead.
PROCESS from Belfast
There are some roasters out there who have taken their packaging to another level and who see their bags or boxes as much more than just a layer of protection for their precious beans. Ben Hamilton, the funky dude behind the brand wanted to create an experience for people that combines his passion for exceptional coffees with a nostalgia for playing those old VHS tapes. He worked together with branding agency Angel & Anchor who translated his idea into one of the most eye-catching packing out there. Though, I should add, his regular bags only contain 200g while our subscription requires 250g. As a result we won't be shipping our coffees out in the VHS sleeves.
I bumped into Ben at Rosslyn during the London Coffee Festival as he was just on his way out and he pushed a few samples into my hands with the request to cup them and give him some feedback. After giving these babies a whirl and instantly falling in love with what I was tasting, I invited Ben to send some samples for our September 2023 box cupping and his natural processed Rocko Mountain from Ethiopia instantly landed in our top three picks. We already know this coffee, of course, though the last time we had a crop from this producer was in 2017 when it was roasted for us by Neues Schwarz.
Expect a rich cup with notes of blackforest cake and a hint of strawberry.
HAYB from Warsaw
The 'How are you brewing?' family from Warsaw is a regular Coffeevine partner and one of our dearest friends in the specialty coffee world. We've worked with Wiktor Borowski and his father Robert and their team for many years and always love having them on board.
During the recent Amsterdam Coffee Festival where HAYB had a stand, we hatched our plan to join forces again later in the year and thanks to HAYB's proactiveness, they are getting featured a bit earlier than we at The Coffeevine had originally planned. Sometimes being persistent just pays off.
HAYB are purely a wholesale roastery without a flagship café like many others in the industry. Their goal is to focus entirely on sourcing epic coffees from trusted producers and to bring out all of the funky and delicious flavours that these coffees have locked inside of them. Combine that with some of the most colour packaging around and you've got a recipe for happiness.
For their first feature since January 2022, HAYB will be roasting for us a really exciting natural processed Colombian coffee from La Loma. If you know me, you might know that I prefer washed and natural coffees over crazy fermentations but this paricular pick really stood out for us because it leans towards an anaerobic cup profile while maintaining a vibrant sweetness and tropical fruitness that just tastes so damn good.
Expect a fruit punch with notes of papaya, pineapple and mango.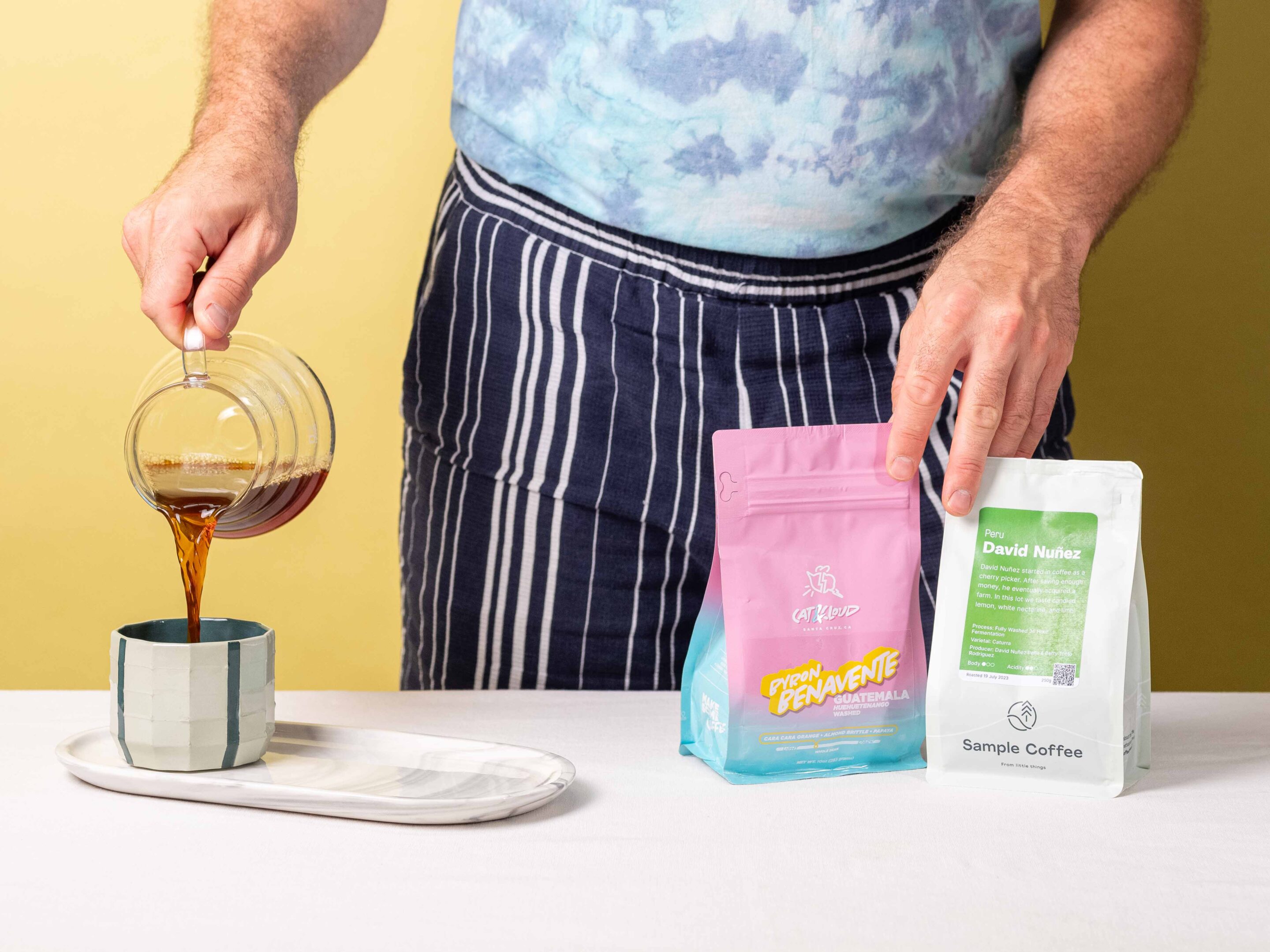 Cat & Cloud from Santa Monica
How many songs, books and movies have been written about California? It's impossible to know but the Golden State is a land of plenty that keeps inspiring people with its wild nature, stunning coastline, wild cities and endless sunshine. Our first Californian roaster since we worked with a bunch of San Franciscan companies many years ago is Cat & Cloud, the iconic roastery founded by Chris Baca, Jared Truby and Charles Jack.
Since seeing the light of day in 2016, Cat & Cloud has elbowed its way into the hearts and minds of coffee lovers all over the world and it's a real pleasure to have these friendly and passionate people in our midst for our September 2023 Global coffee roasters box.
They will be making their debut with a clean and juicy Guatemalan coffee various smallholder producers in Huehuetenango. The coffee was named after the exporter and relationship manager who keeps things going for the community, mister Byron Benavente.
Expect notes of cara cara orange, almond brittle and a creamy nuttiness. Please note, this coffee comes in a 10oz bag with rougly 284g of coffee.
Sample Coffee from Sydney
And now, all the way to the other side of the world to one of the most beautiful cities to be found anywhere on the planet. Sydney, of course. Australia has been such a rich and endless source of inspiration for many coffee professionals thanks to its excellent food and drinks scene and it was only a matter of time before we finally featured our first and only Australian roaster since 2017.
Sample Coffee was originally founded in 2011 as small espresso bar by Reuben Mardan who had already spent more than a decade working in Australia's burgeoning coffee scene. Three years on, Reuben built the first Sample Coffee roastery with help from online business partner Simon Wright and a dedicated team, which launched the company onto its path of continuous growth. Sample Coffee is all about showcasing the wonderful flavours that can be found in the world's best coffees and we're thrilled to welcome them to our Global coffee roasters selection with a terrific washed Peruvian coffee from David Nuñez.
This coffee comes from Finca El Cafetal and showcases the outstanding quality that can be found in the up and coming Peruvian coffee origin.
Expect a clean and balanced cup with notes of candied lemon, white nectarine and lime.
Your box, your choice. All you need to do is start.
We offer a few different boxes to suit every taste. Our European box is the most established box we have and offers the most options for customisation. It's available as a subscription, a one-off box or a gift box and you can choose your ideal roast profile and number of bags. The Global Coffeevine box is your ticket to explore a range of roasters from beyond Europe's borders and is available as a complete set or as individual bags with a filter roast only.
Get started by visiting our shop today.