In just over one month, on the 20th of November to be exact, I am celebrating the big 4 0. I am actually really looking forward to crossing that threshold. Contrary to many of my close friends, entering my forties is not giving me any anxiety whatsoever. I am excited to start this new decade and to continue on my path of self-improvement and doing things that give me a lot of joy.
Incidentally, the 20th of November is also the day that the next Coffeevine box will ship. This means that I'll be celebrating my birthday knowing that so many of you out there will be about to enjoy the exquisite coffees that I picked out for this edition. It features three returning favourites of mine for our European roasters selection and two exciting debutants who were selected for our Global coffee roasters selection.
You definitely don't want to miss this box. Check out the various box types that we offer in our shop and if you're an existing subscriber, make sure you keep your subscription active. Now, let's take a closer look at the roasters for November.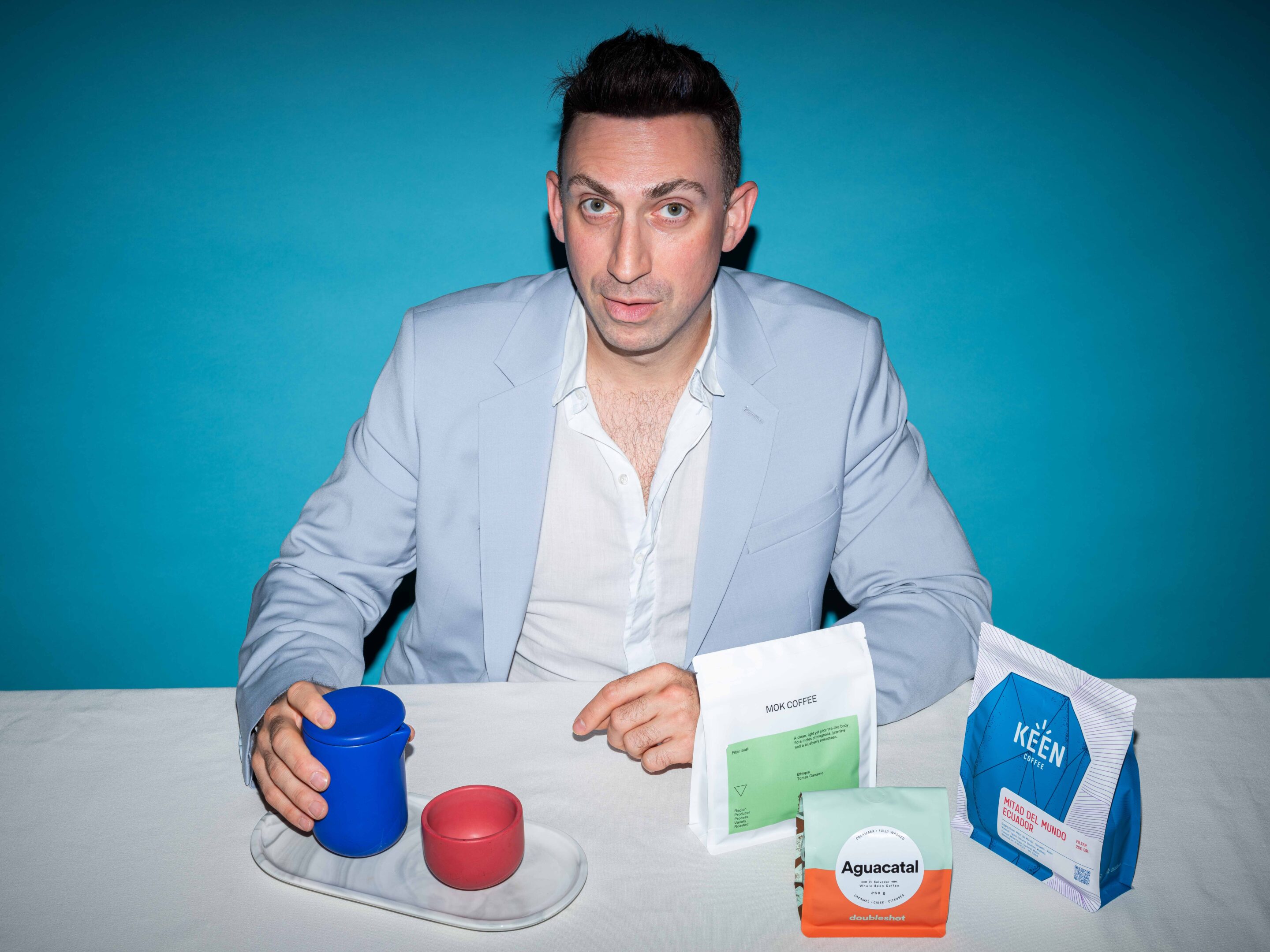 EUROPEAN ROASTERS FOR NOVEMBER
Doubleshot from Prague
This specialty coffee behemoth from Czechia is a long-term Coffeevine partner who we love working with. It was founded in 2010 by three friends who had just spent a couple of months learning how to roast coffee in Canada or working on coffee farms in Panama and El Salvador. After returning to their native Prague, they went about building Doubleshot, which was effectively one of the first specialty coffee companies in Czechia at the time.
I last visited Prague many years ago and had a chance to enjoy a cup of coffee at their Muj šálek kávy shop, which is one of four locations that they currently run. Add to that a training center and a bakery and you need 90 or so staff to run this business. Hence, behemoth.
For their first Coffeevine feature since June 2021, Doubleshot will be roasting for us a really exquisite washed Pacamara from El Salvador. It is a blend from producers Isai Portillo, Jose Armando Chacón, Jose Luis Hernandez, Miguel Ángel Murcia and René Alfonso Vasquez. It was picked during at its peak and it has a fresh and clean mouthfeel with notes of pears, yellow fruit and toffee. Available with separate roast profiles for filter and espresso.
MOK from Brussels
A few months ago, my boyfriend and I went on a little weekend adventure to Belgium, stopping first in Leuven, the cute city on the border of Flanders and Wallonia. Though it has a significant student population, there is little specialty coffee worth mentioning, with one major exception; MOK. Although founder Jens Crabbé moved the roasting operation to Brussels a few years ago, the small MOK café in Leuven is where it all began.
When you walk in, you can still see the spot where the roaster once stood. Ahh, the nostalgia. We certainly enjoyed having a coffee there. MOK has been a good friend of the Vine for many years and is regularly featured in our boxes. I last saw Jens during the World of Coffee in Athens where he brewed a spectacular Geisha for me at Forum Espresso and where we hatched our plan to link up again later in the year.
For MOK's latest Coffeevine collab, Jens and co will roast for us a sweet and jammy natural processed Ethiopian coffee from Tomas Ganamo who is a single farm coffee producer based in Sidamo. This is the first time that MOK has bought coffee from Tomas. Single farms are still relatively rare in Ethiopia, which makes this coffee even more special. Available with separate profiles for filter and espresso.
Keen from Utrecht
One of the most significant major roasters from The Netherlands, Keen is a very old friend of ours and like the previous two roasters, has been featured on many occasions in past boxes. Unlike many of its contemporaries, however, Keen is purely a wholesale roaster who focuses on sourcing outstanding coffees, often from long term partners that the team has personally visited.
Keen is big on transparency and offers, for example, exact GPS coordinates on its bags to show where each coffee was produced. This can help consumers get a better understanding of the place where their coffee came from and elevate their appreciation of the beverage in their cups. They roast on a Loring, which helps to bring out clean and delicious flavour notes in each coffee.
For our filter customers, Keen will be roasting our first Ecuadorian coffee in years. This coffee is a collaborative effort by three farmers, Maria from "Cruz Loma", Segundo from "Santa Rosa", and Nataly from "Abad" who each grow coffee with the greatest care for the environment and with a strong focus on quality. This blend consists of Typica, Caturra and Bourbon varietals and tastes super fresh and clear like lemonade on a cold day.
For our espresso customers, Keen will offer a delicious washed Ugandan coffee from Zinule, the first East Ugandan coffee they've ever worked with. Uganda is still a relatively unknown origin but it has great potential. This coffee was grown at 2.300 meters above sealevel, which gives it a pronounced cup profile with notes of blueberry and caramel.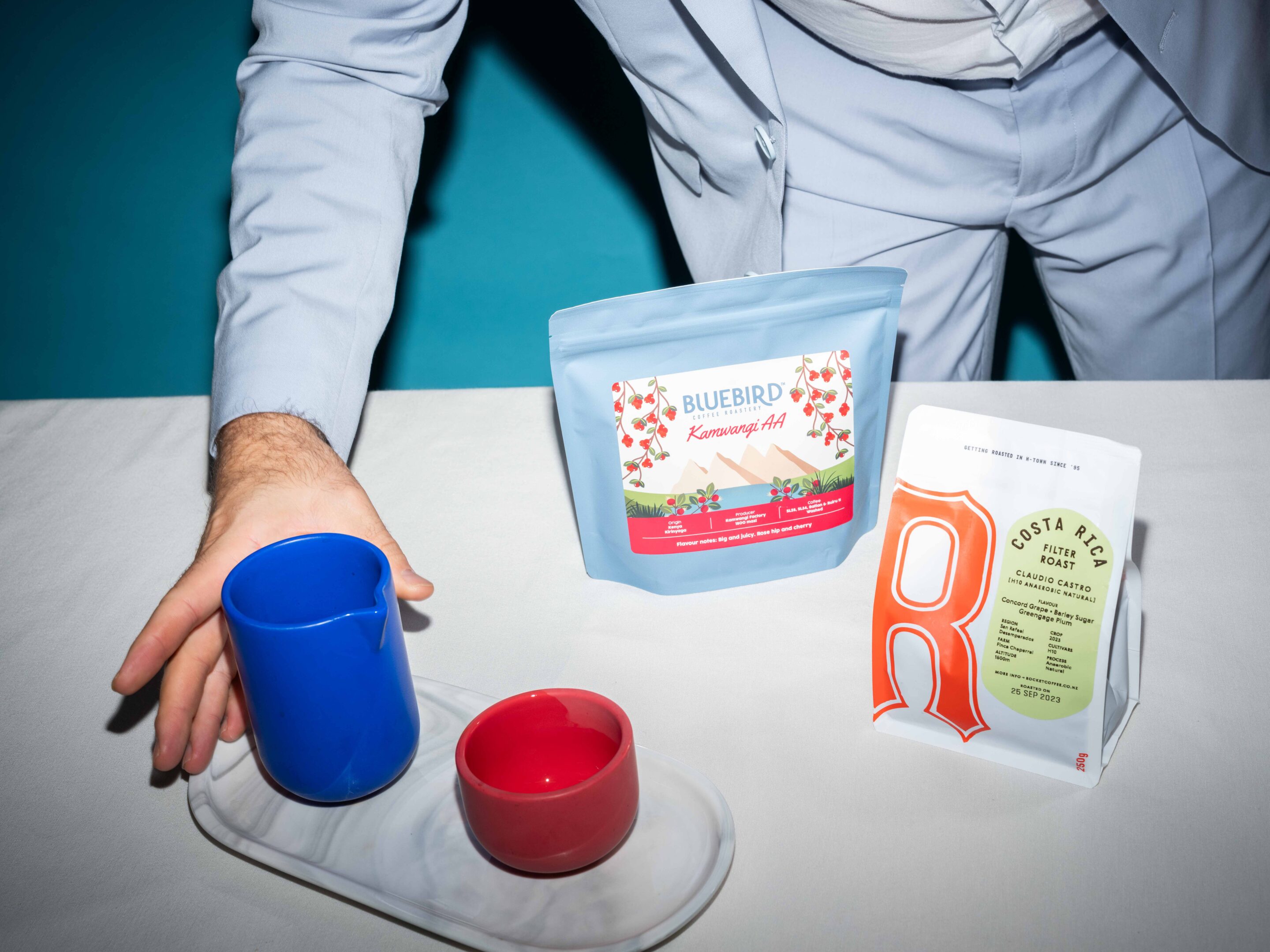 GLOBAL ROASTERS FOR OCTOBER
Bluebird from South Africa
Though we've largely focused on sourcing coffees from European roasters in the past ten years, we've regularly had the odd overseas roaster in our midst just to spice things up. I guess that's how Dario Scilipoti of Bluebird Coffee Roasters in South Africa heard of us. And, according to him, also because our friend Ralf from The Barn told him to reach out to us.
Dario runs a great roastery in Kwazulu-Natal, the state that borders Lesotho and has Durban as its biggest city. Dario originally comes from the real estate world but when he discovered specialty coffee, he knew that it would be his life henceforth. He set up Bluebird in 2018 with the goal to import the best coffees from around the world and to help put South Africa on the global coffee map. That same year was also the last time I was in Cape Town and I was quite impressed with the variety of local roasters and the excellent choice in high quality coffee shops available then.
For their excting Coffeevine debut, Bluebird will be roasting for us a fresh and vibrant washed Kenyan coffee from Kamwangi. This coffee is AA grade and really delicious. It's got notes of rose hip and cherry and comes only with a filter roast.
Rocket from New Zealand
For being such a 'small' and remote country, New Zealand often punches above its weight. It is, of course, the mystical land where The Lord of The Rings and The Hobbit films were shot and its natural beauty is on par with that of Iceland and other remote volcanic lands. Like Australia, New Zealand was early to adopt third wave coffee culture and is widely regarded to have one of the best specialty coffee scenes in the world.
Thus, it should come as no surprise that it featured very high on our list while looking for exciting roasters to invite to our Global coffee roasters box. And we didn't have to look for long. Rocket, a legendary roaster from Hamilton was the first we reached out to and to our great surprise, co-founder Glen Woodcock replied by saying: "Funny, I was planning to reach out to you guys anyway." It was meant to be.
Rocket has been roasting and serving outstanding coffees since 1995 and is going stronger than ever. For their debut, they will be roasting for us a flavour bomb of a coffee from Costa Rican producer Claudio Castro. This is a natural anaerobic processed H10 variety with notes of mandarin soda, grape and brown sugar.
---
We bring you one step closer to the world's best roasters.
We offer a few different boxes to suit every taste. Our European box is our bread and butter and offers the most options for customisation. It's available as a subscription, a one-off box or a gift box, and you can choose your ideal roast profile and number of bags.
Our Global Coffeevine box is your ticket to explore a range of roasters from beyond Europe's borders and is available as a complete set or as individual bags with a filter roast only. You can also combine the two to get the best of all worlds.
Check our full offerings by visiting our shop today.