One of the best discoveries during our short but sweet stay in the Norwegian capital is a small but wonderfully welcoming place called Supreme Roastworks. From the moment you walk in until the moment you walk out you have this happy smile on your face because you know the peeps here are some of the friendliest guys you'll meet and their coffee is just mindblowingly good.
We actually got the tip to come here from a relatively recent arrival to Norwegian soil, American coffee aficionado and musician Jeremy Kale Padot, who now works over at our friends Kaffa. "I regularly go to this place on my way to work and I just love these guys," he told me while packing one of Kaffa's gorgeous coffees.
Indeed, after we walked in and introduced ourselves to Odd-Steinar and his team, we were incredibly lucky to try a wide array of expertly prepared coffee delicacies including a stunning Brazil espresso, a beautiful Cappuccino and a looooovely natural Ethiopia Konga. Odd-Steinar and his two partners are crazy about natural coffees, which is reflected in their monthly selection of coffees. Currently they have nine coffees on offer of which three are naturals. Normally you're lucky if you come across even just one natural. Actually, Erica and I are also huge natural coffee lovers and have previously selected two naturals to go into our tasting boxes.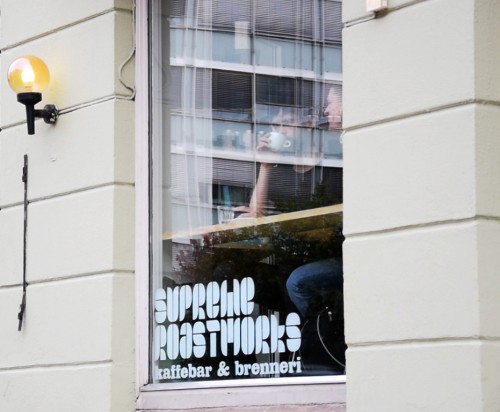 Odd-Steinar and his two partners, Joar and Magnus opened Supreme Roastworks in February 2013 after Odd-Steinar joined forces with the other two coffee professionals and they set out to open a homely and friendly coffee shop where they could showcase their love for great coffee. In fact, despite the very professional appearance, Odd-Steinar only very recently got into coffee. But it didn't take the the trained photographer very long to catch up with the high standards of local coffee making in Oslo and promptly went on to win this year's national "brewers cup" and came 4th in the global championships. He thought to himself: "No time to loose. Either you play amongst the best or you will disappear into muddy waters." His next goal is to travel to Panama, meet some local growers and pick his own coffee for next year's competition. The man has big ambitions, respect.
Sadly the roasting facilities are located in Joar's home town, which is about 1 hour outside of Oslo . It would have been great to watch him do his work and cup some of the lovely coffees they have on offer. But, we got to sample a wonderful spectrum of coffees, which Odd-Steinar always prepared with the greatest care and dedication.
Surpreme Roastworks also has a great selection of pastries, soft drinks and is one of the only places we saw in Oslo where you can take your laptop and do a bit of work without getting frowned upon. Very warmly recommended!