Coffee Sweet – Taipei (TW)
Be ready to experience your spiritual coffee awakening at Taipei's oldest specialty coffee shop where sweetness takes on a whole new meaning
opening times:
Mon - Sat: 9:30 - 18:30, Sun: Closed
wifi:
No
urls:
Facebook
price check:
Espresso: NT$150 / Flat white: NT$100 / Filter: NT$300
machine:
Synesso
coffees on offer:
various
milk:
Yakult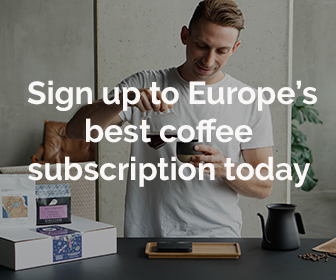 Coffee Sweet – Taipei (TW)
Be ready to experience your spiritual coffee awakening at Taipei's oldest specialty coffee shop where sweetness takes on a whole new meaning
"Look into your cup. What do you see?" Sidney Kao, owner of Coffee Sweet urged. It was a strange question indeed, and at that very moment I could not recall another occasion when someone had asked me to take a second glance at the contents of my cup.
For an instant I felt like Harry Potter during a Divination class where Professor Trelawney asked her students to perform Tessomancy, the art of predicting future events through the reading of tealeaves. "What you see there, at the bottom of the cup, is what we call colloid, or the soul of coffee," Sidney revealed. It was a strangely spiritual experience, one that suddenly put coffee into a whole new perspective for me.
Sidney has been running a coffee business in the Taiwanese capital for several decades and Coffee Sweet is widely regarded as one of the city's first specialty coffee shops that served as a source of inspiration for Taipei's many coffee professionals who operate extraordinary third wave coffee shops and roasteries in the city today.
The interior is rather basic, a few tables and chairs here and there and a couple of stools by the bar. There is also a small selection of pastries  but the focus really is on Sidney's range of outstanding coffee and the extraordinary detail that he goes into.
At any given time, Sidney has a fine selection of exquisite single origins, usually around 12 or so, many of which are sourced from Ninety Plus. After taking a seat in the café you are given a small basket with cards that indicate the current offering and you just pick whatever sounds appealing. I went for a gorgeous Kenya, Thimu that was carefully prepared using the Siphon.
In fact, all coffees here are either prepared using the Synesso espresso machine or a siphon, because as Sidney explained: "This is the only brew method were we can fully control the temperature. It allows us to find that individual sweet spot in each coffee."
What may sound like a bit of hocus pocus to some people is nothing more than a truly unique and scientific approach to coffee that is aimed at delivering a spectacular experience to every single person who enters Coffee Sweet. If you just open your mind far enough, coffee indeed reveals itself as a spiritual something that few of us fully comprehend.
More Reviews from Taipei & Taiwan