In my previous post I presented Heart Coffee Roasters, one of the many fine independent coffee businesses that call Portland their home. And, as my previous sentence indiciates, there are many more. Lucky for those who live in this friendly American city that is more European than it might want to admit to.
On my second day in Portland, I popped down to visit another coffee roaster that stood very high on my 'must do' list. Housed inside a huge industrial space that is connected to furniture manufacturer Bamboo Revolution, Coava Coffee is a fine example of a business that started in the founder's garage and over the years grew to what it is today.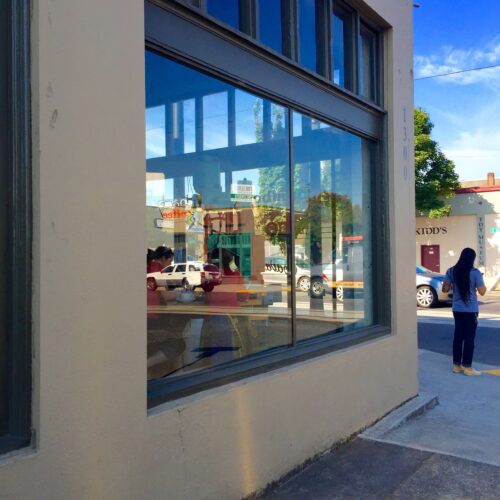 Coava's founder Matt Higgins, who has more than 15 years of experience in the coffee world, wanted to launch an independent coffee roasting business that really showcased the hard work done by farmers before the coffees even reached US shores. Before opening the doors to Coava's first outlet on Main & Grand in 2008, Matt roasted coffees in his garage for wholesale customers.
Since then, Coava has expanded to include another outlet on Hawthorne and they supply many other fine coffees shops in town and further afield. During my visit, Matt briefly stopped by my table to say hi and tell me that soon they will be moving their roasting operations to a new home to accomodate their continuous growth.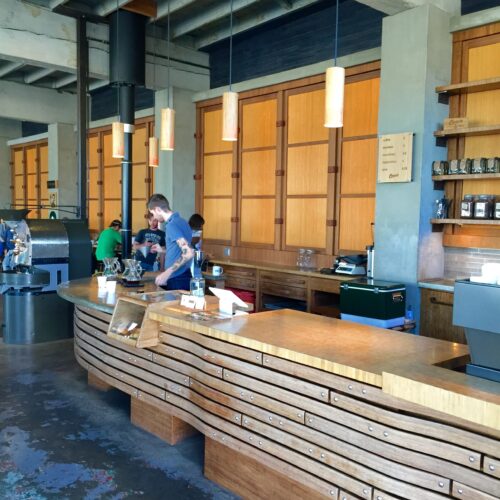 "We're completely self-funded still, which is a great feeling. Of course, we could go an approach investors and massively grow the business but we prefer to take things one step at a time," Matt explained. "Our goal is to work closely with farmers and reinvest in their local operations to ensure that their annual production gets better every year. As a result, we get better and better coffees every time and witnessing this gradual improvement at origin is very satisfying."
Right next to the huge bar they still maintain their original 5kg Probat roaster that is occasionally used for small quantities while the main operation is done on a 12kg next door. The minimalist furnishing of the huge space makes it feel a little empty at times but it's also clear that here everything revolves around the excellent coffees sourced by Matt and his team and which are then prepared to perfection by people like Maxwell.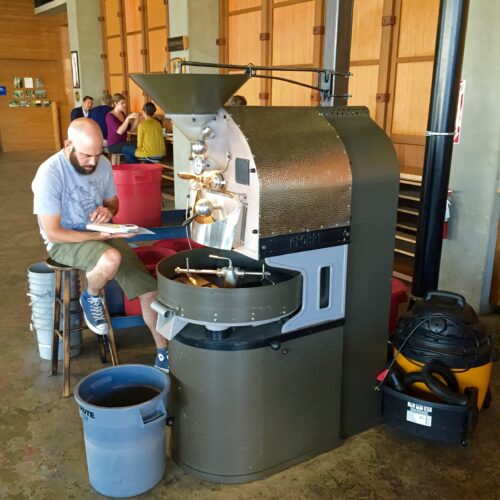 I had the pleasure of sipping on a wonderfully fragrant cup of their La Esperanza, El Salvador prepared in a Chemex with a Kone filter. As far as quality goes, Coava, like Heart who I reviewed in my previous post, are doing a fabulous job to continue cementing Portland's claim to the coffee throne. We look forward to finding out where their third location will be opening in due course.
In fact, if you do happen to visit, you'll be in good company. Jerry Seinfeld also paid them a visit as part of a series called "Comedians in cars getting coffee". That's how good they are!