In my last brew guide I was alluding to the cozy autumn days that lay before us and now, well, they have arrived. The weather outside is erratic and changes by the minute. You don't know if you need to wear a rain coat or sunglasses when you leave the house and everywhere in Amsterdam, they already sell Dutch Christmas donuts called 'oliebollen'.
It's official. The end of the year is just around the corner and that means only a handful of Coffeevine boxes more before 2022 comes crashing through the front door. So, my suggestion is to just lean back and let the season do what it must. At least you've got some exquisite coffees in house courtesy of Keen Coffee, Man versus Machine and Wide Awake Coffee Roasters.
Shall we take a look at this month's brew guide? Alright then.
---
---
Basic setup:
As in any good kitchen or bar, you want to be sure to have a few key items at your disposal that will aid you in preparing a delicious cup of coffee.
These include:
Scales (with or without a timer – you can use your phone or your watch)
A good quality burr grinder such as the Comandante Grinder
Your favourite brew method (Origami, Kalita Wave, V60, AeroPress etc)
A clean vessel for brewing and decanting
A ladle or stirrer for agitating the grounds (I was kindly gifted a beautiful handmade stirrer from my ambassadors @bloom.that.coffee
Water for brewing
A pouring kettle but a regular kettle will also do, however, it requires more precision
It's very important to always freshly grind your coffee just before preparation because coffee is very volatile and quickly loses its full aroma in a matter of minutes.
You can also vacuum pack your coffee in portions, name and number each batch and then keep it in a dry cool place. More information about freshness and how to rest your coffees can be found in this article.
For espresso, I use my home espresso machine, a Lelit MaraX along with a separate grinder for espresso. I use the same water I use for brewing.
---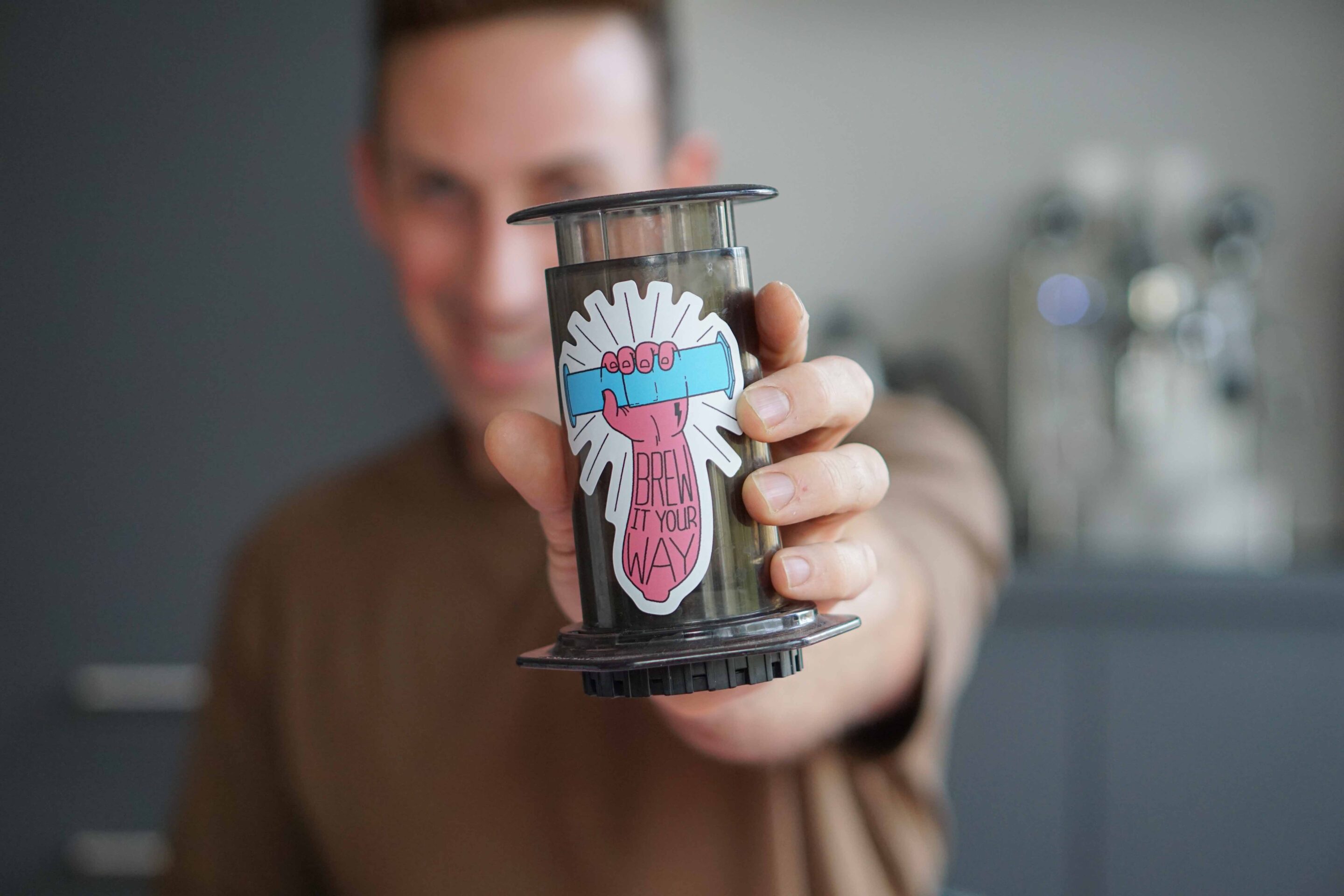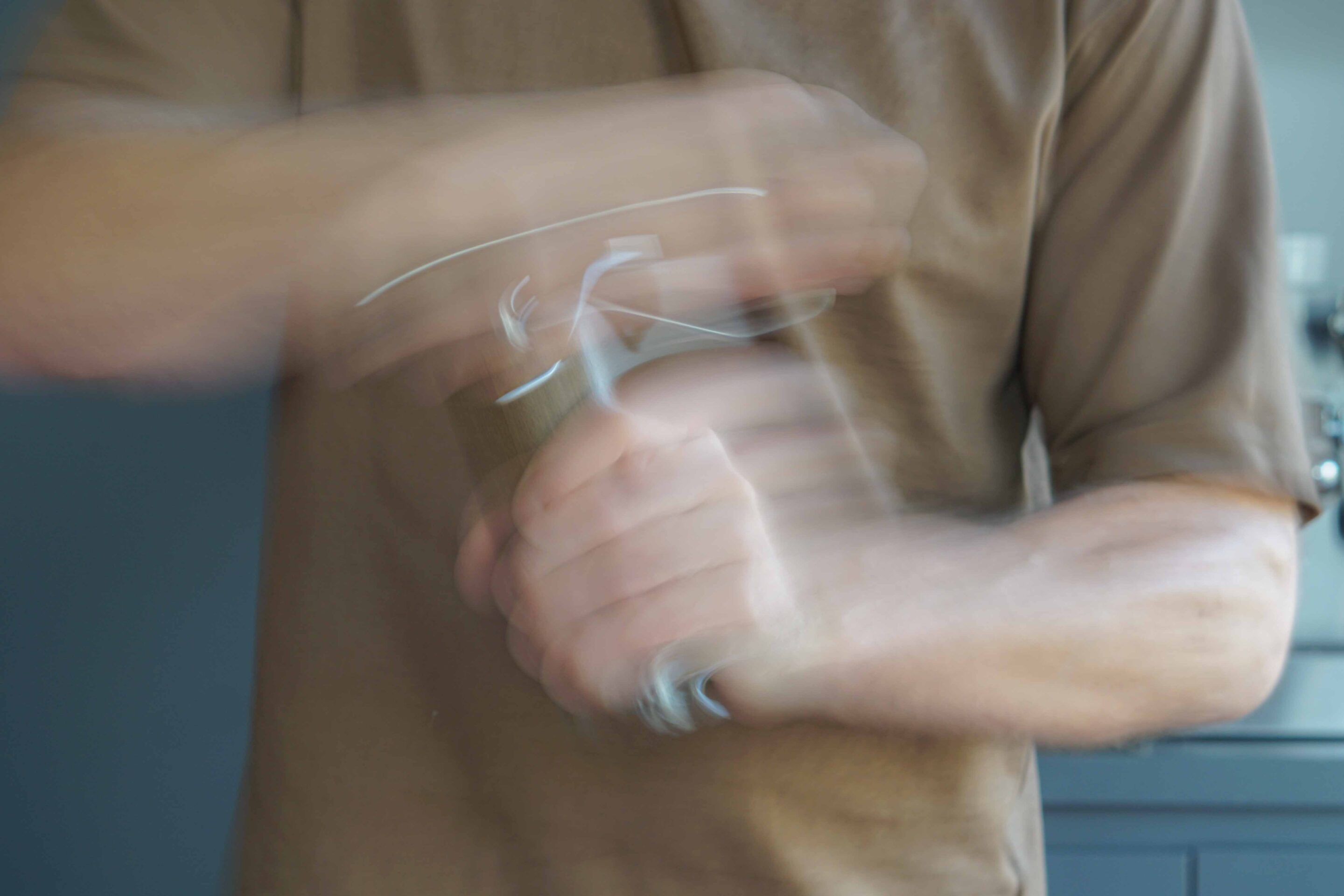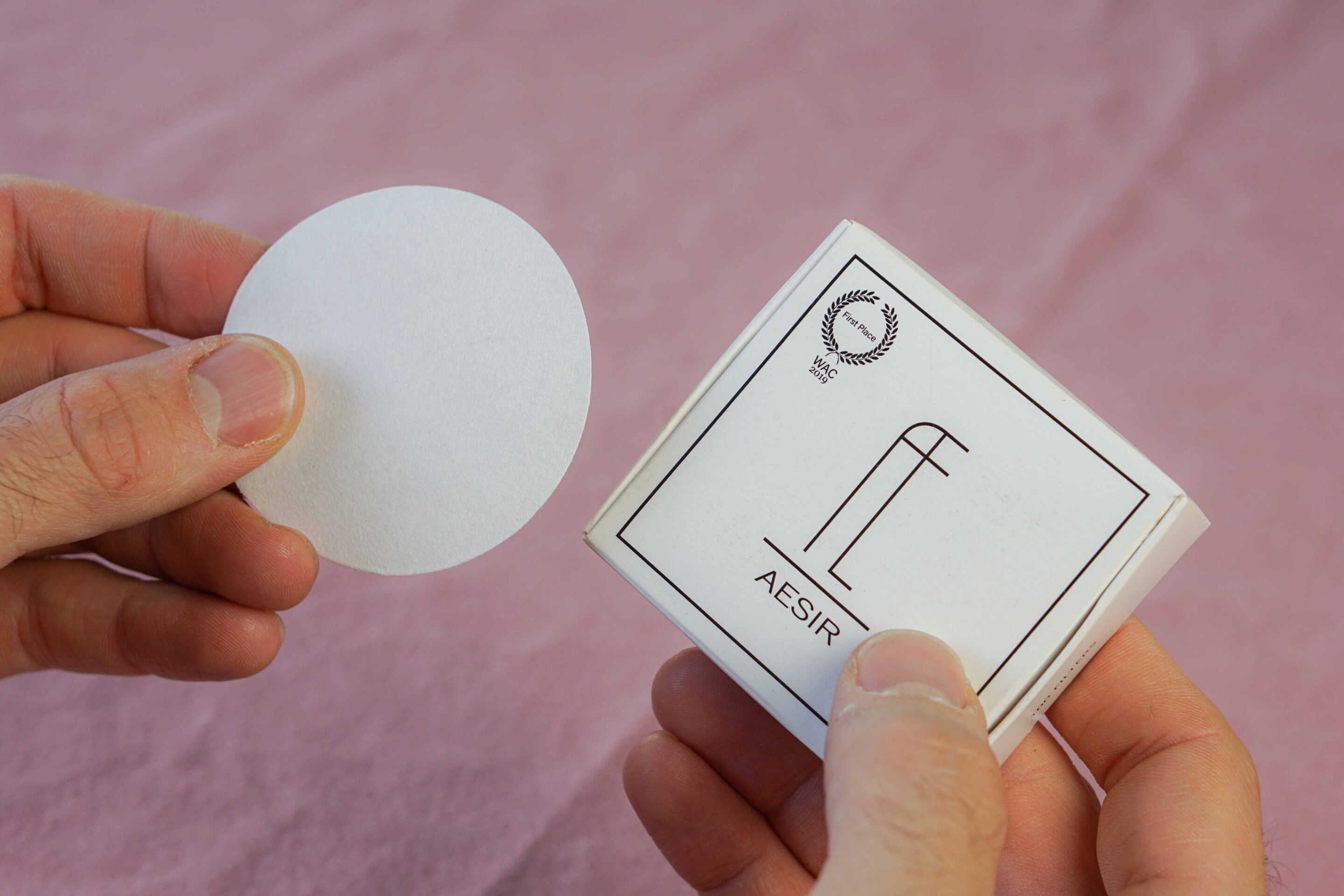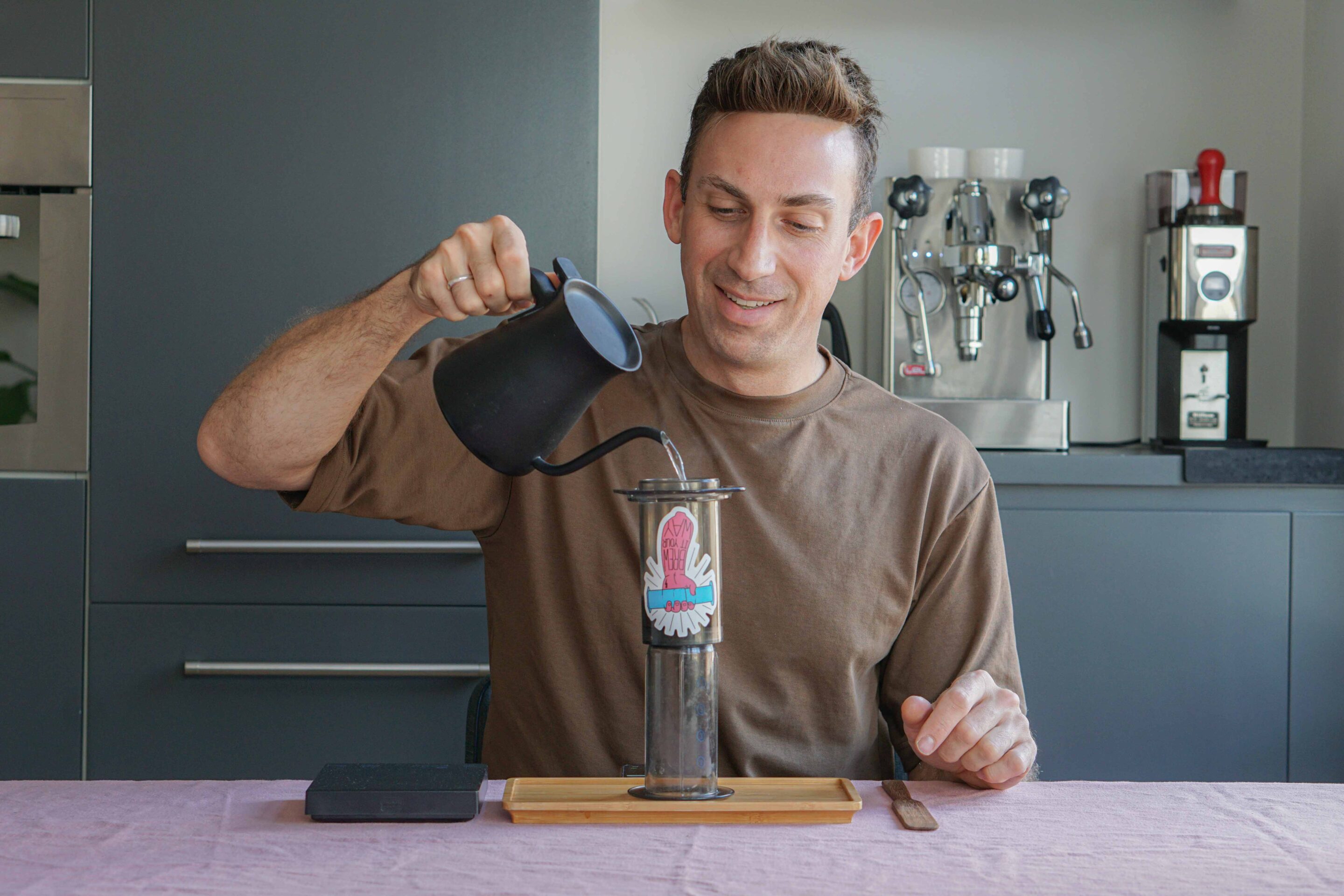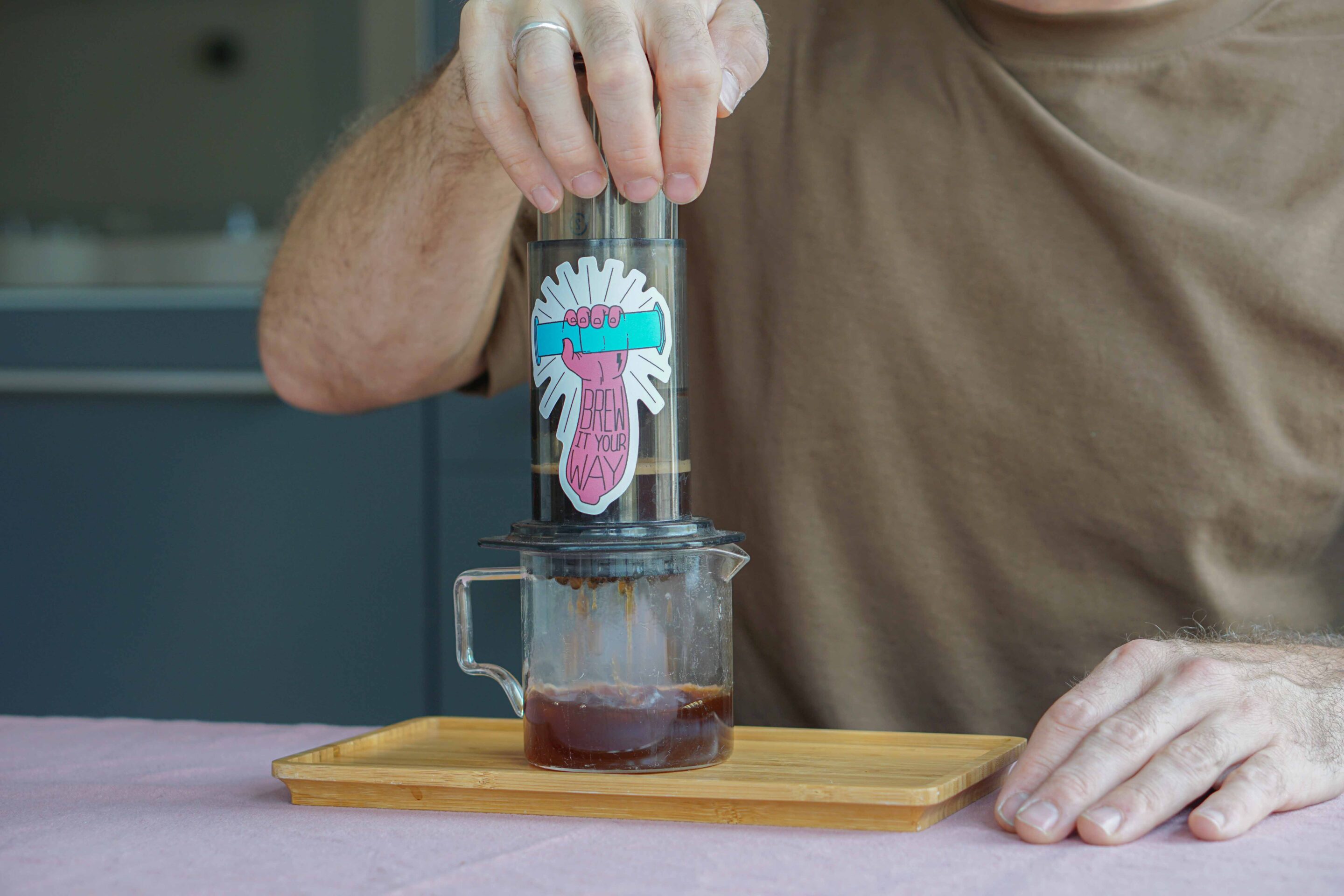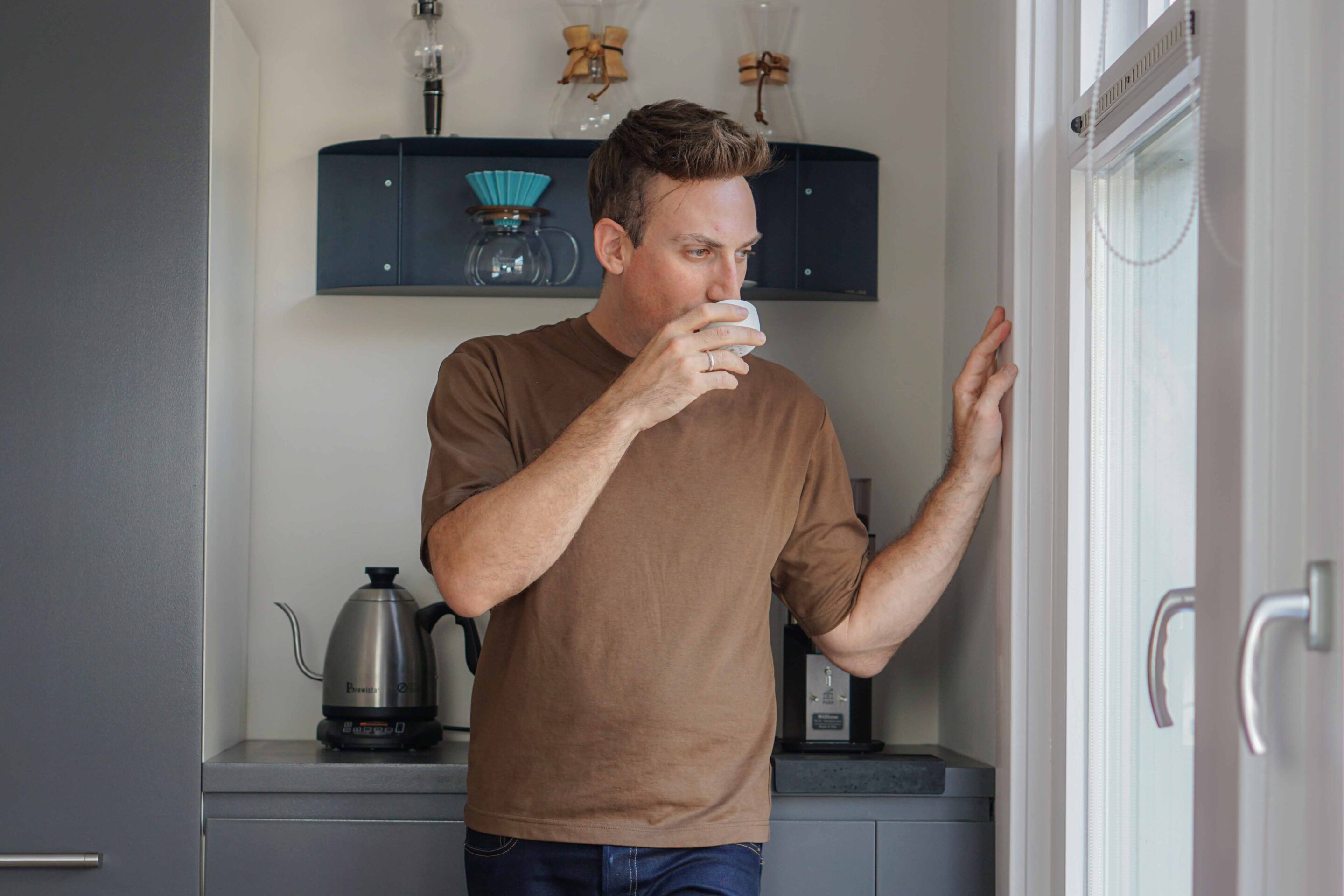 My recipe for brewing the Ethiopia, Diima Chelbese from Man versus Machine:
Aeropress: When I was in London recently, I spent some time with Paul Ross, UK Barista Champion and Head of Product at Watchhouse. As we sat in their roastery near London Bridge, he gave me a packet of AeroPress filters by AESIR, which are made from 'ultra consistent pulp and a smaller pore size, resulting in a coffee that is noticeably cleaner and more vibrant.'
Since I love my AeroPress, I was keen to try them out and in the process, I also decorated my AeroPress with our new Brew It your Way stickers. Let me know what you think of them 🙂
Ok, so for my recipe. I worked with 20g of coffee ground quite coarse, about 32 clicks on the Comandante. About the same grind size I use for my French Press. I used water fresh off the boil and carefully added it to the AeroPress (inverted method) all the way to edge. Using my paddle, I stirred 2-3 times to ensure all the grounds were properly submerged. With recipe, you want to aim for a long extraction of about 3 minutes so just attach the lid to prevent too much heat loss and then at 2:30 stir the coffee again.
At 3:00 minutes turn the AeroPress over and place on a decanter and push all the way down until the plug comes to a halt. Pour into small cups and enjoy sip by sip.
–
Keen Coffees's recipe for filter:
Phoenix70 pour over: 15g on 210ml of water. 30ml – 30sec bloom, 90ml after 30sec. 150ml after another 30sec then go all the way to 210ml. Use this for a v60 with a slight coarser grind.
Keen Coffee's recipe for espresso:
We really like the juiciness of the Agua de Nieve, so we would suggest: 19g in 38 g out in around 30 sec.
–
Man versus Machine's recipe for filter:
V60: 16g with 260g of water.
Man versus Machine's recipe for espresso:
18g in – 40g out.
–
Wide Awake Coffee's recipe for filter:
Kalita Wave 155: 15g in, 235g out – Coarse grind (EK43: 9.5) – Use 93°C water. Prewet the filter. Add 15g of coffee to the flatbed Kalita filter, swirl to have an even bed of coffee. Tare your scale and add 50g of water, give a slight swirl. Let bloom for 30 seconds. At 30 seconds slowly pour water in circular motions until you reach 125g, give a short swirl to the brewer. At 1 minute 10 seconds pour until you're at 180g. At 1 minute 30 seconds pour until you're at 235g. The brew should be completed at 2 minutes 25 seconds. This recipe brews a very floral cup. For a more juicy cup, work with hotter water or a higher coffee ratio.
Wide Awake Coffee's recipe for espresso:
Grind size EK43 (regular burrs): 1.1 Dosage. 18.5g – yield: 40g. Time : 26 seconds.
---
What did you think of these recipes and the coffees from the October 2021 Coffeevine box? Let me know in the comments down below and make sure you subscribe in time for the upcoming November 2021 coffee subscription box.