The first time I came across Caffènation was when I discovered The Village Coffee & Music in Utrecht and Angelo just couldn't stop raving about this wonderful coffee coming straight out of Antwerp. The colourful little bags stood out so prominently against the dark tones of the counter and after getting Angelo to make me a delicious Flat White, I couldn't agree more. The coffee was good.
Later, I met them again, at Koko Coffee & Design in Amsterdam and Karlijn gave me a similiarly praising sonnett about how her and Caroline went on a quest to find the right coffee to match their newly opened business in Amsterdam's red light district and found it also, in Antwerp.
Since then, I kept seeing the Litte Green Bag or the red Roast of the week bags popping up in different places and I knew that when I finally made it down to Antwerp to go on a coffee quest, Caffènation would be very high on my list. When, at last, the day came, it was a gloriously sunny out and Caffènation's terrace was packed with funky hipsters and the occasional tourist who had come here to fill up their empty caffeine tanks. I took a seat outside and tried to decipher the coffee menu with my slightly hung over eyes. Before I could really figure out what I was looking at Simon had appeared next to me and demanded to know what I was having.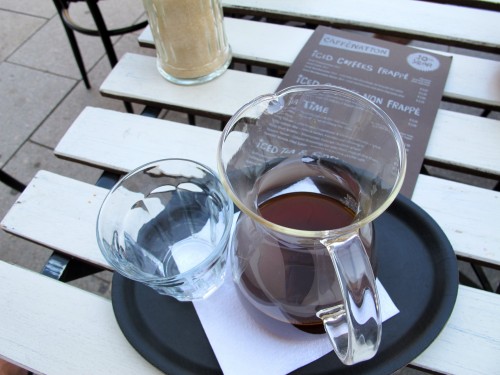 "Urgh, gosh, ehm, well I mean I came here to try so much and now I can't decide," I stuttered. "Well, what's your favourite drink?" he asked. "Flat White." "Well, let's start with that then!" And off he went. I vaguely stared into space for a while listening to the conversations of a bunch of art students sitting in front of me discussing where they were planning on exhibiting next when Simon reappeared next to me with a really nice looking Flat White. I kind of told him what I was doing and he immediately jumped at the opportunity to tell me a bit about what Caffènation was doing.
So the gist of it is: 10 years go Caffènation opened up their first shop in Antwerp, essentially bringing specialty coffee to the Flemish capital. A few years later they started roasting and now, they're in a new location and spreading their beans to from Antwerp all the way to Paris, Vienna, Utrecht and Amsterdam. Surely, there'll be more places to come in due course.
What I found really interesting too was the fact that several aeropress (world) champions work here. Simon was apparently also one of them but he was too humble to mention himself, rather talking about one of his colleagues called Jeff, who is has had the world champion crown on his head twice already. It was only when I met the other barista, Martijn, that I heard about Simon's credentials. Although the aeropress is such a simple looking device, it is actually a rather complex process and getting a good cup of coffee out of it really requires some skills. Hence, why there are aeropress championships! I'm still trying to master this art at home, too.
Although you might think a brand like Caffènation would strive for world domination, their plans seem rather tame. They're quite happy chilling out in their one location in Antwerp and only growing organically, rather than hiring sales people who would take the Little Green Bag to all sorts of places. It also has a lot to do with their commitment to freshness and quality. As Simon said while preparing one of his aeropress specialties for me: "You can only guarrantee a consistent level of quality when you are in charge of the roasting and even then you cannot supply unlimited quantities."  Therefore, apart from a few locations outside of Belgium, they are focusing on supplying local specialty coffee shops instead.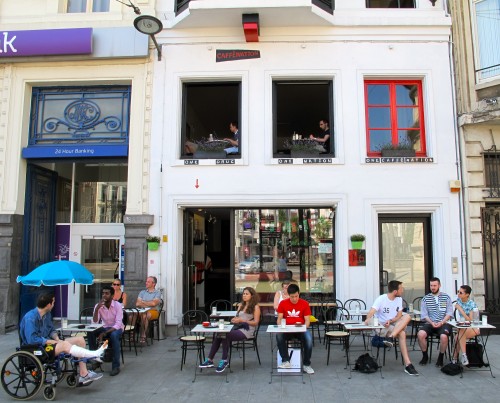 When the aeropress coffee arrived I was back outside and Simon sort of went: "Don't be surprised. We brew this under very low temperature. It's very smooth, almost tea-like, so again, don't be surprised." Considering how hot it was outside I actually welcomed this tepid beverage. It brought out all the beautiful flavours that are normally hard to distinguish when the coffee is served too hot. This is definitely something I was taking mental notes.
One thing that I did find a bit strange was the set up of the whole shop. You walk in and you're practically stading at the counter where you can buy all your beans, the bar is then upstairs with a strange dark back room behind it and another level with a sort of inside balcony towards the street. I had to think of one of my barista friends in Amsterdam who actually told me that he really didn't like their new location. It just didn't have the character of the former one. Well, since I can't compare I won't make a judgement here.
Before I settled my bill, I lurked about the bar and observed Martijn doing his work behind the machine. "Can I get you something?" he asked. "Nope, I'm all good," was my answer. "Just hanging?" he asked. "Yup," I replied. "Haha, hanging's always good," he laughed. Then I pulled out my camera, took a couple of good shots of the boys and very satisfied, went to the downstairs counter to pay for 2 delicious coffees and 2 beautiful smelling coffee bags that I had just pocketed.
So, even if the inside of the location is not the most attractive, this definitely has to be one of your must try places when in the city of Antwerp. Passion for coffee doesn't get much better than this.