It's not often that I decide to drive 150km and cross an international border to personally pick up a coffee for one of our Coffeevine boxes. And yet, after interviewing Simon Derutter and Nanigui Patel, life partners and the co-founders behind Rush Rush Coffee in Antwerp, I thought it would be fun to make a little day trip out of it. Antwerp is, after all, one of my favourite cities in Europe. It would have been ruud not to.
In some ways, Antwerp is the crade of Belgian specialty coffee, the place where the third wave was created by the likes of Caffènation and others. Incidentally, this is also where Nanigui got her start in the industry while Simon learned the tricks of the trade at MOK, another great Belgian roaster and regular Coffeevine partner.
After leaving their previous employers and running a small café for a befriended coupled that went on a sabbatical, Nanigui and Simon began developing the idea for their own space, which eventually happened faster and more unexpected than planned and eventually led them to open the doors of their critically acclaimed roastery and café Rush Rush.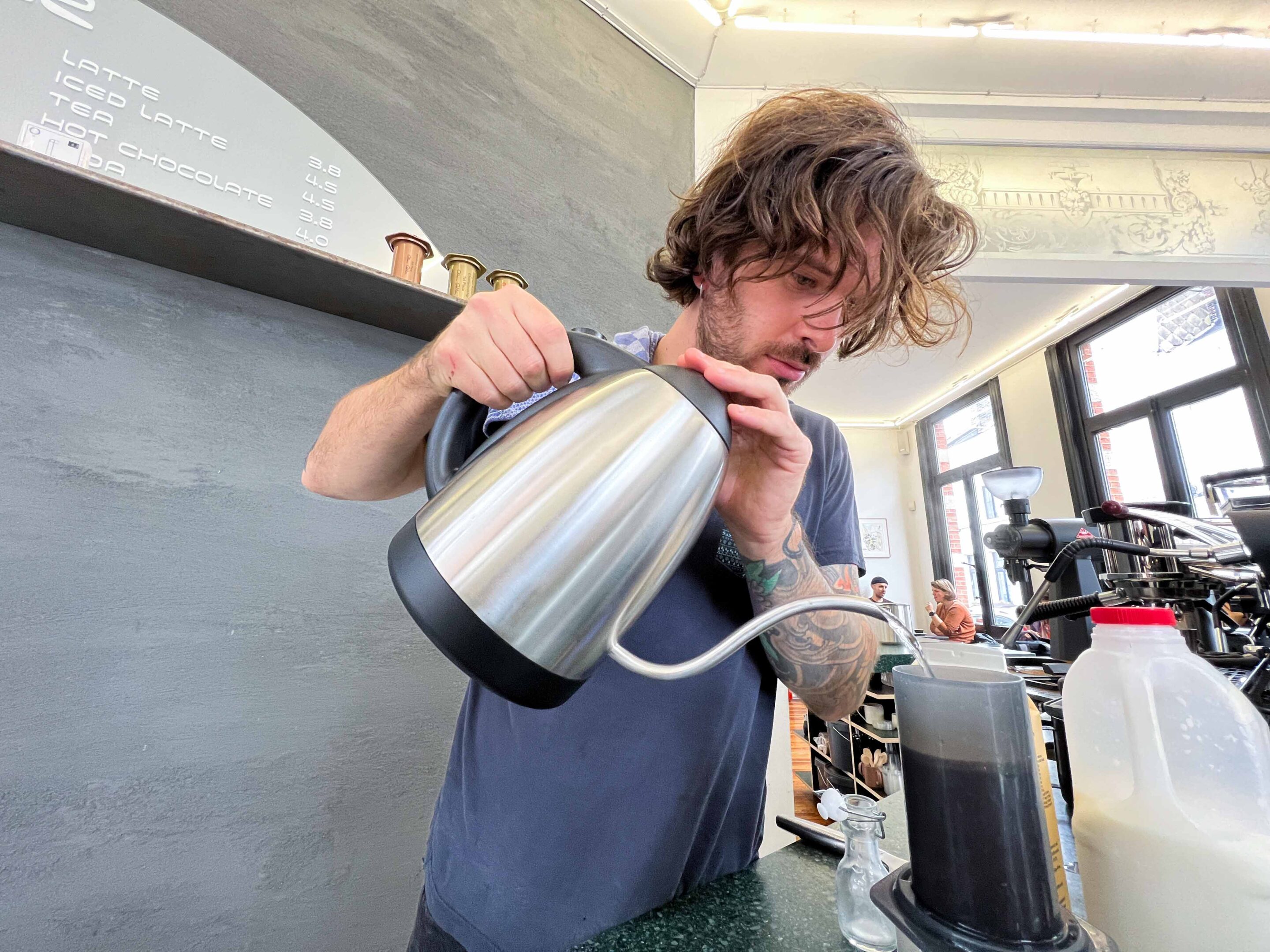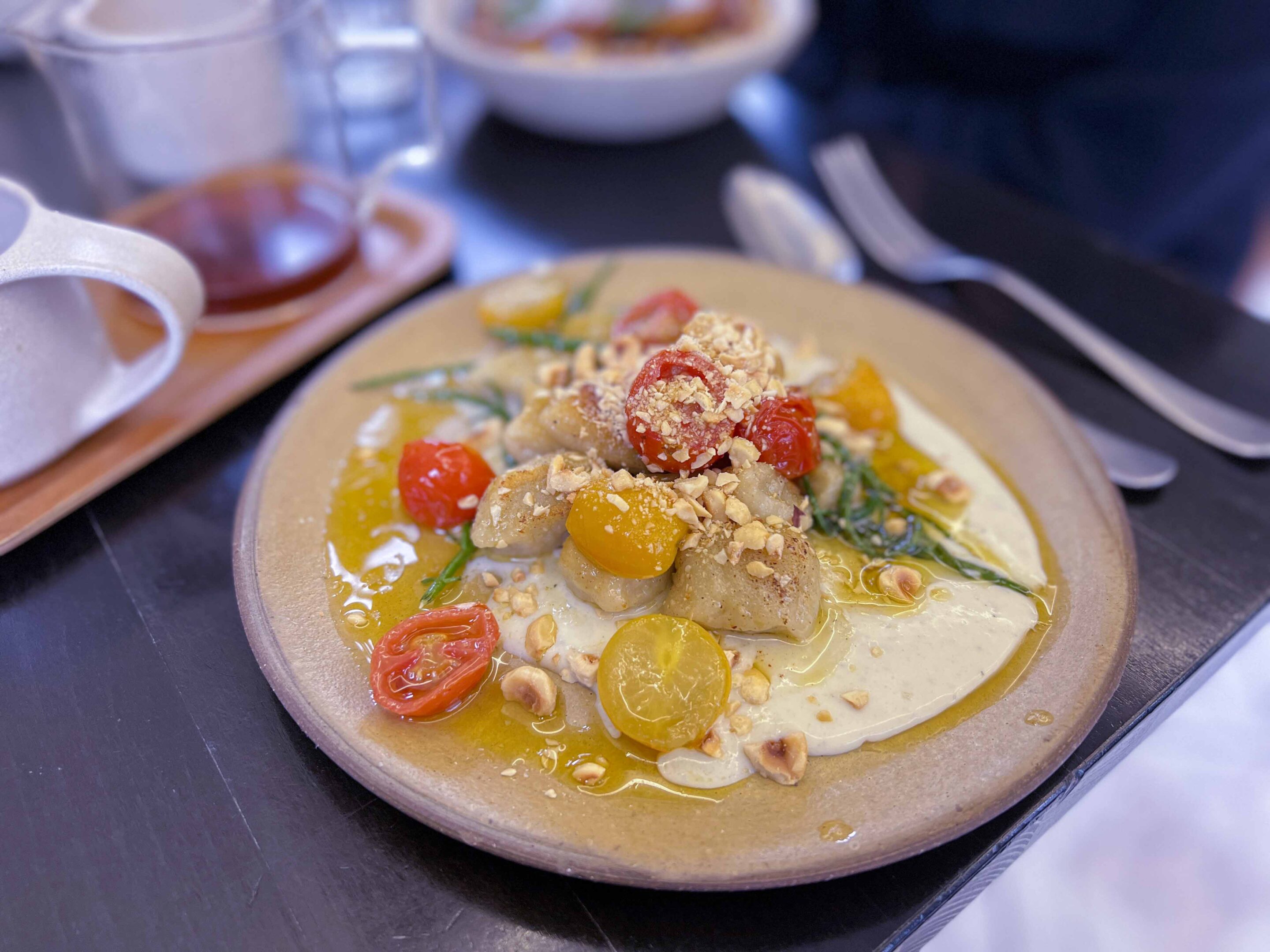 The building is absolutely beautiful. Uniquely, it has two roads on either side with a small square in front, which gives the café a very special vibe indeed. The interior is bright and airy with many unexpected elements from the building's previous lives, including being a non descript office and a night shop.
Nanigui previously worked as a chef and was responsible for cooking at Caffènation, a passion she had way before discovering coffee and cruising to Belgian Aeropress Championship victory. The consequence of this is that the food at Rush Rush is just as exciting as the coffee, making this a great place to stop for breakfast or lunch.
In keeping the Aeropress spirit alive, this brew method is used as a standard for all filter coffee orders despite the fact that it is known to be a bit more timeconsuming. However, according to Simon and Nanigui, there is no way around it.
During my visit, we sat by the door and watched the coming and going while head barista Thomas Hunter expertly ran the bar. Since it happened to be lunch time, Simon and Nanigui insisted that I try one of their signature dishes of the moment, a truly divine plate with gnocchi, blue cheese, samphire and cherry tomatoes. Of course, I had to follow this up with a slice of their pistacchio and lemon cake. It was practically begging me to.
To wash this all down with, I was offered both a flat white and a Brazilian anaerobic natural filter coffee. Needless to say, both tasted exquisite.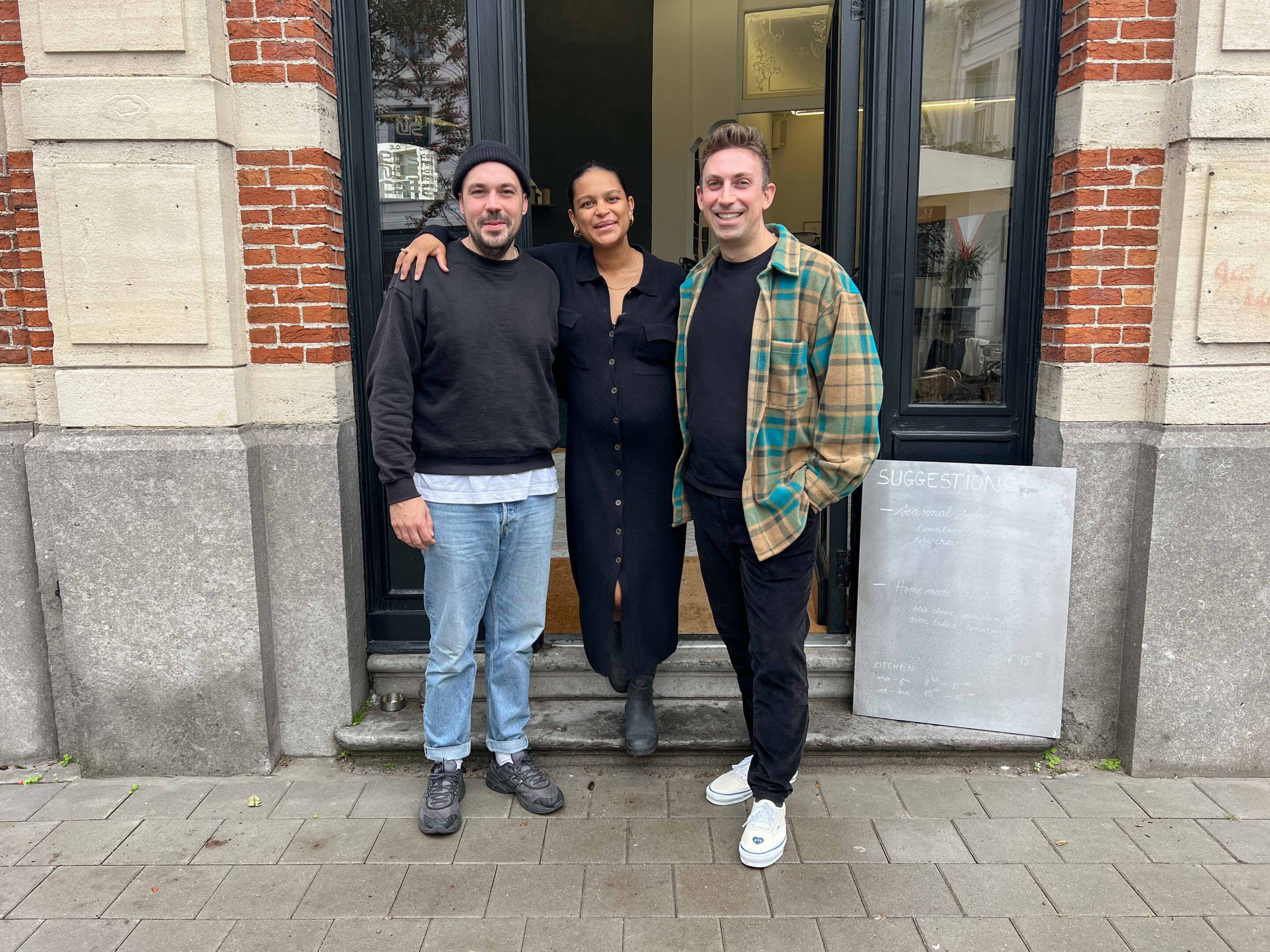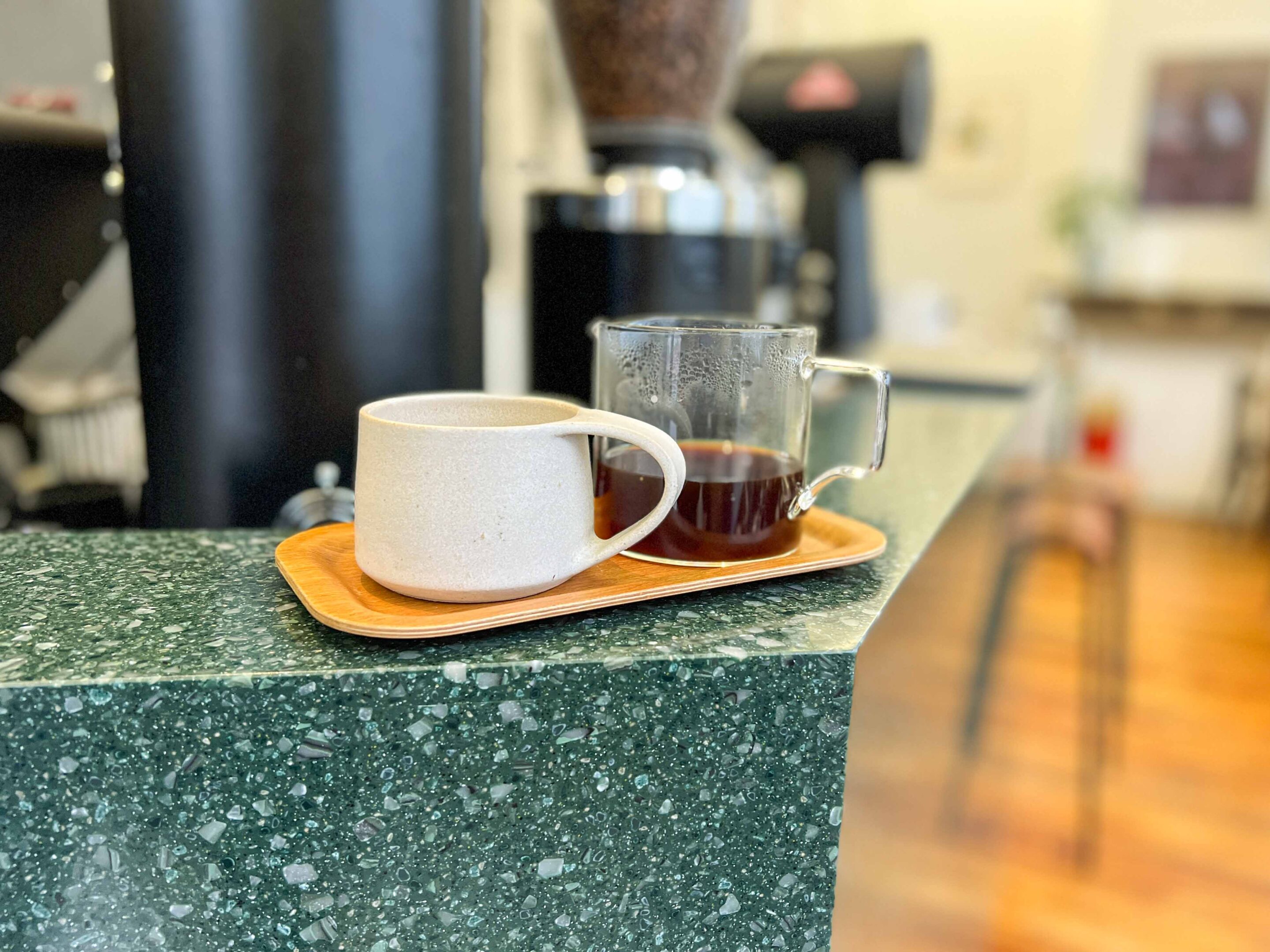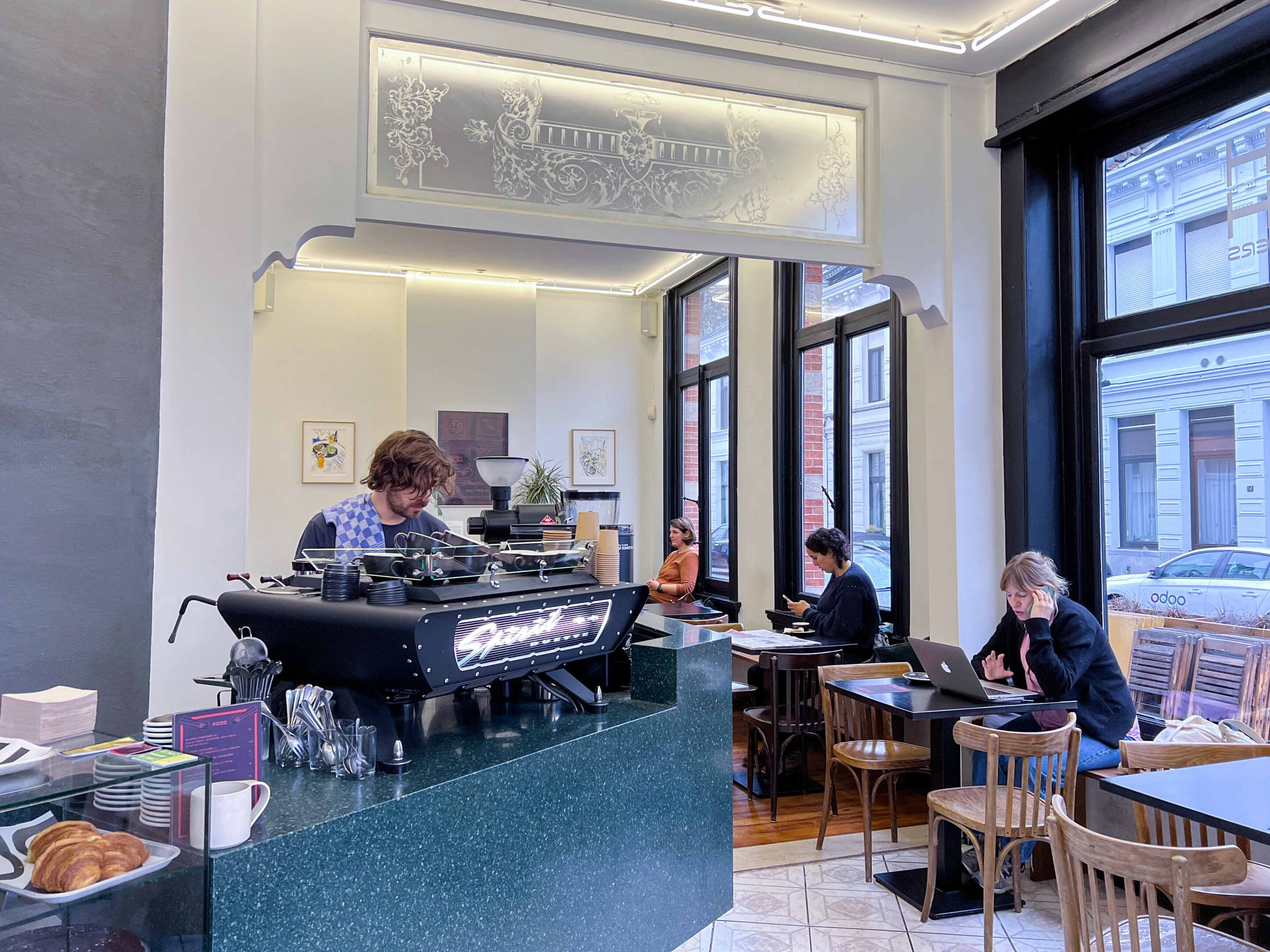 Since Nanigui was expecting, she no longer does the cooking herself. This is now done by a team of two ladies headed by Lisa Zwaenepoel. By the time this review is published, Simon and Nanigui will be parents. How exciting!
The roasting itself is not done on site but at a different production space. From what I heard, Rush Rush is on a clear upward trajectory and this is no surprise judging by the excellent coffees they choose and roast. Although my visit is now 1 1/2 months back, I do know for sure that many of our subscribers loved the coffee from Rush Rush the most out of the aforementioned October box.
Antwerp is a great place to visit at any time of the year and a worthy candidate for a short weekend getaway if you live in Amsterdam, Rotterdam or Cologne, for example. With the arrival of Rush Rush, the Flemish capital has gained a new coffee Mecca that is worth a trip.