One thing you should know about me is that I absolutely L-O-V-E nut butter of any kind. Michal and I always have at least 2-3 jars of peanut and almond butter at home and smear them on rice wafers or fresh sourdough bread pretty much daily.
You might not be aware of this but The Netherlands is one of the highest per capita consumers of peanut butter in the world, even more so than the United States, the birthplace of the famous peanut butter and jelly sandwich, which I also love profusely.
These days, there is a plethora of young companies that are reinventing peanut butter by combining it with different ingredients like sea salt and caramel or rosemary and chocolate and the results are de-lish.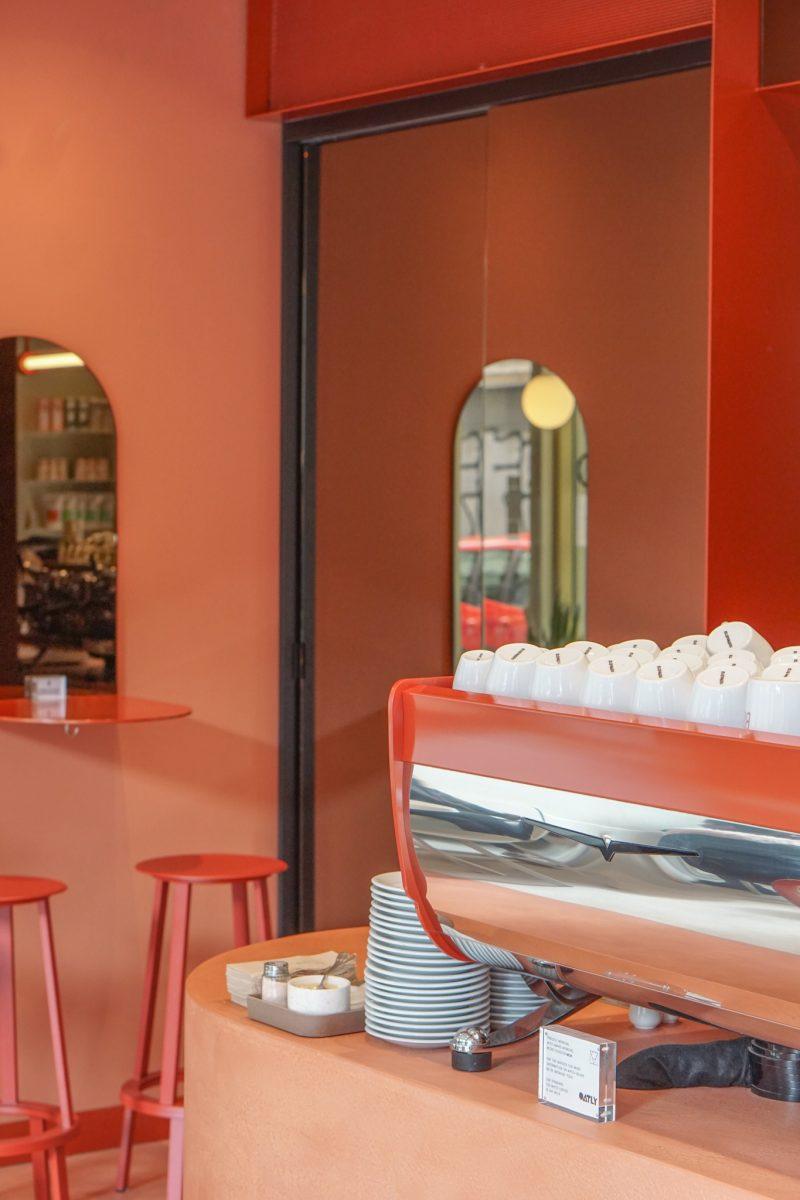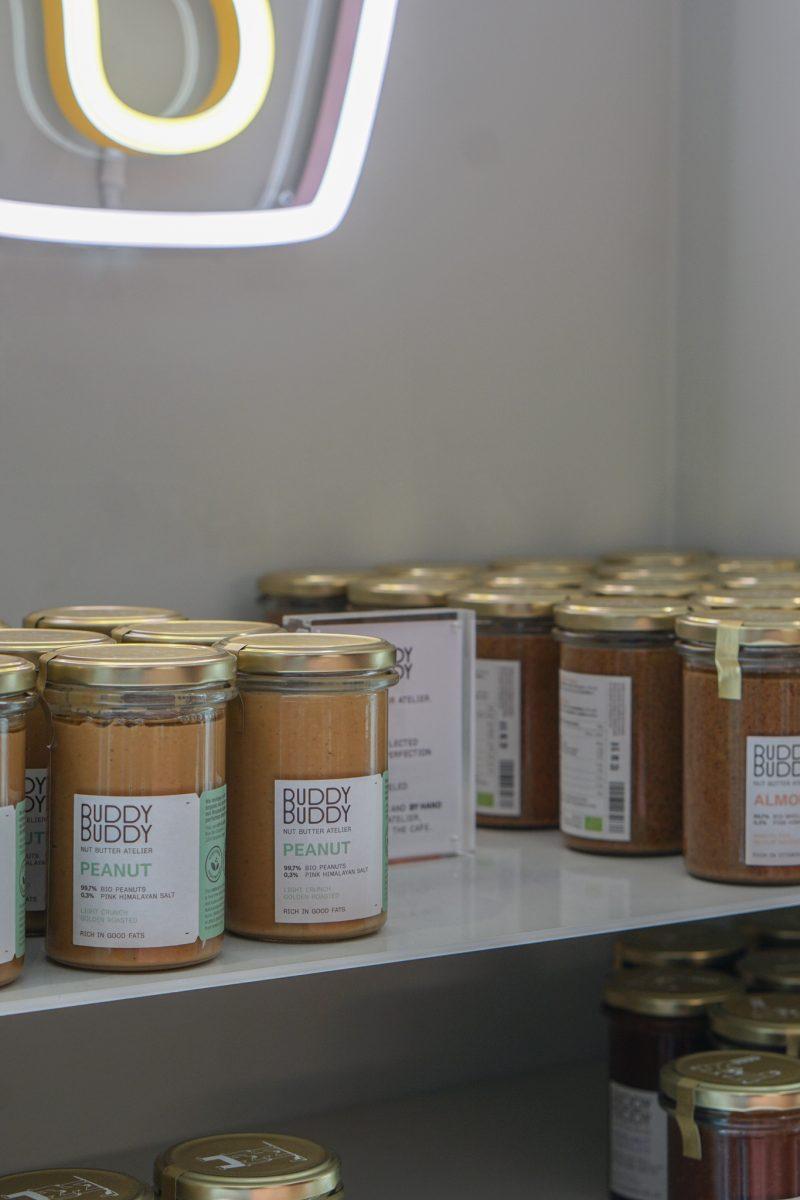 Recently, Michal and I went to Brussels to visit some old friends of his from when he lived in the Belgian capital and while researching some new breakfast and coffee places, a good friend told me about a new vegan café and nut butter atelier called Buddy Buddy that's run by a friendly gay couple. Obviously we had to go.
There is something to be said about cafés that are a feast for your eyes. And I'm not talking about the food yet. Buddy Buddy has one of the most spectacular interiors of any café that I have ever seen and that is saying a lot. I've probably been to over 1000 over the course of the last eight years.
Designed by Hop Architecten from Amsterdam who also created one of my other guilty pleasures Public Space, Buddy Buddy offers two very distinct styles within one relatively compact space. The first half is a creamy white while the other half is a stunning peach red with darker red elements dotted throughout. Clear lines and round shapes dominate and the clever use of mirrors creates more room where there isn't any.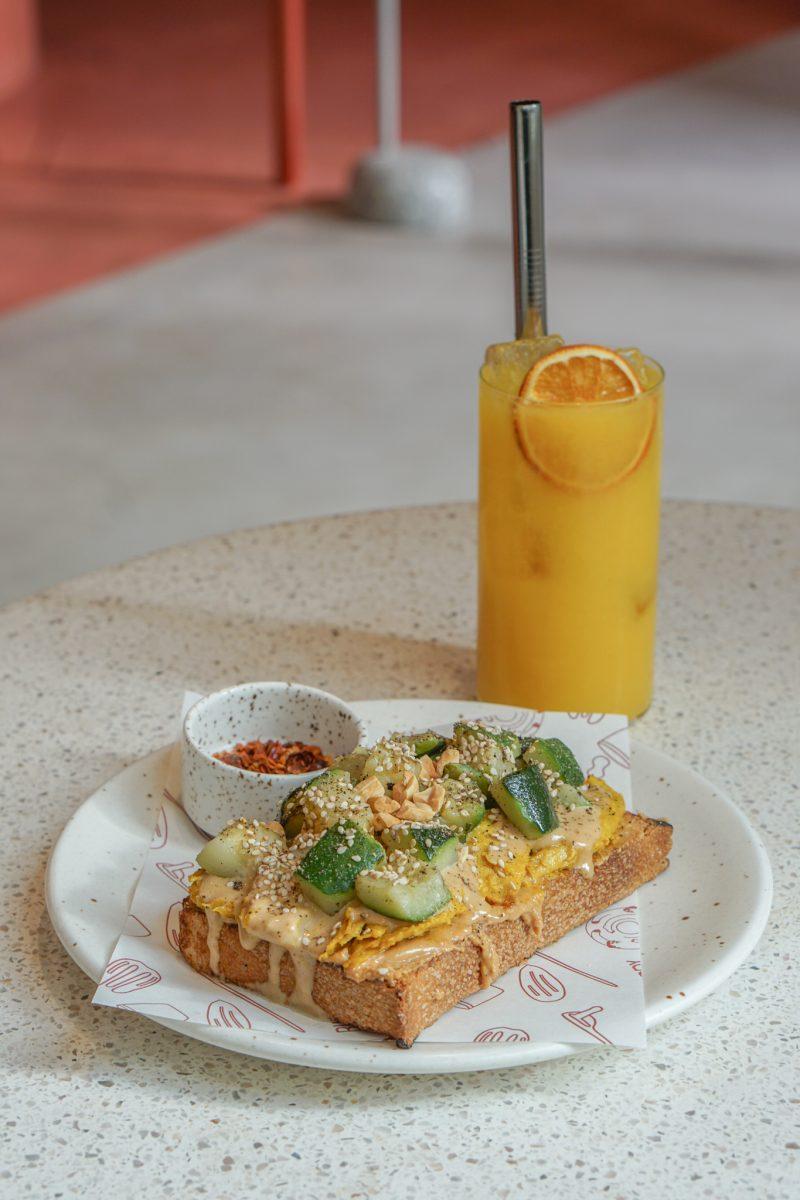 Buddy Buddy is a triumph of contemporary design and minimalist touches that never end up feeling cold or impersonal. Founders Matt Samra and his partner Julien Gaucherot didn't have any hospitality experience nor were they vegan before they began working on the concept for Buddy Buddy but a deep-dive into what is possible with a plant-based diet, helped them formulate the idea that eventually became this gorgeous café.
The dishes are inventive and beautifully presented. If you're also a fan of RuPaul's Drag Race, then you'll appreciate the reference in 'Satay You Stay', a dish consisting of vegan chicken, roasted courgette and a rich peanut butter sauce. Although, personally, I would replace the courgette with pickled cucumber for a bit more flavour and a touch of acidity.
All items on the varied menu contain one of Buddy Buddy's homemade nut butters and you're welcome to take a jar or two home to consume in your own time. Needless to say, we took three.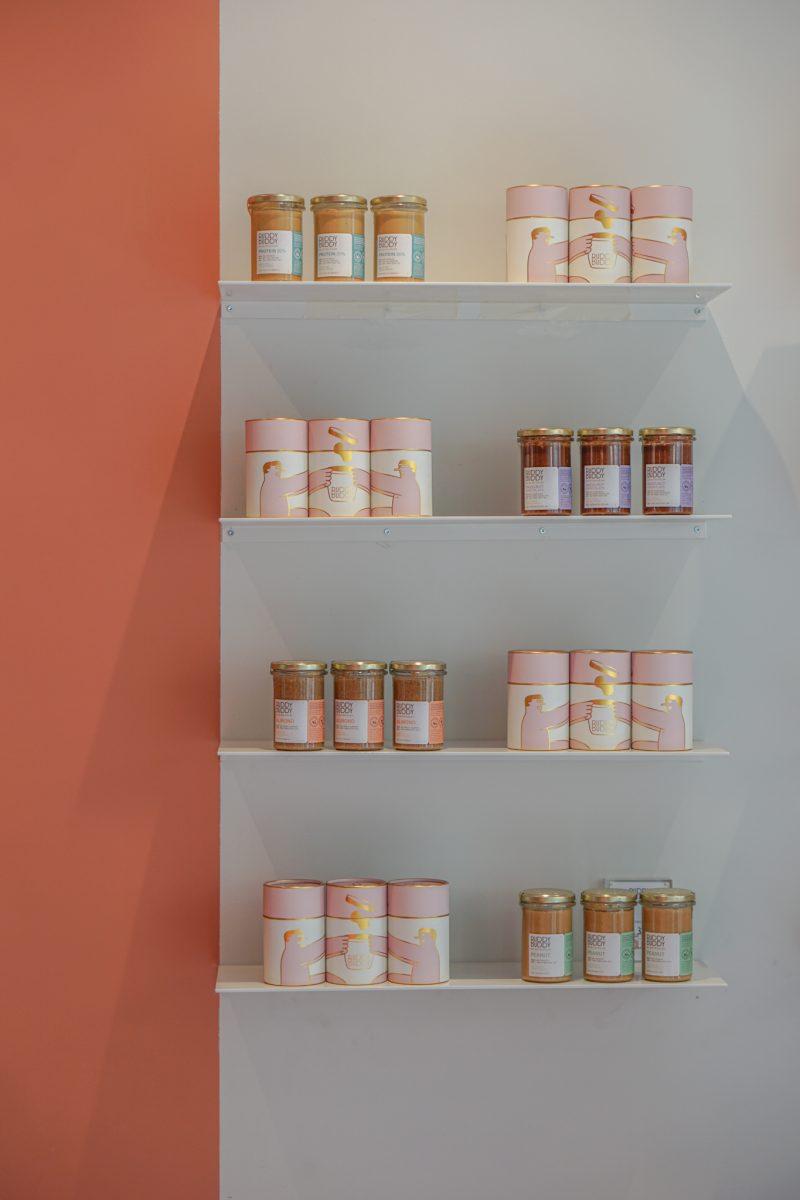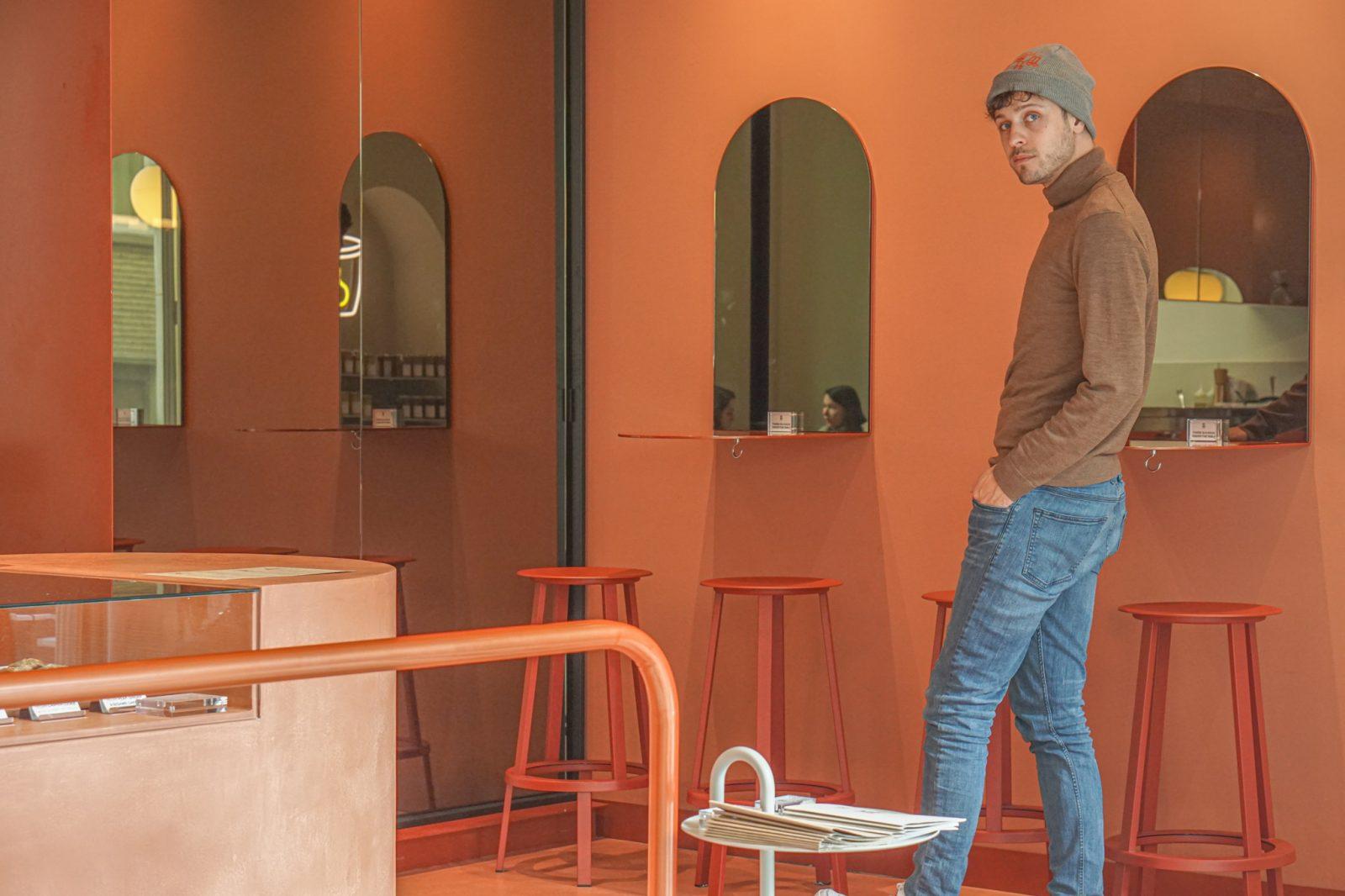 It is always a bit risky going completely vegan when you are trying to run a successful specialty coffee shop, in particular with regards to your milk drinks. At Buddy Buddy, they exclusively use Oatly, which is a consistent and reliable alternative and all of the coffee is roasted by fellow meat-free stalwart MOK Coffee Roasters who has a beautiful café near Molenbeek across the city.
As Michal and I sat there chewing on our lunch, we were briefly joined by Matt who explained that the concept was inspired by both Amsterdam and his native New Zealand and that he and Julien wanted to show Belgian consumers that nut butters are not just some sweet American thing but that if made from great ingredients, they are super delicious and healthy.
Understandably, Buddy Buddy is already an Instagrammer's wet dream come true and it will undoubtedly feature highly on many people's bucket lists. The best thing to do? Go check it out for yourself!
#designporn #coffeeporn #nutbutterporn