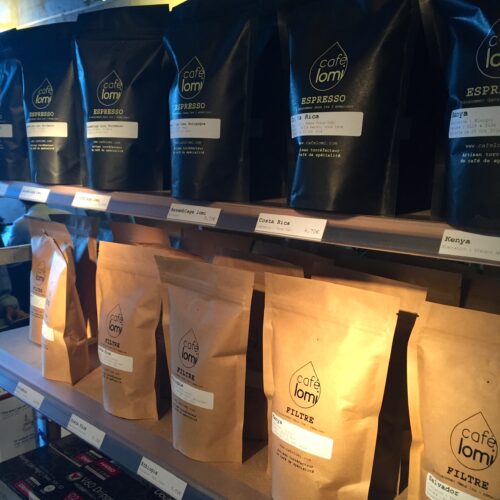 Paris is undoubtedly one of Europe's biggest cultural melting pots. Probably only second to London, if I can judge from experience. And just like London, Paris has a wealth of influences that partially stem from the days of French colonialism, which have brought some truly unique experiences to the city. Just as an example, on a lovely Saturday afternoon my friend and I had lunch at a Cambodian restaurant. I don't recall ever seeing a Cambodian restaurant anywhere else in Europe.
Indeed, one area that is a perfect representation of this multiculturalism is the 18th arrondisment, just behind Gare du Nord, where we also happened to stay. Although it seems quite run down at first sight, it's one of those neighbourhoods that has a real vibe to it and according to the guys at Cafe Lomi: "it's full of old warehouses and empty spaces that have been taken over by agencies, start ups and artists". Cafe Lomi is actually the only specialty coffee roaster in this part of town and therefore by default a magnet for everyone who happens to be in the area. Located at the end of Rue Mercadet and overlooking a little square, Cafe Lomi has transformed an old industrial building into a lovely venue that's always abuzz with people chatting in a myriad of languages over perfectly prepared coffees and home baked pastries.
When I arrived for my appointment with Lucie Leblin, I didn't know what they might have in store for me but shortly after putting down my heavy bags, we were joined by co-founder Paul Arnephy (another Aussie who settled down in Paris with his French wife and opened a progressive coffee business) and his French counterpart Aleaume Paturle whose nickname Cafe Lomi is named after. Lucie and the team had previously subscribed to our bespoke coffee subscription service to get a feel for what is happening in the specialty coffee scene elsewhere and before I knew it Paul had lined up a bunch of coffees for us to cup.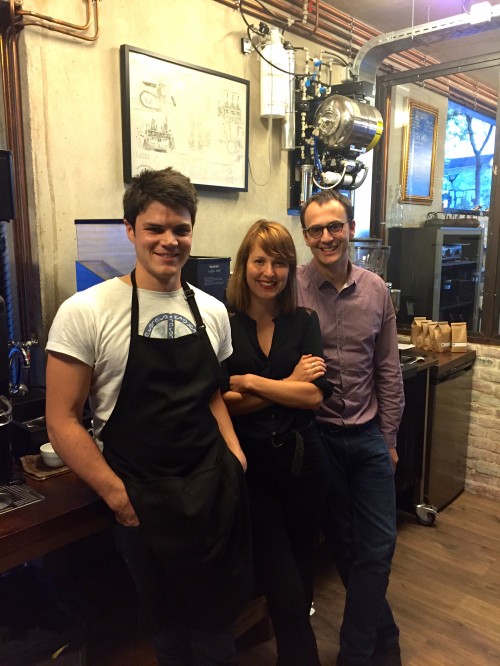 Included in the selection were beauties such as their Ethiopia Bifdu Gudina natural and their Kenya Kiangoi and after cupping every coffee a few times I got a very good idea of the outstanding quality that Cafe Lomi aims for. It's no surprise really if you consider where they started five yars ago. At the time, Paris was a real car crash with regards to good coffee. No one seemed to be interested in pushing this wonderful beverage. Lucie said: "It was so strange to have a beautiful meal, chat with the chef and then be served terrible coffee. But chefs used to say: Well people never complained." – thus nothing really changed. Until a few brave people decided to shake things up and as it so happens, Aleaume was one of those people. Before Cafe Lomi he ran a coffee truck where he served great coffee and that's also where he met Paul after he'd moved to Paris and roamed the city looking for a job.
Initially they had their location in the 17th arrondisment and focused more on business to business but after they won a few prizes, got a bit of media attention and the city realized the potential of specialty coffee the council offered them their current space as part of an effort to pimp up the area. Lomi and Paul couldn't say no.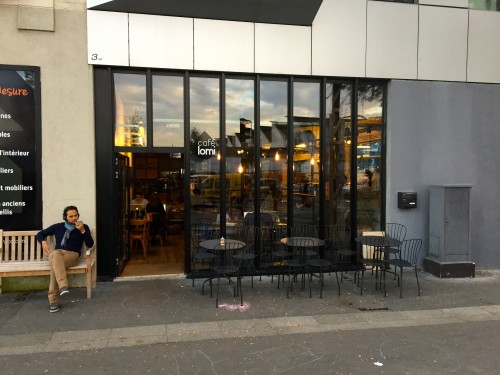 The great thing about their spot is that it's not just a café but doubles as a training center and roastery where you can get a real glimpse of all the elements that are required to serve great coffee. At the bar, baristas like Sebastian who hails from Vienna, often experiment with coffee to create unique and exciting beverages and they have their own chefs who freshly bake pastries and cook delicious meals.
When I left I even spotted Joe Mount of Metronomy enjoying a perfectly prepared flat white, which serves as confirmation that Cafe Lomi is doing something very well.