Mesa 325 – Porto (PT)
Porto's first specialty coffee shop showcases locally roasted coffees in a friendly and welcoming atmosphere away from the center
opening times:
Mon - Fri: 8:30 - 19:30, Sat: 10 - 19, Sun: Closed
wifi:
Yes
urls:
Facebook
price check:
Espresso: €0,75 / Flat White: €1,90 / Filter from: €1,60
machine:
Fiamma
coffees on offer:
various from Luso and Vernazza
milk:
Vigor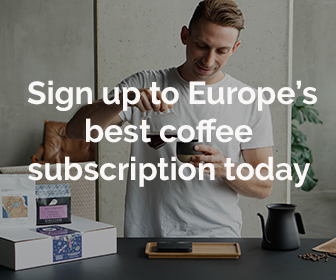 Mesa 325 – Porto (PT)
Porto's first specialty coffee shop showcases locally roasted coffees in a friendly and welcoming atmosphere away from the center
While enjoying some delicious craft beers in a secret garden somewhere in Porto and talking to a local Coffeevine customer and a Portuguese roaster, we debated why it was that Portugal had taken so long to discover specialty coffee. Rafa (customer) and Diogo (roaster) argued that the country on the Western-most fringe of Europe was very proud of its traditions and customs but that its people, somewhat similar to Spain, regard certain products with a certain lack of interest, one might say. Coffee, something that's been the same for decades, is amongst those products.
It's true that it cannot be said that all of Iberia is holding on to its more traditional dark-roasted coffees – see Barcelona for example – and people like Diogo Amorim of Luso Coffee Roasters and a few others are finally breaking through the crust to bring a more refined take on coffee to the people of Porto and Lisbon.
One place in particular that was highlighted during our chat was Mesa 325, a friendly neighbourhood café just slightly outside the center of Portugal's second city. As I entered, I was greeted by a mixture of languages, clear proof that Mesa 325 is no longer a secret, but it's still far away enough to mostly attract people in the know and locals.
Founders Mario and Leonor Espinha live above the café with their two kids and got inspired to open Porto's first specialty coffee bar after repeated visits to various European cities, mostly London.
While pouring the milk into a flat white, Leonor explained: "Everyone in Portugal drinks coffee, but few people ever experienced specialty coffee. We have such great wines here and people are very proud of that but when I explain that coffee has similar characteristics, we often get sceptical looks. It's a matter of time," she concluded while finishing a nice rosetta.
The café offers a tasty breakfast menu including overnight oats, delicious bagels and other pastries and their coffees come from Luso Coffee Roasters and Vernazza, who was the first local specialty coffee roaster to open its doors in 2015.
Espresso still accounts for the vast majority of coffees served here, but Mario confirmed that slowly things are beginning to change. "We're able to get more and more people interested in pour overs, which is a great sign," he explained.
In the afternoons, Mesa 325 is also a great way to finish a day of sightseeing with a cold bottle of local craft beer from the likes of Musa, who name their brews things like 'Born in the IPA' or 'Mick Lager'.
While specialty coffee remains hard to come by in Portugal, places like Mesa 325 are a great sign of things beginning to change and Mario and Leonor are wonderful people to pay a visit to even if you don't like coffee (I mean, who doesn't like coffee?!)
More Reviews from Porto & Portugal