\

The Amsterdam Coffee Guide
A selection of the 17 finest and most exciting specialty coffee bars in our beautiful hometown Amsterdam. From fine dining to the best filter coffee, we've got you covered.
This is where it all began. In the fairytale called Amsterdam. This is where The Coffeevine first saw the light of day in 2013 and from where we set sail to discover the world of specialty coffee. Much has changed over the years, coffee places came and went but the core of the city's finest coffee shops is still around and we have a few new places that have recently joined the scene.
Ok, you may be surprised at our selection, and yes, it doesn't contain some of the most obvious choices, but this is because we wanted to highlight a few alternative picks, some newer places and a couple of old favourites that maybe don't get covered as often.
Here's our 2018 guide to the best coffee places in town. And for those of you who are keen to see more of the city than just coffee bars, here our Essential Amsterdam Guide.
---
4850
Combining a spectacular wine list with the best filter coffee in town and some truly spectacular food, 4850 is raising the bar high indeed. Run by Rikard Andersson and Daniel Schein, two Swedish expats, 4850 is bright, friendly and definitely a place that you must visit before you die.
Camperstraat 48-50,1091 AH Amsterdam – Read our full review here.
Monks Coffee Roasters
Housed in what used to be a shady ice cream parlour, Monks Coffee Roasters breathed new life into this spectacular venue that was completely hidden from sight by the former tenant. Although the team around founder Patrick Abbott isn't roasting yet, they now serve Aussie-inspired breakfasts and lunches to complement their excellent coffees.
Bilderdijkstraat 46, 1052 NB Amsterdam – Read our full review here.
Caffènation
This consulate general of Belgian superstar roasters Caffènation is run by the most charismatic man in the local coffee scene and is as much about him than it is about coffee. Anyone who doesn't get completely besotted with Bert van Wassenhove is clearly made of stone.
Warmondstraat 120, 1058 KZ Amsterdam – Read our full review here.
The Hoxton
One of the very few hotels that actually cares about its coffee offering and employs a competent team, The Hoxton is a real trailblazer. The beans come from Origin Coffee Roasrters and Lot Sixty One and the atmosphere is wonderfully casual and friendly.
Herengracht 255, 1016 BJ Amsterdam – Read our full review here.
Rum Baba
Cake, cake, cake. You loooooooove the cake. This place is all about delicious cakes, exquisite teas by Monkey Chief and great coffee. Located in the very vibrant Transvaalbuurt, Rum Baba runs a wonderfully bright and uplifting café with its own dedicated bakery and roastery just a few doors down
Pretoriusstraat 33, 1092 EX Amsterdam – Read our full review here.
The Coffee Virus
Geeky, fun and definitely crazy about coffee, The Coffee Virus is closely linked to the tech startup and science scene of the city and has two outlets in total. If you feel adventurous, you could head out to visit their larger café at Amsterdam Science Park but most likely you'll be too lazy and stay in the city. That's all good, because The Coffee Virus is also located inside ALab, just behind the A'dam Tower and the Eye Institute in Noord. Note, these guys are not open during weekends.
Overhoeksplein 2, 1031KS Amsterdam – Read our full review here.
Back to Black (Van Hall)
Most people in Amsterdam know Back To Black, the friendly and cosy living room style café near the Rijksmuseum, but only a handful of people know that founders Inge Bulthuis and Noortjes Flutters recently opened a second location in the Westerpark neighbourhood. Same great coffee, more space and fewer tourists.
Van Hallstraat 268, 1051 HM Amsterdam – Read our full review here.
Toki
Yes, Toki is very hip and yes it is a coffee shop owner's dream come true. Run by the charismatic Jeff Flink who used to work in advertising, Toki champions beans roasted in Berlin (Bonanza), locally baked cakes, excellent teas and very good craft beer.
Binnen Dommersstraat 15, 1013 HK Amsterdam – Read our full review here.
Naked Espresso
This relatively recent arrival is now the only place in the red light district where you can have a really good cup of coffee made with top-notch equipment and beans from local roasters Stooker. Run by Jesper and Niels van Stek, Naked Espresso offers a much welcome alternative to the still overwhelmingly large amount of tourist traps and run down cafés that populate this otherwise beautiful area.
Warmoesstraat 46, 1012 JE Amsterdam – Read our full review here.
Scandinavian Embassy
This ground-breaking coffee bar and fine food place in De Pijp hardly needs an introduction. Most people will have heard of it already, but if you haven't, this is the place to enjoy exquisite coffees from Nordic roasters, discover rare and exotic Sweden and coffee inspired dishes and to indulge in the city's best cinnamon buns.
Sarphatipark 34, 1072 PB Amsterdam – Read our full review here.
Coffee Bru
The first specialty coffee bar in Oost and to this day one of the friendly places in the city recently – well about one year ago – got a facelift and is now even brighter and more welcoming than ever. Excellent cakes, great sandwiches and banging coffee are the rule here.
Beukenplein 14, 1092 Amsterdam – Read our full review here.
Bocca Store
This place, the flagship store from local coffee pioneers Bocca, is by far the grandest of all coffee bars, even though officially it's more of a training center and shop. Of course most people come here excellent coffees and teas and we go to there to cup the monthly contenders for our coffee box. What better place to do that than this Mecca of specialty coffee?
Kerkstraat 96HS, 1017 GP Amsterdam – Read our full review here.
FUKU
Lex Wenneker and Dylan Sedgwick opened FUKU earlier this year after Lex's incredible 2nd place in the World Barista Championships. FUKU is a fun and friendly café that in the Bos en Lommer neighbourhood of Amsterdam where the two owners serve their epic Friedhats coffees, natural wines and sourdough bread with artisan cheese.
Bos en Lommerweg 136 HS, 1055 ED Amsterdam – Read our full review here.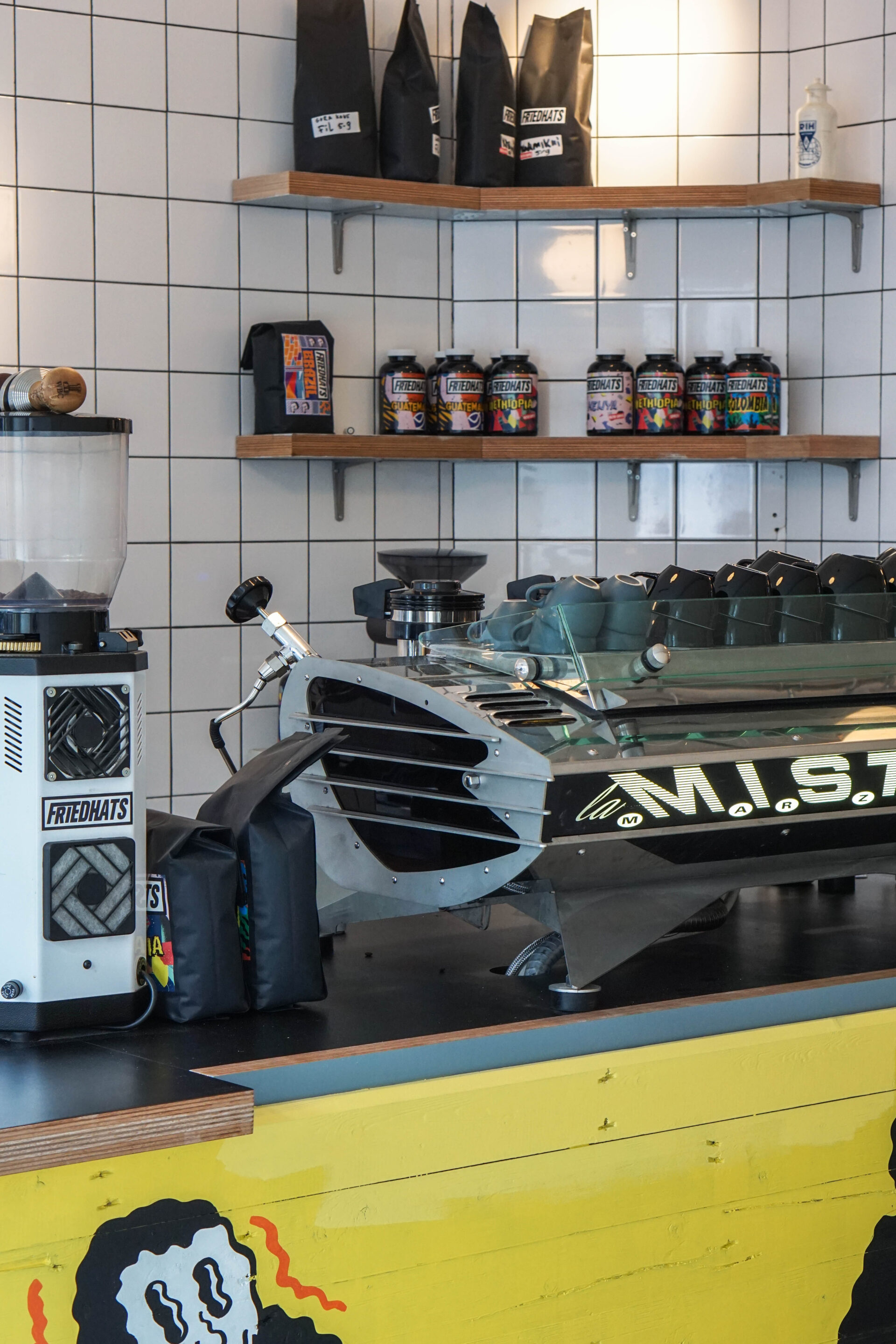 Public Space
This beautiful café in Amsterdam Noord really set the bar high for others to follow. The interior, featuring carefully selected vintage and contemporary furniture, and its unique industrial look are worth a visit in their own right. Add to that outstanding service, excellent coffee and really tasty food and you've got a winning concept.
 Bercylaan 301, 1031 KP Amsterdam – Read our full review here.
Schuurmanoomkensgrassotti
You are forgiven if you cannot pronounce the name of this cool new place by the founder of legendary Amsterdam roaster White Label Coffee. It is not a second White Label though, as co-founder Elmer Oomkens was quick to add during my visit. This place that is housed inside a former brother, offers a fine selection of delishious dishes, natural wines, craft beer and, of course, the yummy coffees from White Label that everyone is so crazy about.
Overtoom 558, 1054 LN Amsterdam – read our full review here.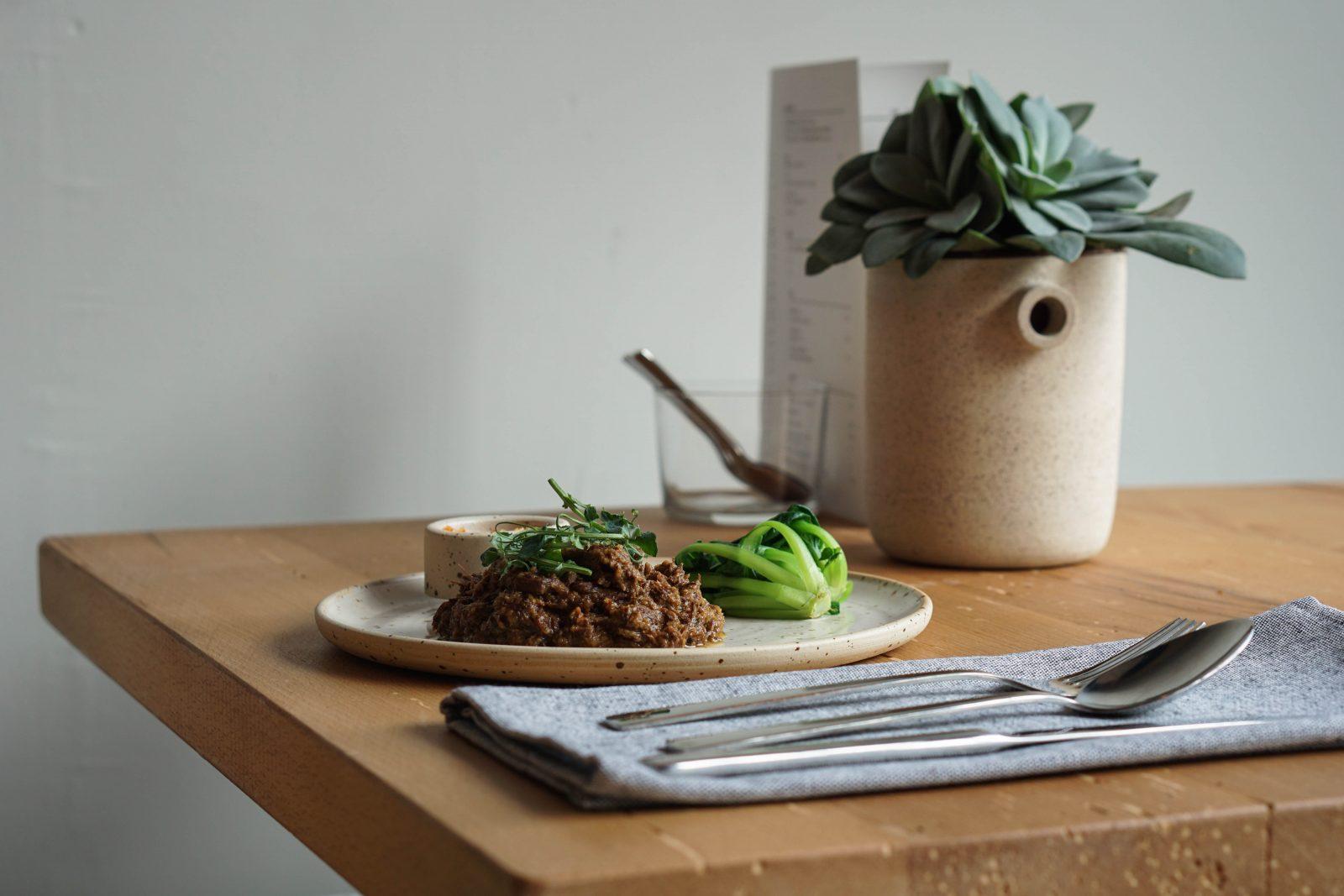 Hummingbird
Hidden away on one of Amsterdam's most notorious yet fast-changing streets, there is a cute new multi-roaster café with a strong focus on sustainability. The interior feels like you're sitting in someone's living room and the people-watching from the window is really great. So grab yourself a coffee and a vegan pastry and just enjoy the view.
Spuistraat 217, 1012 VN Amsterdam – Read our full review here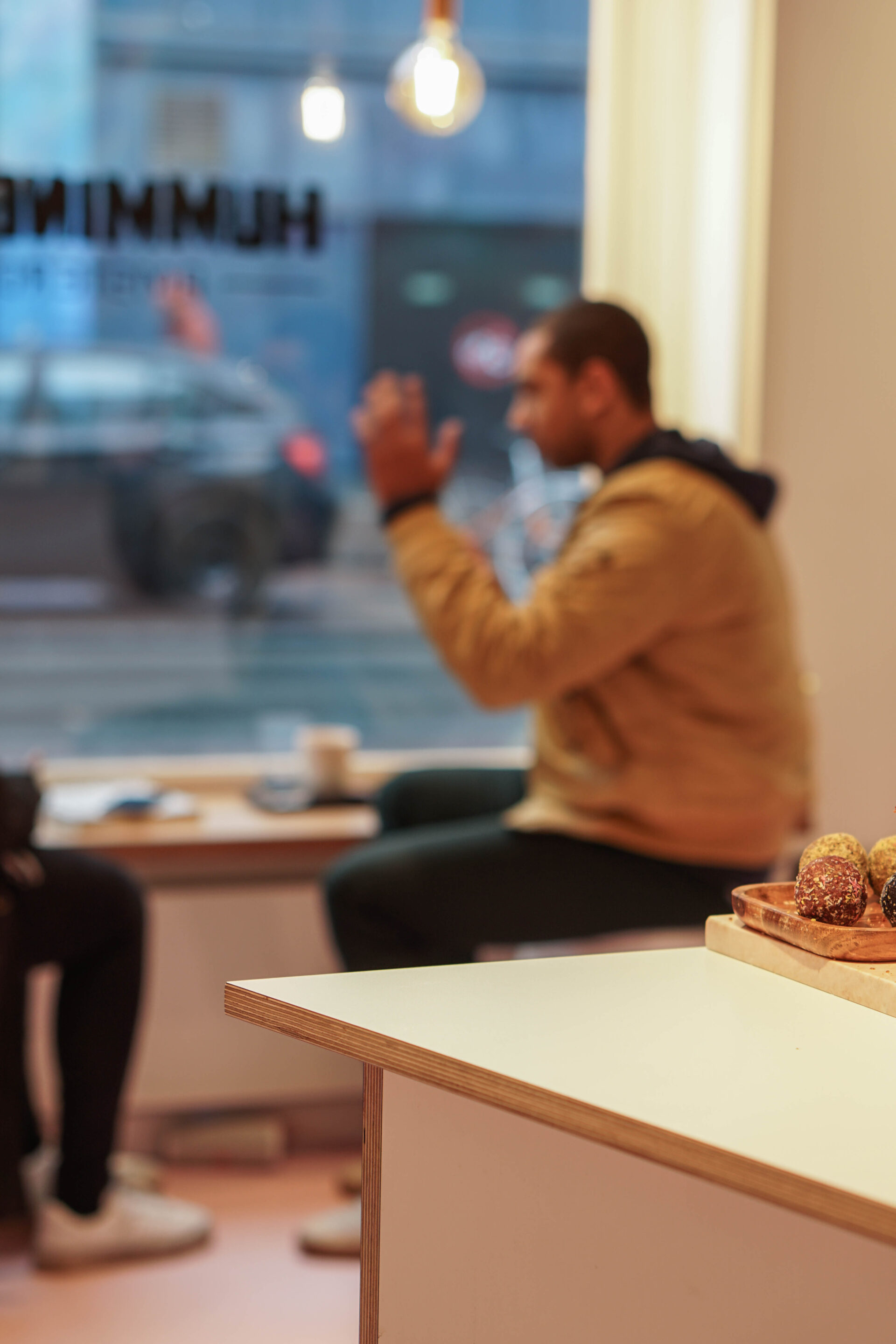 ---
Thanks for reading our Amsterdam Coffee Guide.
Did you know that we also run Europe's #1 coffee subscription?

Every month, we work with three awesome roasters and deliver their freshly roasted coffees to customers all over the world.