Many modern coffee roasters got their start somewhere else. It's rare that people simply 'fall into' coffee roasting with no previous experience in coffee. Some famous exceptions include Bogdan Georgescu of Mabó in Romania, for example, but all in all, it's safe to say that running a coffee roastery is an art form that takes lots of practice and experience.
Thus it's not surprising to learn that Morgon Coffee Roasters from Gothenburg in Sweden was founded by three highly experienced professionals who got their start at the city's longest running special coffee brand Da Matteo. What Christian Gullbrandsson, Gabriella Runesson and Markus Vestergaard brought to the table helped them get off to a flying start.
Since its founding in 2018, Morgon has become one of Europe's most sought-after specialty coffee darlings and a regular Coffeevine partner too. Prior to its third Coffeevine feature in our upcoming December 2022 box, I chatted with Christian about Morgon's early days, how it formulates its sourcing strategy and some mysterious plans for 2023.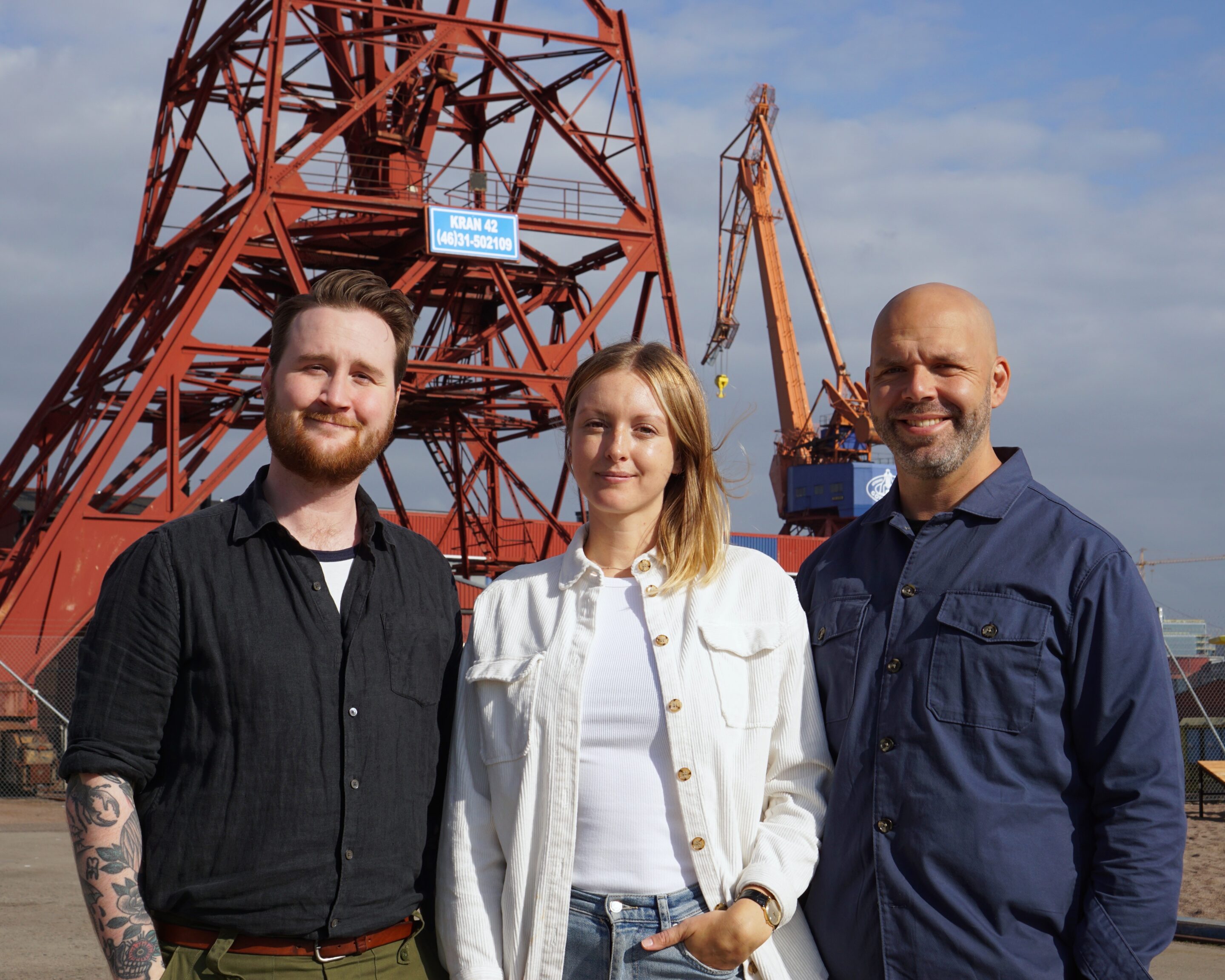 ---
THE COFFEEVINE (TC): "Christian, we've known eachother for quite a few years already. I first met you when you were still with Da Matteo. Much has happened since then, hasn't it? Tell me, what motivated you to start a business with Gabriella and Markus?"
Christian Gullbrandsson (CG): "We worked together for a number of years prior and we always talked about how we wanted to do things differently, how we wanted to work with producers and coffee in general.
I've travelled a lot over the years and I've seen what difference you can make with small changes here and there to create a better life for producers. If you can invest in the coffee and the farmers, it's a win-win for everyone. That's the reason why we started Morgon."
TC: "Wasn't that something you could have done at your previous employer?"
CG: "Well, you know how it is when you're employed somewhere and you're not the final decision maker. We wanted to be in charge of our own vision."
TC: "So how would you describe Morgon if Morgon were a person? Are they creative, ambitious, hardworking?"
CG: "I think they would be all of those things. We've been very lucky to work with very inventive people who created our brand. This is something we're very proud of. The truth is, building your own business is very hard work and if you're not prepared to put in the hours, you probably shouldn't do it.
We're very humble people who just want to make coffee a bit fun, very accessible and extremely good and we want to create great value for everyone in the chain."
TC: "Can you describe your journey from the very beginning? When you start a new business, you want to work lean and mean until you've established your proof of concept and you know that you have a good basis for your company. It must have been quite a big change to go from a well-established and functioning work environment to something like a carte blanche where everything still has to be defined."
CG: "Of course, it's terrifying. In our case, we have been in the business for many years. I myself have been in coffee for nearly 20 years and all three of us have competed with some success.
This gave us a big headstart because people were interested to know what we were doing but building a completely new customer base is very hard work. Gabriella is largely in charge of that, trying to reach out to people, sending samples and following up etcetera."
TC: "For sure. And not only because there are so many new roasters popping up constantly. I think many of the older guard are also trying to reinvent themselves because they've noticed that customers are losing interest and finding better and more exciting stuff elsewhere. Just the other day, I spoke with Zarah Lawless from Calendar Coffee and she told me she's a big fan of yours. Like Calendar, you also have very colourful labels on your bags that make them look quite distinct. From your own experience, how do you think consumer preferences and behaviours have evolved with regards to how people choose the coffees they want?"
CG: "I would say there are many factors involved in that but certainly, when we got together, we also talked about the packaging and the branding and how the three of us felt that many people in the coffee industry were using those boring brown bags with black and white labels. They all look the same.
"I'm more of a classics guy, I suppose. I prefer when the coffee tastes like the natural product."
We really wanted to create a brand that was fun, accessible and easy to navigate. That's why we decided to put only the most important information our labels and use visual cues to help our customers understand the flavours.
From the get-go, our goal has been to give people a reason to buy our coffee again and for that to be possible, the coffee itself has to be really good. That's why we put a lot of work towards building long-term relationships with our producers, value their work and grow together."
TC: "How do you find the producers that you work with? Are you using previous contacts or are you looking for completely new relationships? For example, Sandra Milena Mora who produced the coffee you'll be roasting for us in December and who also produced the coffee we received from you in 2020. How did you establish a relationship with her?"
CG: "I've been travelling to origin countries since 2011 and over the years, I've met so many different producers. Relationships with producers are like any other. They have to be mutual. You have to like each other, right? And you have to have the right mindset. They need to want to grow together with you and strive to get better each year. We do not take that for granted.
In Sandra's case, we met in 2015 and have had a long partnership since then. I actually spoke to her just this morning. Covid made it difficult to maintain the relationship because we normally see each other regularly. That's why I am particularly excited to go back to Colombia in January 2023."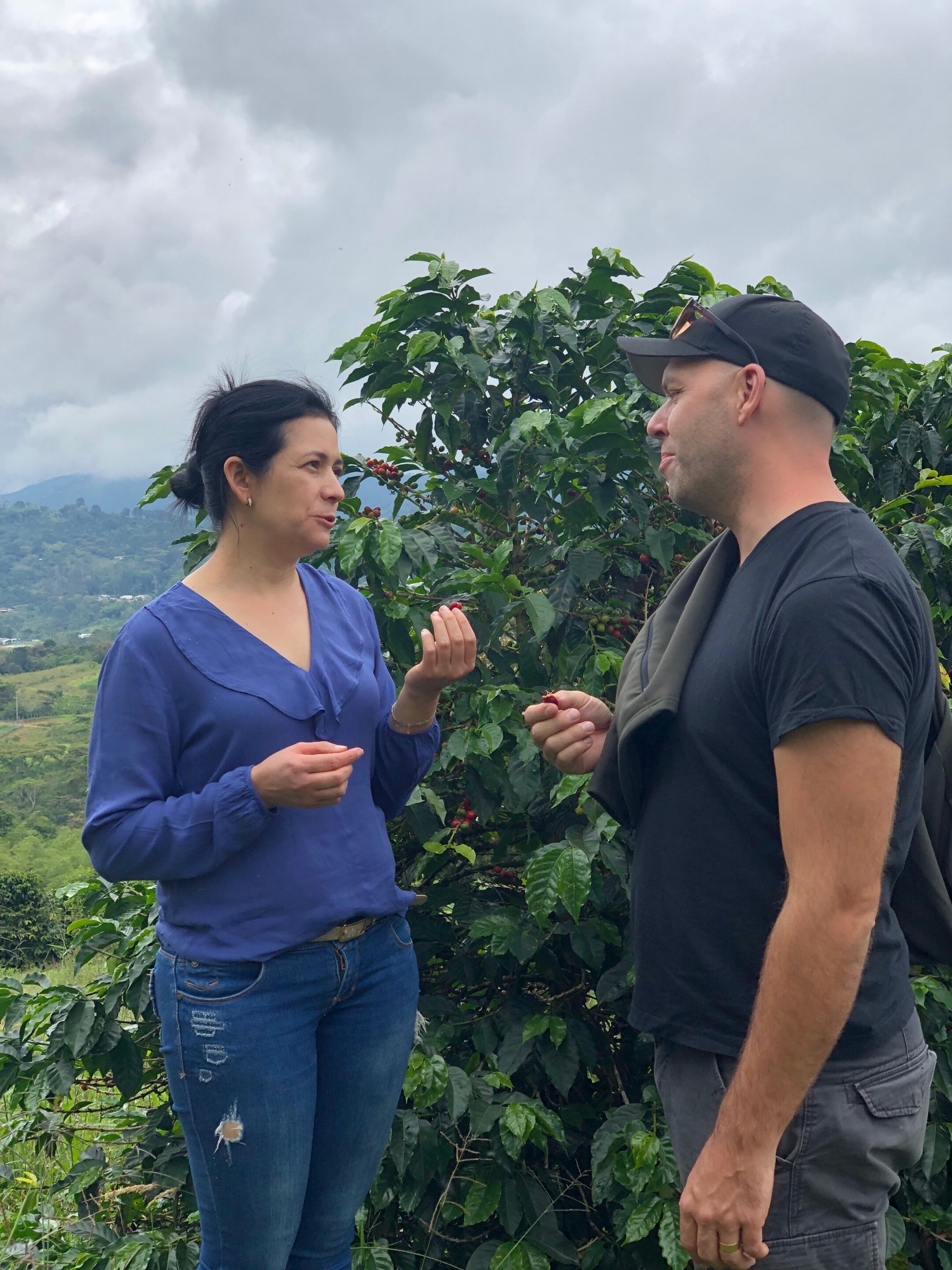 TC: "Sandra is quite an interesting producer, isn't she? She only uses about half of her property to grow coffee, the other half is planted with other vegetation and her coffees are fully organic. What's it like working with her?"
CG: "She only grows coffee on 5 of her 12 hectares and the rest is just natural forest to create a fully organic environment. She also makes her own compost and strictly does not use any pesticides. She's extremely focused and her dream is to produce the highest quality coffees, 94 to 95 points stuff. She's very eager to learn and very humble.
She fully understands that the best way to get there is to build a long-term relationship with a partner who will fully support her growth. She and her husband Hector are such warm-hearted and lovely people. Every time we visit, she takes such good care of us. She's really an amazing person."
TC: "She sounds like it. It would be great to meet her one day. Tell me a bit more about your general sourcing practices. Do you have a set list of origins that you prefer to work with or are you always on the hunt for new things?"
CG: "No. Right now, we are working with mainly six origins and we have been doing this since the beginning. Our goal is to continue doing that for as long as possible so that we can invest in the relationships and grow together with our producers. This is not to say that we're not open to new origins but the timing has to be right.
Our sourcing reflects the taste profiles that we need to run our business and these include six origins from three different regions. In Africa, we source from Kenya and Ethiopia, both of which have very distinct cup profiles. In South America, we work with producers in Brazil and Colombia where you can find pretty exceptional coffees all year round.
In Brazil, for instance, we recently started a project with a local farmer who wants to get into fully organic specialty coffee production and we see great potential there. Brazil, generally, has the more commercially viable profile but it's still a very exciting origin. Finally, in Central America, we work with Costa Rica and El Salvador.
One of the longest relationships I have is with the Montero family who is very outgoing when it comes to growing coffee. Jacob, the son of Carlos, recently took over and he's a very young guy who's super eager to learn. Just this summer, he was here for a few weeks to understand the local coffee culture and what people are looking for in coffee. The same goes for Diego Barraona in El Salvador who also took over from his father. They are great examples of ambitious producers who want to take specialty coffee into the next generation."
TC: "It must be quite special to have these producers stay with you and get to spend time in one of the countries that helped to define specialty coffee culture as it is today. Tell me, do you also buy into the more experimental coffees with funky processes or do you prefer your classic washed, natural and honey-processed coffees?"
CG: "Well, I'm more of a classics guy, I suppose. I prefer when the coffee tastes like the natural product. No additives and flavourings. However, when it comes to the producers, of course, they want to learn how do things a bit differently. They want to experiment with flavour notes and fermentations. That's why we also bought around 50kg of an anaerobic processed coffee from El Salvador.
And we also bought experimental coffees from Costa Rica because it's also fun to showcase how coffee can taste so different from what some people expect. Of course, the main focus should be on producing clean, sweet and delicious coffees and most of the time, those end up being washed coffees."
TC: "Let's come back to Europe again. The year 2022 is almost at an end and I'm personally quite excited about what the new year will bring. What are some of the highlights for Morgon that you look forward to in 2023?"
CG: "For one, I am looking forward to travelling again. My first trip will be to Colombia in January and hopefully, that will be the start of a new season of origin trips. We want to grow slowly and keep the quality high and I know that this is a challenge for any growing business but we will always put quality before quantity.
Other than that, there are some other things we're working on but nothing I can disclose just yet."
TC: "Ohh, that sounds mysterious and exciting. Do I sense a Morgon café?"
CG: "I will neither confirm nor deny this. Obviously, we want to grow our business and we're grateful for partners like you who help us to get our coffees out into the world."
TC: "Thank you for your time Christian. I'm excited to have you guys back on board."
---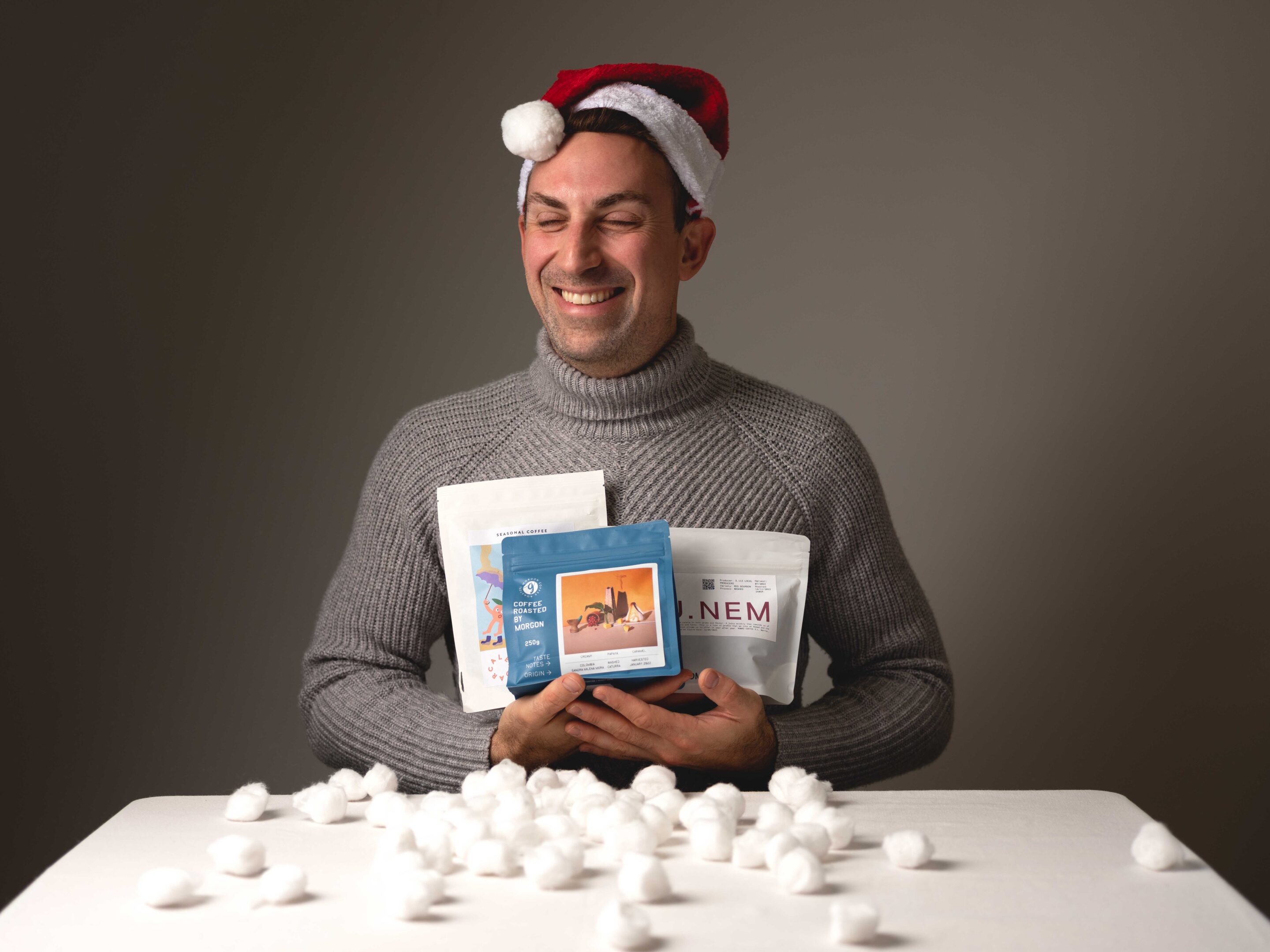 This coffee is part of our upcoming December 2022 Coffeevine box that also features other delicious coffees from Calendar Coffee and Nomad. To choose your ideal box and get in on the fun, just pop over to our shop now.