When my dear friend Ralf Rüller recently announced the opening of his new 'flagship store' in West Berlin, for a moment there I thought 'Oh dear. What is he doing?'. Until recently, West Berlin was akin to a specialty coffee dessert, but it always takes a few brave individuals to make significant changes.
When the first pictures of his new venue started emerging on the internet, it became clear to me that he was working on something very unique and special indeed.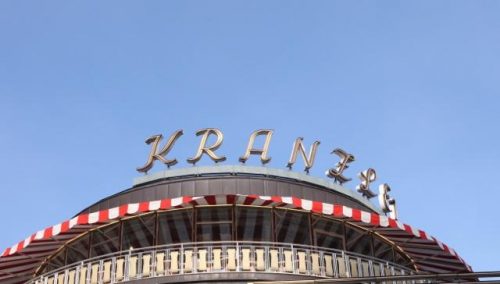 Café Kranzler may not mean much to most people with a deep appreciation for specialty coffee, but this iconic Berlin café is as rich with history as your perfectly brewed cup of filter coffee is with flavour. Located on the roof of the Superdry store on Kurfürstendamm, Berlin's most expensive shopping boulevard, Kranzler hovers above street level like a UFO, ready for take off. As I exited Berlin Zoo station I immediately spotted its white and red awning and the classic lettering that remain a key element of The Barn's new flagship store's identity.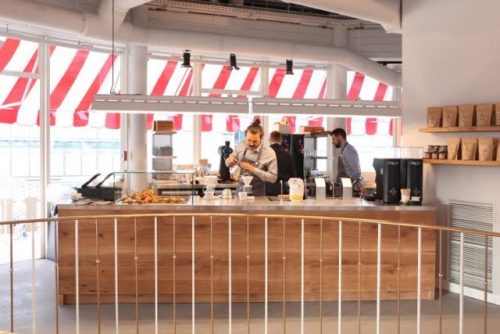 After climbing the stairs through the store to get to the top, I was greeted by a wonderfully airy space that, despite the huge amount of customers present at that moment, never felt overly cramped. Post taking in the 360° interior view, I spotted Ralf meandering through the crowd and coming towards me for a warm embrace. "Well, what do you think he asked?" "Wow!" was all I could master.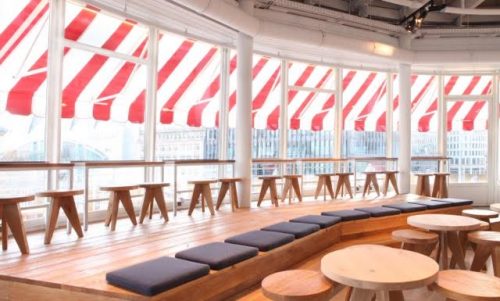 For anyone familiar with The Barn's legendary brand, this place may come as a real shock, especially since the general rule of thumb for any successful café is that if you're not on street level with big windows and a terrace, you're probably not going to last. I dare to take a bet that this won't apply to Kranzler, despite being housed on the roof of a Japanese fashion brand's store.
What is striking about Kranzler is the great use of its round shape that is only interrupted by a big staircase coming up through the middle. Nonetheless, the first thing you see as you emerge is The Barn's new product counter where you can purchase all of their fine coffees alongside various brewing equipment, chocolates, spirits and more. On the opposite side is the new bar, sporting Germany's first 'under the counter' espresso machine by Mavam, a dedicated brew bar and a few food options. Along the windows there is bar-style seating while the other corner offers more cozy seating corners.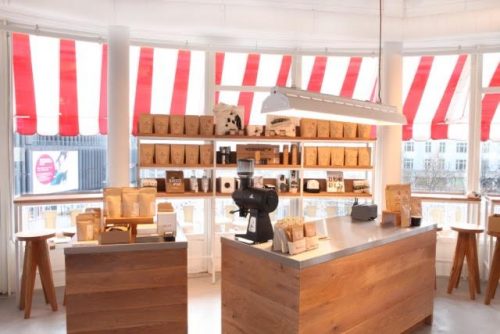 Probably the best bit is the 360° balcony that runs along the top floor and offers striking views of the entire surroundings. While sipping on a cup of The Barn's Ethiopia Nano Challa, Ralf explained: "We're working with a brand new team here, which was quite a risk but everyone's doing a really great job. In due course we'll also open another terrace  on the 1st floor downstairs that will have its own bar as well. It may look smaller than it is, but in summer this place can accommodate several hundred guests at once!"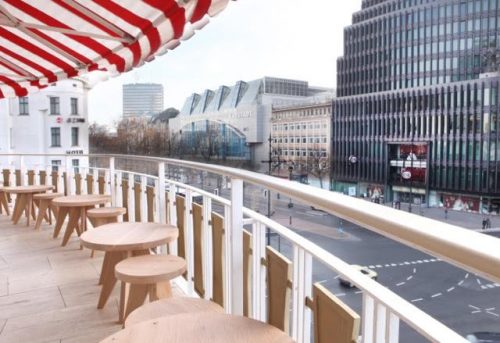 Admittedly, I haven't been this excited about a new café opening for a while, and even if The Barn's coffees are not your thing, there is nothing stopping you from venturing to this classic Berlin café that is returning to full glory thanks to Ralf's skilled team and vision.
Photos: Courtesy of The Barn